After living alone for three years, and in two different cities, I recently decided to take my friend up on a great living situation offer. While this move has always been looked at as slightly temporary, I've learned some invaluable lessons from jumping back into bunking with friends. I'm the biggest fan of living alone, but here are some things to consider if you're making the switch:
1. Downsizing is a glorious thing. You should try it, regardless of whether or not you're moving. Wade through all of the things you've collected over the years and just be brutal. Since I was going from an apartment to a room, I had to evaluate exactly what was necessary for keeping and what could hit the road. Dining table? Storage. Bar stools? Storage. Old magazines, kitchen utensils and crap you never look at? Garbage. Books, meaningful trinkets, artwork and music? Keep and show off forever.
2. You might find you actually end up feeling like you live alone. As young women who work hard, play hard, have relationships, are active and everything in between – you'll be surprised at how easy it is to completely miss your roommate for days on end. You zig, she zags. But then, at that moment when you're pouring yourself a big glass of wine and she walks through the door with a wheel of cheese, all is good in the world.
3. You could make a new friend. In my case, a friend lured me to live with her and her friend, who I had only met a handful of times. Already incredibly close with the friend who invited me in, I've grown to know and love my other roommate just as well. To all of you currently dreading going home to a wingbat roommate, I'm sorry we can't agree on this one.
4. Make your bed. Bed-making is the most satisfying and essential task. Although I'm sure I felt this with my own apartment, there's something about tidying your space in a home that, because it's controlled by other people, could always be up for public consumption. Fluff those sheets and take your undies off the floor – you never know who could walk by your room.
5. Actually, just be clean and courteous in general. You are no longer the sole inhabitant of your home – so although it's easy to chug your OJ in the morning and leave the cup in the sink, it's not really cool to do that. All of our lives are a bit better when they're orderly anyway, so feeling like you need to be clean isn't the worst thing. (As long as you're not living in fear of said wingbat roommate and her mop.)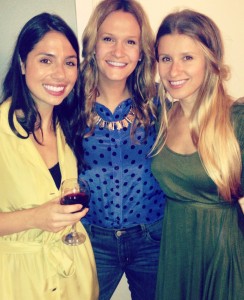 6. Open yourself up to people's habits and hobbies. When living alone, I would crank albums (of any variety) the second I woke up and the second I got home from work. Gangstarr at 6:30am? My call. Nat King Cole while cooking dinner? If I please. Living with other people (and keeping the aforementioned courteous rule in mind), not only are you able to share these preferences with unsuspecting ears, but you'll likely be exposed to new things you wouldn't have considered. This goes for food, beauty products and books too – you're now in the best position to learn what other people have to teach you.
7. Whether intentional or not, some roommates help you to be more active. I was very active when I had a gym in my last building. Living in a house again, I now have to find other ways – whether taking a class, running outside or finding a gym – to work out. If your situation is similar to mine and you live with like-minded people, their diligent fitness habits remind you that there are ways to stay healthy.
8. (Some) sharing is caring. As adults, my roommates and I are far past the "raid each others' closets and never return anything" phase. But sharing books, music and (best of all) meals is a great way to live. On the rare occasion we are all available on the same night, we've had the opportunity to sit down for some memorable communal meals – tossing all of our scraps and half-drank wine bottles together – and enjoy lovely conversation.
9. Roommates can be security blankets. When you get locked out or wake up with a sore throat, it's nice to know you have each others' backs. I never once cringed as a woman living alone, but on the rare occasion you need help, having a nearby ally isn't so bad at all.
10. YOLO. Everything about life – whether living situations, money, travel, work, whatever – deserves a little experimentation and risk. It's always freakily pleasant to step outside of your comfort zone and try something new (in my case, try something old again) – as long as it feels good for you at that moment. I can never say what city or apartment I'll be living in a few months from now, so I might as well live it up – with two hip chicks – in the mean time.