If you're in your mid-to-late twenties like we are, chances are your friends are starting to get married and have babies. (What? When did we become adults?!) With spring officially here, the season of showers is upon us. Your mailbox will fill up with invitations to celebrate brides and moms to be with gifts to start them out right on their new chapter.
While sticking to a registry is always a safe choice, we're a little bit partial to thinking outside the box when it comes to shower gifts. Today, I'm bringing you a baby shower gift guide, and I'll be back soon with some bridal shower picks.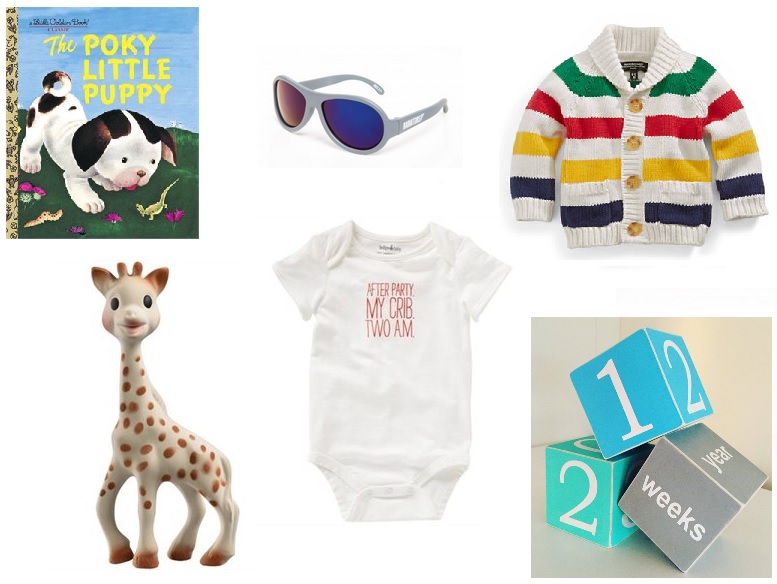 1. Baby Books
I give a copy of The Poky Little Puppy to every mom-to-be in my life. The reason being that my grandfather (who is my favourite person) taught me how to read with that book. Most people have a special book that they loved as a child, and this gift (even as an add-on) is often more sentimental than anything you pick up from the registry. Pick out one of your favourites and write a sweet message to the new parents and baby on the inside cover.
2. Babiators
A huge hit from a shower I just attended, babiators are known as the only sunglasses that will actually stay on kids ages 0-7. We all know the dangerous effects of sun on baby skin, but we often forget about their eyes!  These are super cute and are sure to make parents feel like Allan from the Hangover.
3. Hudson's Bay Kid's Collection
I am a huge lover of the HBC Collection and I especially love the kids clothing line. There is nothing more classic than the multi coloured stripes and no easier way to show off a Canadian heritage! I really love the sweaters, the fleece for a more casual look or the knit sweater for a special occasion. The baby blanket is also so cute and would be an awesome addition to a neutral coloured nursery.
Parents know – Sophie is QUEEN. My nephews were obsessed with Sophie and I know of a number of other kids who absolutely loved her too. Made in the French Alps, she is a teething toy for babies that has been used for over 45 years… plus she's still fun even when teething is over.
I'm partial to any onesie that has a cute joke on it. And when I get pregnant, I am anticipating an influx of hip-hop themed onesies. Chapters has a great line of printed onesies, but this one made me smile the most. New life with a baby = crib afterparties, not hotel afterparties à la R. Kelly…
I love baby monthly photo shoots! I'm so glad this is a trend, because it is so precious to see how vast the differences are from month to month. The blocks also act as nursery decor in between photo shoots! You can find a variety of monthly blocks on Etsy and they can be personalized if the baby's name has already been chosen.
Banner image via 1.