It's been a while since our last installment of midday musings, a collection of fun, uplifting things that are floating around the web. Read on for things that are currently making us smile…
39 Hot Guys That Every 00's Girl Had a Crush On
Talk about a blast from the past! We're all about some throwbacks to our teenage years in the early 2000's, so it's no surprise that this list of our teenage crushes made us smile.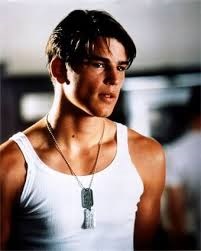 A few confessions: the screensaver on my grandparent's computer was Josh Hartnett (from Pearl Harbor) for most of 2001 and 2002, thanks to my obsession when I was 13. Also, all of the nuts have a strong belief that the day Ashton Kutcher looks old, our youthful years are officially over.
Not All Burgers Are Created Equal
To me, burgers are one of the best parts of summer. If you're looking to cook at home, you should definitely try out this recipe for a delicious veggie burger. But, if you're looking to dine out, Peter Humm from the Ottawa Citizen compared four burgers across the city (and even trekked out to Gatineau). Who took first place? Well, a small place that just opened in our home suburb of Orleans! If having a burger is up your alley this weekend, check out OCCO Kitchen!
Puppy Surprise!
I'm of the opinion that a puppy is the best surprise (provided whoever you're surprising has truly thought about the financial and time commitments that come with owning a pet). This husband surprised his wife with the puppy she wanted to adopt from their local shelter and it is the cutest thing ever. Puppies = happiness…
Speaking of puppies making you happy, next weekend I will be participating in the Ottawa Humane Society's 27th Annual Wiggle Waggle Walkathon! We participated last year and had such a blast! This year, the event takes place on Sunday, September 13 at Queen Juliana Park. If you are looking for an activity to join in on that also supports a great cause, why not register to walk with us? Winston's Wigglers are always looking for more friends! If you can't make it, but would like to support us and the OHS, you can find our donation page here.