Every year I get SO excited when awards season arrives. I have always especially loved the GRAMMYs because it's basically just a 4 hour long concert with artists teaming up for performances that we otherwise wouldn't get to see. They only hand out about 5 awards all night. As always, there were some amazing moments…and some not so amazing moments. Read on for my full thoughts on last night's show.
THE PERFORMANCES
5. Adele
Yes, there were definitely some issues with this performance. I will come right out and say it. A lot of people are harping on Adele's performance of "All I Can Ask" because she was a bit off key and straining for a few notes during her song. There were definitely some technical difficulties going on throughout the show and specifically during her performance. But, ultimately, on Adele's "worst" day she is 99.9% better at singing and making everyone feel all of the feelings than anyone else. She still left me with goose bumps and for that reason, she gets a spot in my top 5.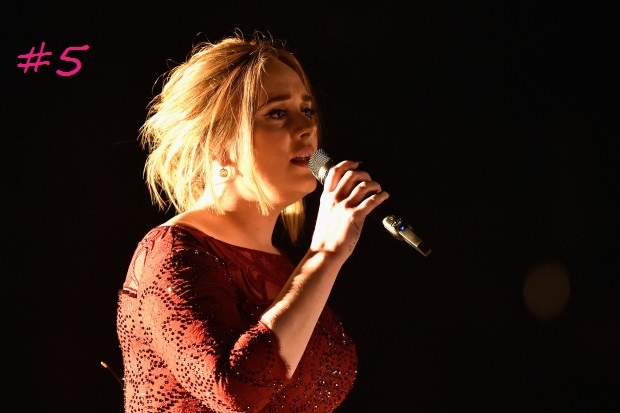 4. Chris Stapleton, Gary Clark Jr. and Bonnie Raitt (B.B. King Tribute)
There is just something about the blues. This is one of those magical Grammys moments that keeps me tuning in every year. Chris Stapleton was a perfect vocal choice to join Gary Clark Jr. on "The Thrill Is Gone", honouring the late, great, B. B. King. When the legendary Bonnie Raitt walked out on stage, it reached another level and just hit me in all the right places (again, all of the feels).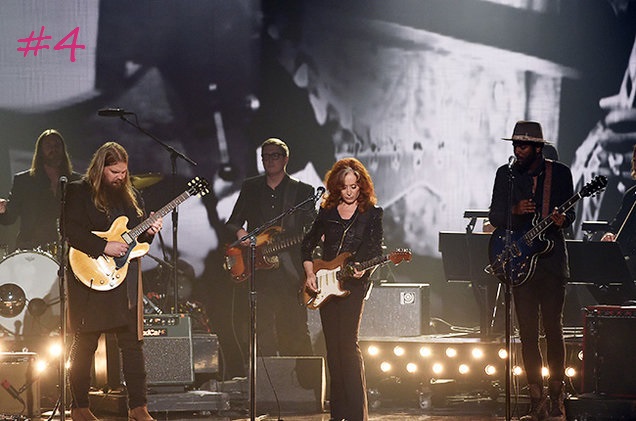 3. Demi Lovato and Lionel Richie (Lionel Richie Tribute)
There were a lot of people involved in the Lionel Richie tribute last night, but Demi Lovato was the shining star. Demi keeps performing live at various events and showing us over and over that her voice is unreal. She SLAYED her version of "Hello", hitting notes that made me literally get up out of my seat. I then eagerly awaited the man himself to come out on stage, and he (obviously) rocked it. The others were fine, but these two really made the performance epic.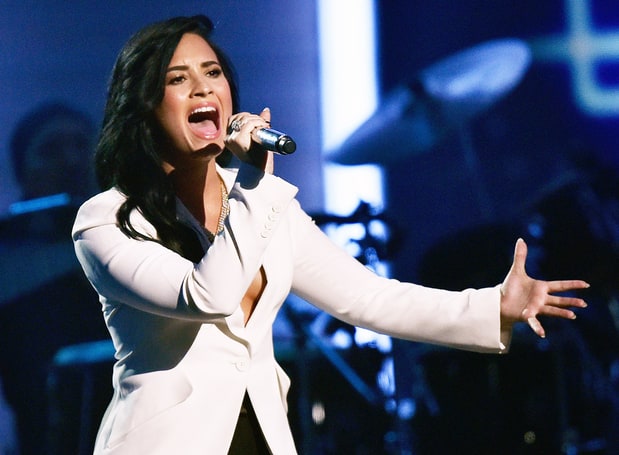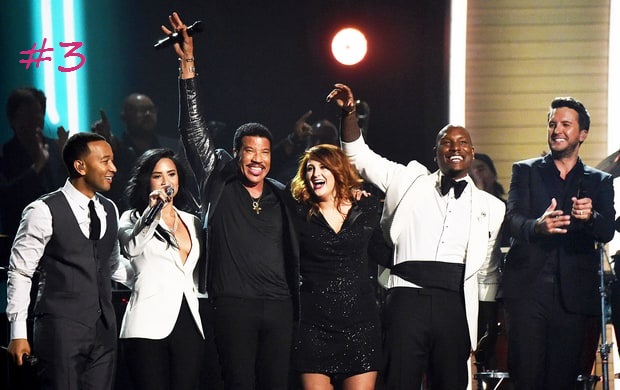 2. Lady Gage (David Bowie Tribute)
Basically the internet unanimously agreed that no one was better suited than Lady Gaga to put together an epic David Bowie tribute. And the internet was right. Gaga incorporated Intel robotics, holography and live computer graphics into her performance, ultimately transforming her into David Bowie (Ziggy Stardust). She won a Golden Globe last month, slayed the National Anthem at the Super Bowl and now this. It's only February 16th and I feel like it is the year of Gaga.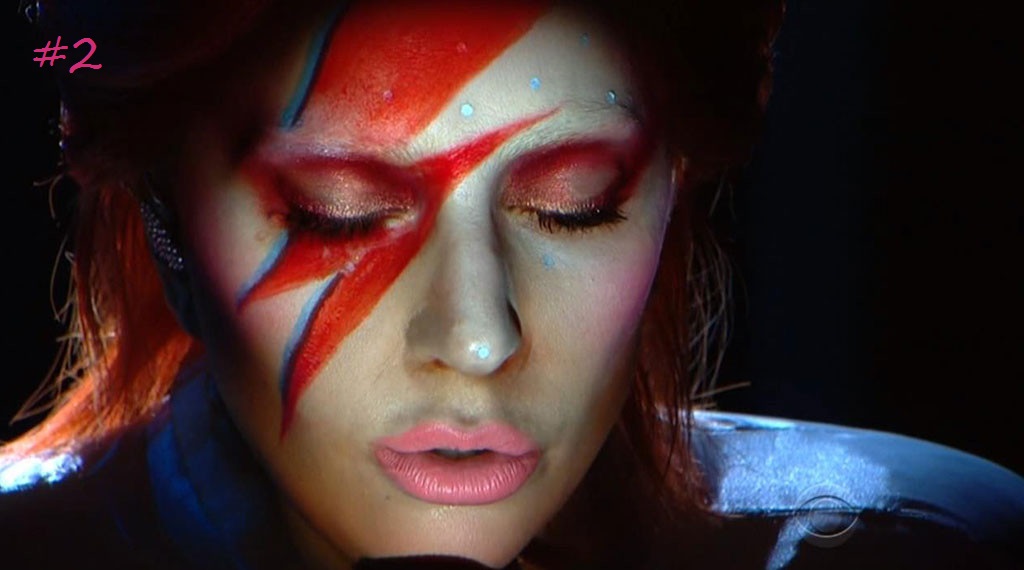 1. Kendrick Lamar
All praise King Kendrick. He literally never disappoints. In a high energy, politically motivated performance, Kendrick proved why he earned 11 nominations this year…and why he should have won Album of the Year. I couldn't tear my eyes away from the screen for a second during this performance, and I wasn't alone. The internet obviously erupted with support for Kendrick, who not only is an amazing performer, but also delivers a powerful message with his music. All hail the King.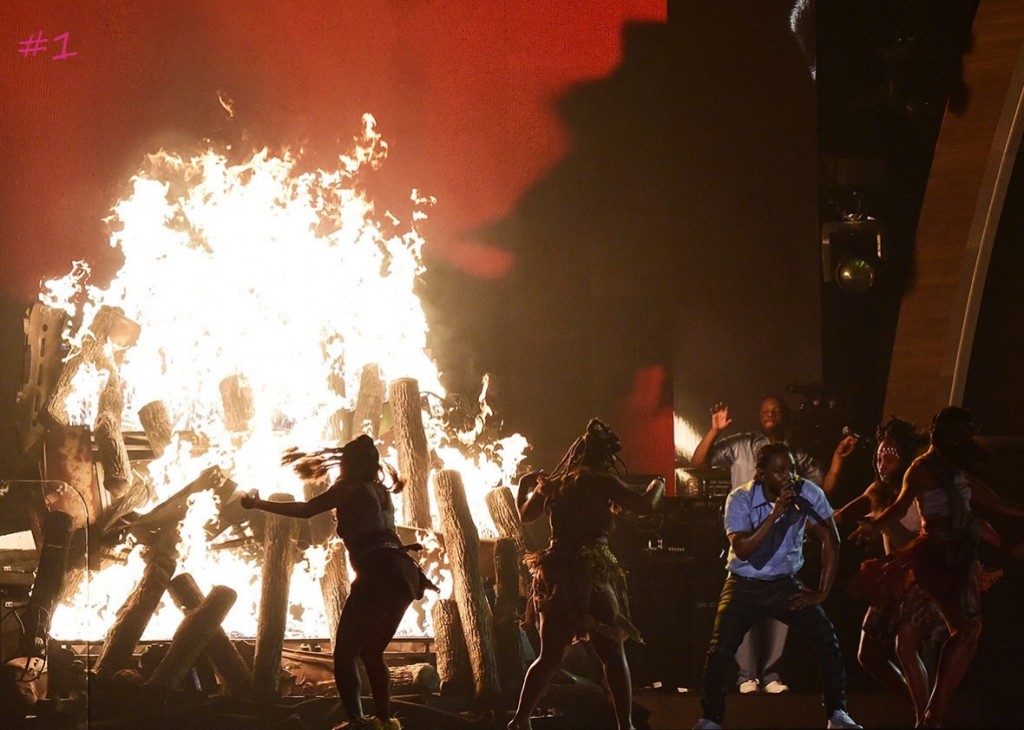 HIGHLIGHTS AND LOWLIGHTS
There are obviously a million other things going on at the Grammys besides the top performances. Some good, some bad and some just plain awkward…
The flow of the show was NOT the best
I usually attribute this to jamming in 100 performances of varying genres into a 4 hour timeslot. But last night there were some really ridiculous transitions that I think the producers could have avoided.
First, we saw Miguel do an amazing rendition of "She's Out Of My Life" in honour of Michael Jackson. I loved it, but then, as soon as he was finished, he mentioned that Spike Lee is releasing his MJ documentary this year…and then he presented the award for Best Rock Album to the Alabama Shakes. No segue. No logic.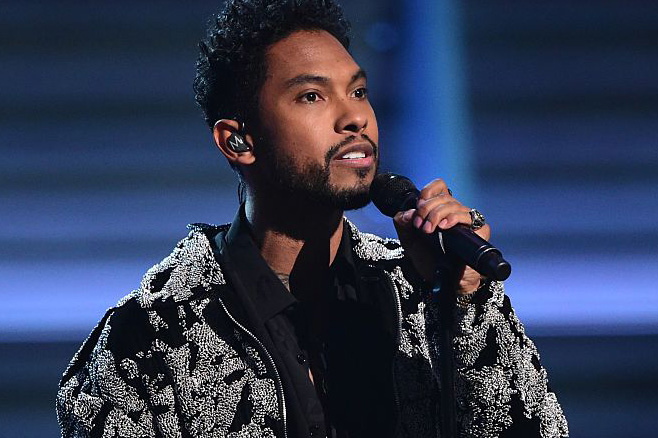 Then, we saw an awkward moment with Neil Portnow, Recording Academy president, and Common. They talked about how we should all be supporting music by paying for albums, a streaming service, etc. I'm down with supporting artists, but then they launched right into the "in memorium" reel. Like, could we not have had a better intro for that segment, given that there were about 7 different tribute performances that night?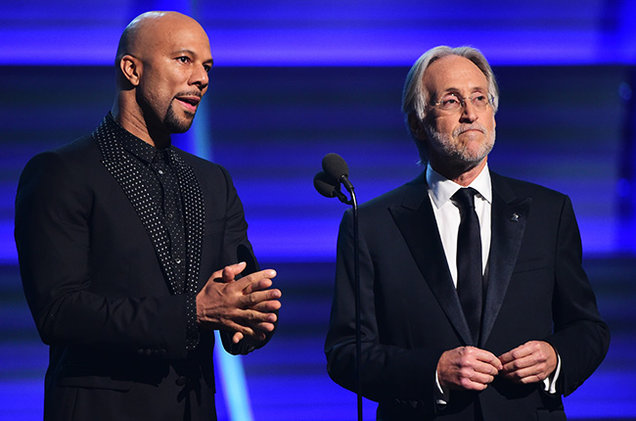 Pitbull and Robin Thicke are the Worst
Like, honestly, this was the worst way to close out the show. Plus, they cut off Bruno Mars' acceptance speech for it. I do love Sophia Vergara though, so the performance had 1 redeeming quality.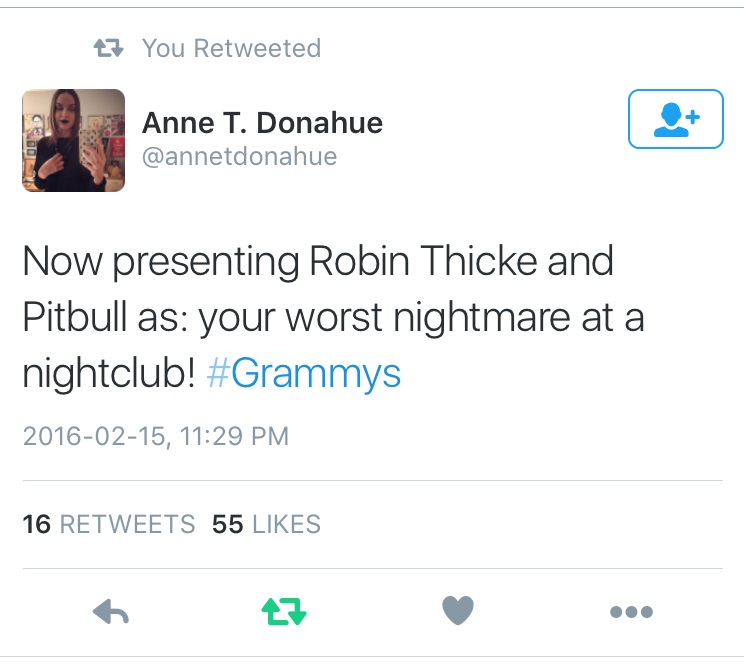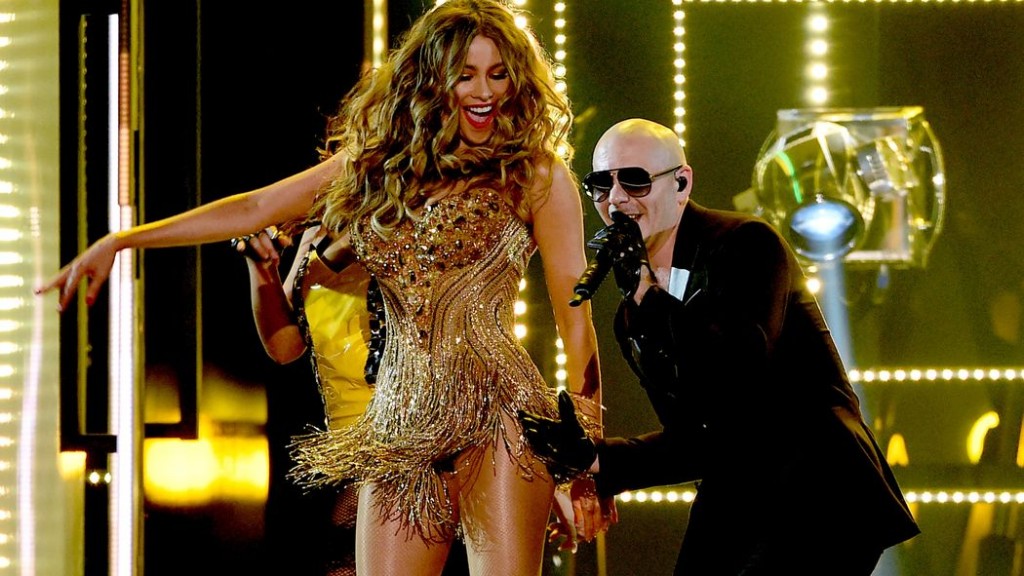 Ariana Grandé's Pun
Her ponytail was on fleek, but her joke was suuuuuper awkward. Introducing The Weekend, she decided to make the cheesiest joke of all time. At least she called herself out on it, but still. Crickets.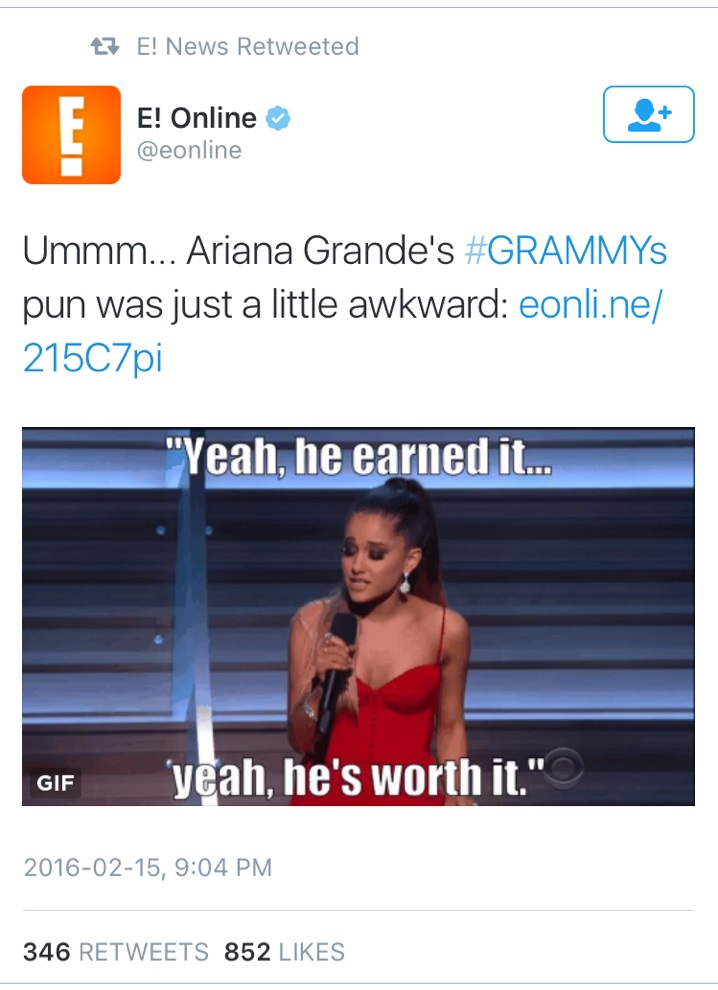 Justin Bieber's Baby Moustache
Guys, I am a HUGE belieber. No shame. But…I could have done without the fuzz on Justin's lip. It's not his best look and it's such a contrast between the bleach blonde hair. A little stubble is good, but not when it's wispy. Even his little brother wasn't a fan…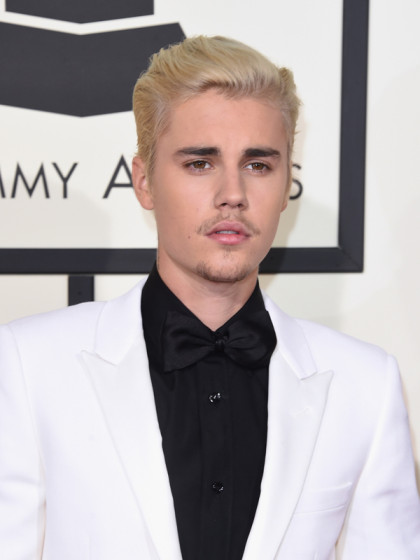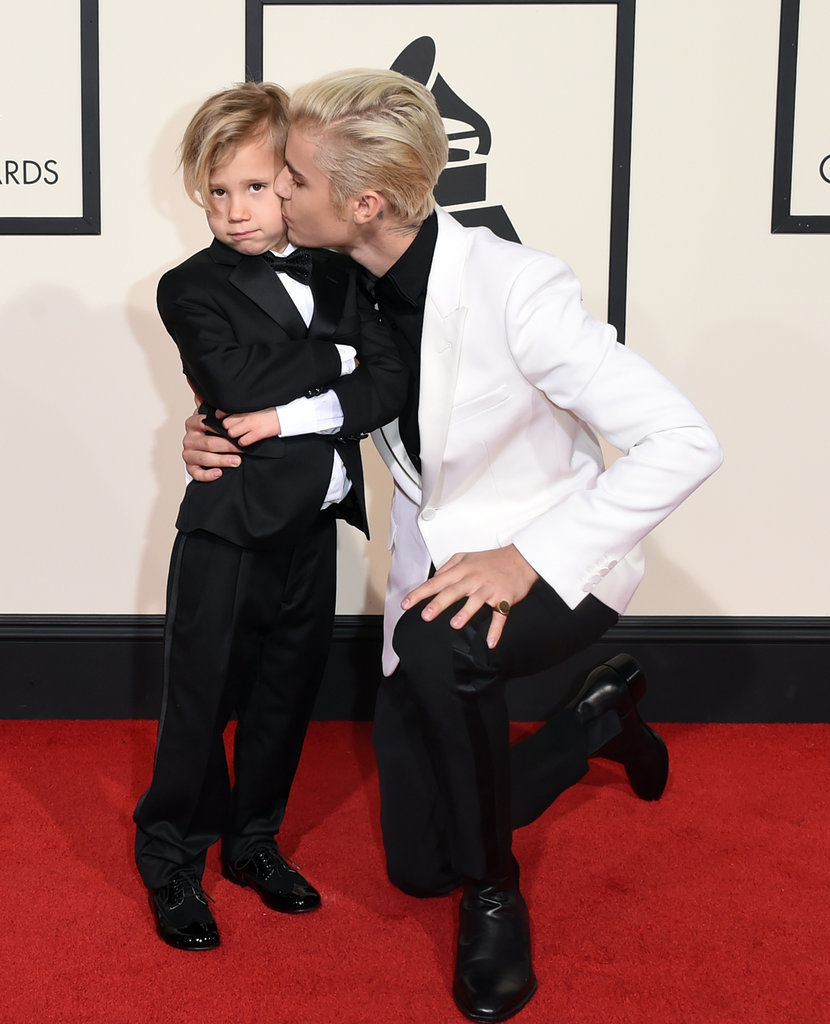 Stevie Wonder is the BEST
Apparently pulled together at the last minute, Stevie Wonder and the acapella group, Pentatonix, did a lovely performance. BUT, the highlight was when Stevie went to announce the winner for Song of the Year. He flashed the card with the winner's name and teased the audience that they couldn't read it because it was written in braille. He then took a stand for all of those with disabilities and the need for inclusiveness, proving, yet again, that he's the man.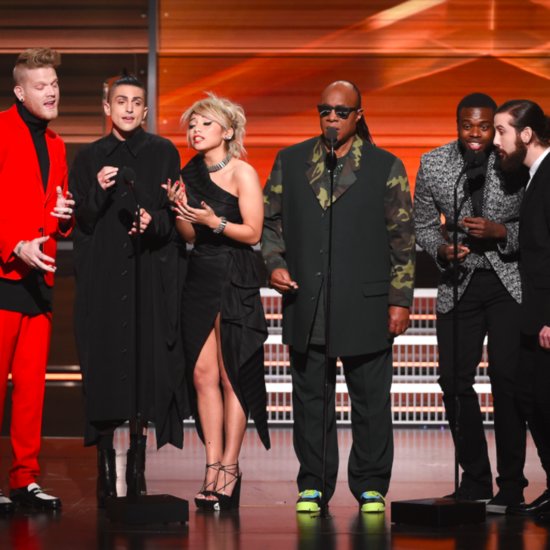 But are they actually vampires?
I feel like every time I see these guys, I seriously question if living a healthy lifestyle is actually better for me. "Hollywood Vampires" is not just a joke anymore (well, depending on how you look at it). It's a real band, featuring Johnny Depp (??), Joe Perry and Alice Cooper. Half pirate, half vampire, these guys put on a performance that had some people confused, some people scared and some people rocking out. It may not have been the head-splitting performance that Depp promised us in advance of the show, but these guys proved that they've still got it.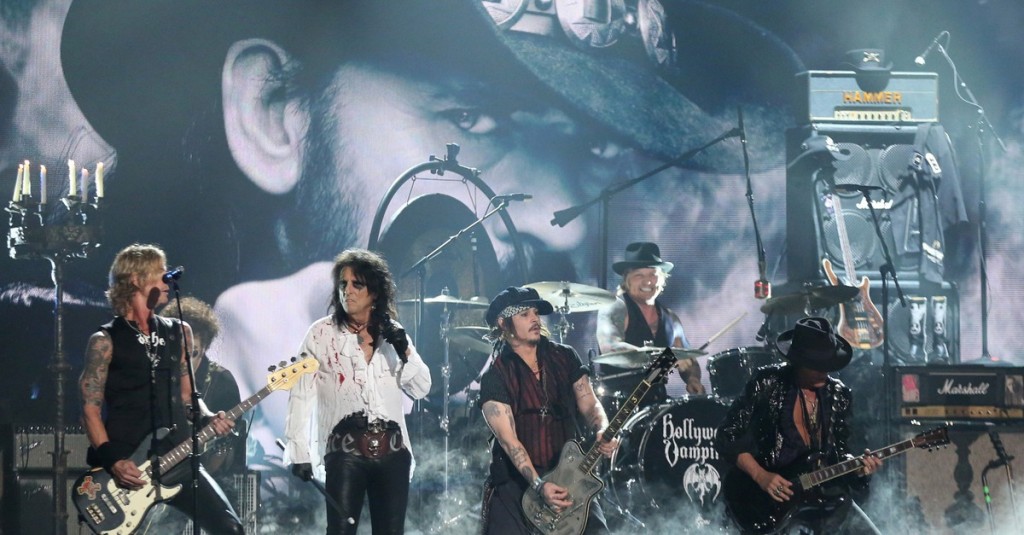 No Rihanna 
Sadly, she had to pull out at the last minute from her performance due to health issues. A huge loss, because we love RiRi and were so looking forward to her performance, but obviously understandable.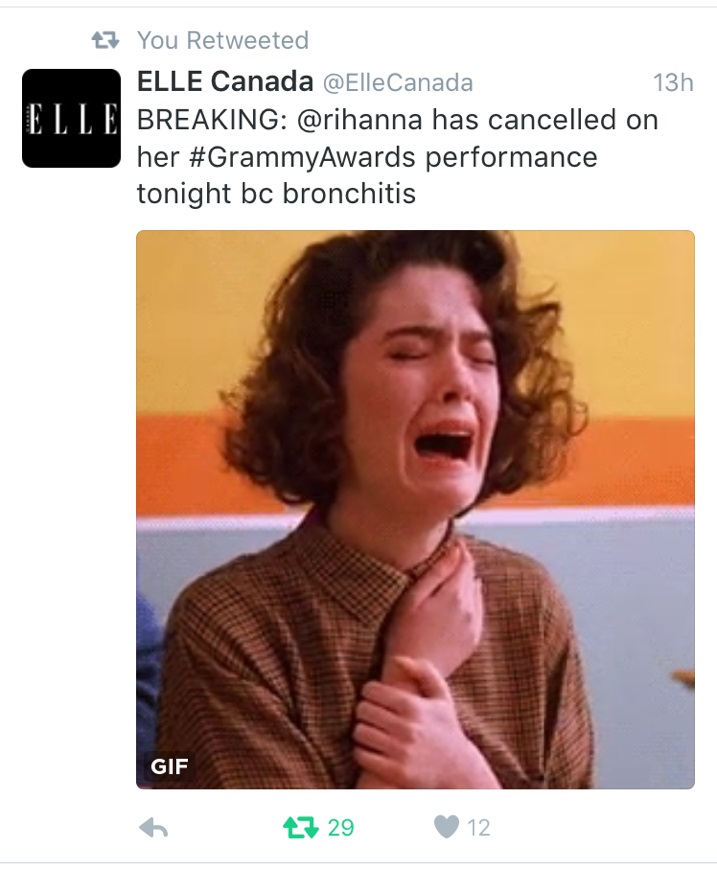 Not Enough Beyoncé
There never is, really. Our sweet angel took the stage to present song of the year and I was just pleading with the gods to let her sing. No dice. Still love her more than ever though.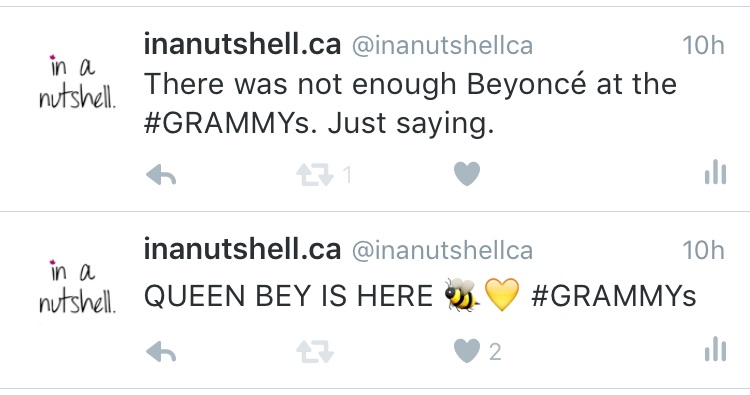 New Carpool Karaoke
Even though we didn't get our expected doses of RiRi or Queen Bey, we were treated to a new Carpool Karaoke featuring James Corden and Justin Bieber. We are absolutely smitten with James and we obviously love J.Biebs. I just want to be in the backseat so badly.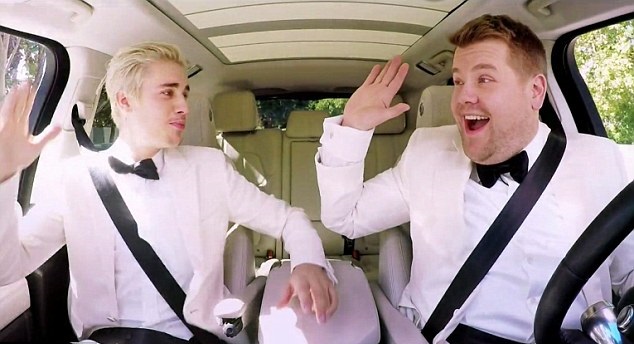 Taylor Swift (Just So Much Happened)
1. Taylor Swift & Selena Gomez are #friendshipgoals
2. TayTay lost it when Ed Sheeran won (like more shocked/happy than when she did)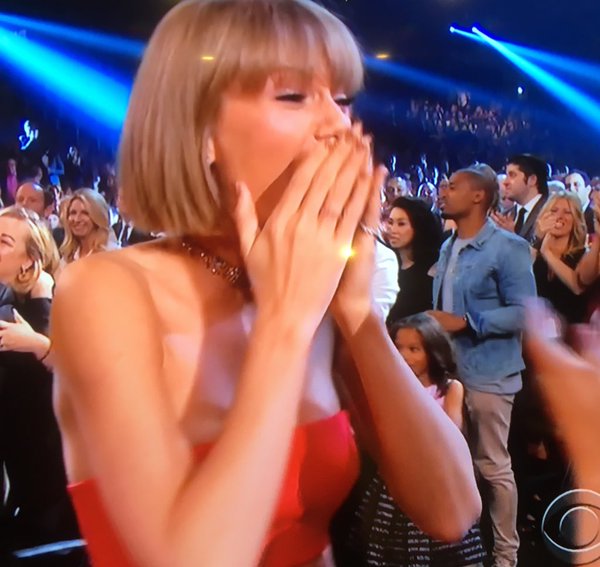 3. She won album of the year over Kendrick Lamar and people are not pleased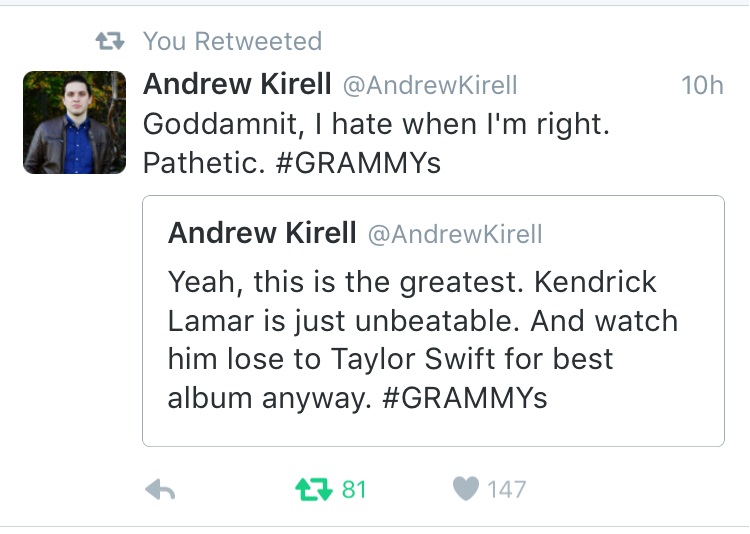 4. She used her acceptance speech to throw MAD SHADE at Kanye 
"I want to say to all the young women out there—there are going to be people along the way who are going to try to undercut your success or take credit for your accomplishments or your fame. But if you just focus on the work and you don't let those people sidetrack you, someday when you get where you're going, you'll look around and you will know that it was you and the people who love you who put you there. And that will be greatest feeling in the world."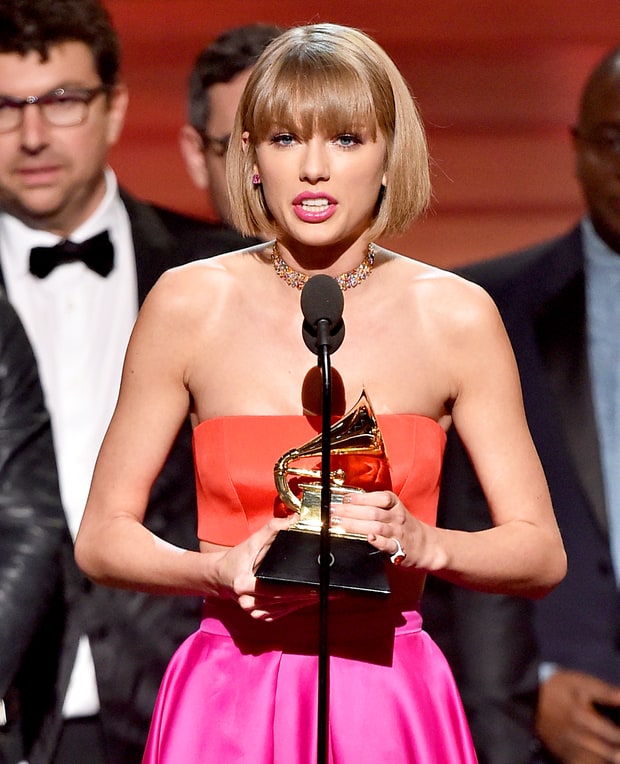 So, with that, another GRAMMYs has come and gone. What were your favourite moments? Leave us a comment below to let us know! Now on to the Oscars…

Images via 1, 2, 3, 4, 5, 6, 7, 8, 9, 10, 11, 12, 13, 14,15,