It's surprisingly a simple task to shop for the music maven on your list, because, while everyone has their own tastes and preferences – a good music lover should be open to new sounds and experiences. So, either share your favourite sounds with them, expand on styles you know they enjoy or buy them unforgettable music experiences –and, with any of these, you'll be filling their holiday seasons with happy sounds. Of course, some of the toys that accompany the listening experience aren't the worst idea, either.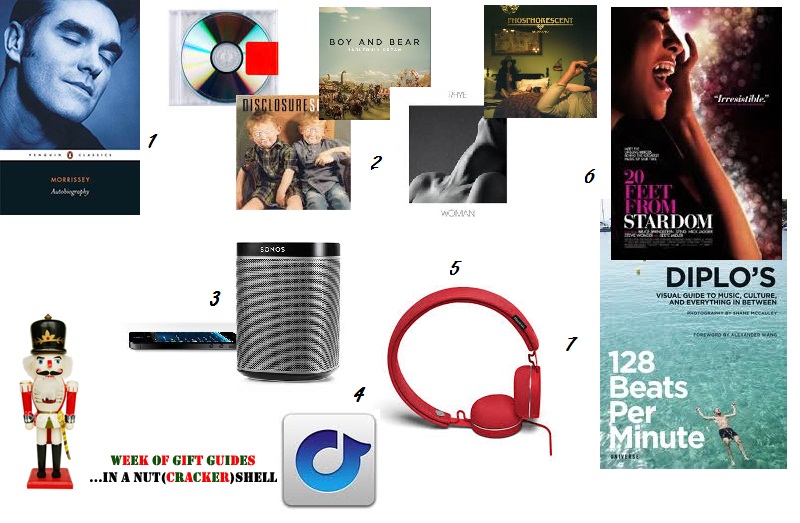 1. Morrisey's autobiography: Or any other music biography from the past year. There's nothing more fascinating than reading about the geniuses behind the music or movement – whether or not the music is something you've followed. More than anything, learning about a figure who helped shape art and popular culture is an education worth having.
2. 2013 must-hear albums: This should be a given, but perhaps scour the year's "best of" lists for influential albums from the past year. Albums that were controversial, groundbreaking, acclaimed – or just widely accepted as beautiful – should always be revisited. A short few of my picks from the past year include releases from Yeezy, Rhye, Phosphorescent, Vampire Weekend, Boy & Bear, Night Beds, Disclosure, Quadron, Volcano Choir, Lucius, Moby, Kings of Leon, Goldroom and Earl Sweatshirt.
3. Sonos Portable Speakers: I think we all know what it's like to have a get together and find yourself cursing the volume on your laptop, fiddling with your sub's chords or playing music from an iPhone in a cup. None of these are acceptable when you're trying to set the tone of an evening – so pick up a pair of these mobile, and effective, portable speakers to get the jam going right.
4. Rdio subscription: At only $10 a month, this bountiful social jukebox makes it easier for everyone to find and store any song they like – with over 20,000 tunes to choose from. Whether on your phone, on the web or offline, apps like these allow you to readily do the music discovering you've been dying to do.
5. Urbanears Humlan headphones: My disdain for infuriating earbuds is no secret, and with the winter weather rolling around, cozy (and cute) over-the-ear headphones are an absolute must. Pick almost any colour, enjoy the superb sound and relish in frostbite protection – and I promise you'll be convinced to burn your earbuds immediately.
6. Music doc: 20 Feet from Stardom: Following some of the leading back-up singers of pop and rock music, 20 Feet from Stardom will make it impossible to ever listen to the Rolling Stones' "Gimme Shelter" again without thinking of how Merry Clayton's powerful pipes  complete the classic. This documentary explores how so much of the music we adore wouldn't sound the same without the industry's leading back-up vocalists – and how close, yet far, they are to the fame they deserve.
7. Diplo's 128 Beats Per Minute: On the other side of this year's music books, 128 Beats Per Minute chronicles superstar producer and DJ Wesley Pentz (Diplo)'s journey to the world's hottest music hubs through playlists, anecdotes, tweets and Shane McCauley's photography.