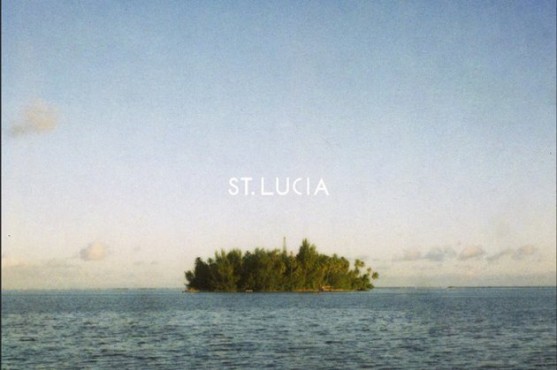 At least once a day, a song flips on the ol' iPhone, stereo or radio station and I wonder to myself, 'How is this not huge yet?'
It's the age-old name of the music game – not every artist gets the airtime they deserve. But, that being said, we are in one of the most musically eclectic and experimental day and ages – where everything from weird dubstep, to soulful alt-rock and shamelessly guilty pleasure pop is readily invited into the mainstream and given a shot at the big leagues. All we can do is hope; hope that the good sounds don't slip through the cracks, and that those good sounds perpetuate into new releases and crammed tour schedules to appease our eager ears.
When it comes to those aforementioned should-be-a-household-name sounds, this week, my radar blinked wildly while listening to a staple one-man band in my library, known as St. Lucia. One may credit the guy to countless remixes and sidekick spots on popular releases, but upon sitting through both the South-African born Brooklynite's addictive EPs, it won't take long to discover that no one puts Jean-Philip Grobler in the corner.
On his self-titled March release, Grobler established himself as a fearless synth-God on numbers like "Before The Dive" and the popular "All Eyes On You" (recently featured in a Victoria's Secret commercial) – featuring delectable feel-good hooks that put him on par with veteran dance-rockers Passion Pit and MGMT. The glittery keyboard effects, although enough to carry the album into totally likable territory, don't stand alone; they're almost always paired with major kick drum beats and the singer's robust vocal howl – a combination that, track after track, oozes metropolitan groove. Sweetly triumphant anthems like "Closer Than This" (mimicking flecks of Starship's 80s-rock repertoire) elevate audiences with bubbly singalong chants like, "Starlight in the middle of the ocean opens up my heart tonight/ I've got a feeling we will never get closer than this."
From the first beat of the catwalk-ready "September" (note: Fall runway music prediction), it feels as if beams of neon lasers burst from the pulsing keyboard trickery – while Grobler has never sounded better. And, while his falsetto holler coasts above layers of flashy beats before coming to a rapid halt, I guarantee you've never felt better either.
Even if you've been late on the uptake, only heard his star-studded collaborations with the likes of Charli XCX or Foster The People, or are hearing the dope dance floor beats for the first time – let this be a heads up that St. Lucia will get his, sooner or later.