Ah, Las Vegas. Sin City. The City that Never Sleeps. If you are like me, and are one of the few twenty-somethings left in North America that have yet to make the trip to this glitzy party-capital, let me warn you now: prepare yourself for a little bit – or a lot – of FOMO.
The interesting thing I found on my recent romp to Vegas is that it's not quiiiite a "relaxing" vacation destination in the way that, say, Cabo or Veradero is – sunshine & pools in abundance, for sure, but there's also the city aspect of Vegas that begs to be explored. Mix in some iconic casino trolling, a show or two, not to mention the magnetic near proximity to the Grand Canyon and other gorgeous mountain ranges, and all of a sudden you've got an odd hybrid of a vacation that can throw off even the most meticulous planners (trust me).
Don't get me wrong – in my opinion, Vegas totally lived up to the hype. There truly is something for everyone hidden away on this 7km stretch of tarmac in the Nevada desert. So whether you're looking to hit the blackjack tables, eat really great Mexican food, or simply soak up some sun, hopefully my Vegas highlights can help you narrow down the endless options that are sure to be at your disposal.
SLEEP
I love me a luxury hotel. As someone shamelessly living the "champagne taste on a beet budget" adage hard, I can confidently tell you that nowhere is this more doable than in Las Vegas. While almost all of the hotels on the strip are grandiose in both size and decor, some have distinctly older… smells, for lack of a better description (indoor smoking in all casinos is largely to blame). We traveled to Vegas for a wedding that was held at the Wynn, and opted to stay there. The Wynn is stunning – boasting a first class casino, gorgeous rooms, pristine pool & spa facilities AND an award-winning buffet, I would definitely recommend this place if marble bathrooms bigger than a small home are your indicator of successful vacation excess (it should be).
This is the PUBLIC bathroom off the lobby.  Need I say more re: the bathrooms.
Of course, if you are like my boyfriend and think there is more to a Vegas vacation than a large and luxurious room that you "spend no time in anyway", there are plenty of budget-friendly options. Others in our party stayed at the nearby Treasure Island, which – aside from having a Señor Frogs attached to it – has a fun pool (more on that later) and cool pirate show happening out front regularly. This is one of the more reasonably priced hotels in Vegas that actually sits on the strip and has fun amenities at guest disposal. For an experience that still gives you that "luxury hotel" feeling but at a more reasonable price, try The Trump – sitting slightly back off the strip, this arm of the next great President of the United States' empire (ha!…too soon?) maintains the feeling of luxury in its rooms and amenities at a slightly lower price. But fair warning: it strays from Vegas fashion by not having a casino in the building. Or even a slot machine, like, anywhere on premises. If you are reading this and don't think it's weird, you have obviously never been to Vegas – just wait until you get there, you will understand.
EAT
Now we get to my FAVOURITE part of any day vacation: the food. As someone who *unsuccessfully* tried to diet 5 months out for this vacation – only to give in to the constant temptation that is the existence of fried chicken – I naturally could not wait to stuff my face on this trip. Here I have outlined 5 delicious spots I tried while in town:
Koi
Sometimes you go for Japanese food before a night out so you don't feel bloated in that dress & heels next to your anorexic friend, and SOMETIMES you go because it is actually the freshest, most delicious food you have ever eaten. Koi, located in Planet Hollywood, was the latter. We went for a ladies' dinner on our first night in town, and this spot was perfect. The vibe is contemporary-classy, and they make one of the best lychee martinis I seriously have ever had. Don't be afraid to share plates or order one of the prix fixe menus, like we did – there is more than enough food to go around. We were stuffed after just the starters.
Guy Fieri's Las Vegas Kitchen
I am only slightly embarrassed to admit that my boyfriend and I saw Guy Fieri's restaurant featured on fellow Food Network star John Catucci's 'You Gotta Eat Here!' 6 months prior to this trip and talked about eating there every single day leading up (although owned by Guy, his Las Vegas Kitchen is no Diner, Drive-In, or Dive). It lived up to expectations as much as any show featuring delicious food that you watch from your couch while hungry could. Attached to the LINQ Hotel & Casino, it is also one of the only places in Las Vegas (and most of the US, to the horror of all Canadians) that serves Caesars. A must-visit for what will surely be a hungover brunch/lunch/dinner while you are here.
El Segundo
A few of us stopped by this place first thing after we checked into our hotel out of sheer desperation for food after our long flight – located in a shopping centre of sorts right across the street from the Wynn, it's cute stripfront ivy-covered patio with market lights looked almost as welcoming as the idea of a taco. Little did we know, we had stumbled upon an amazing find that my boyfriend and I actually returned to before our redeye flight home 4 days later. El Segundo serves up cheap, authentic Mexican food and a damn good margarita, really giving off the flavours and ease of a relaxing Mexican vacation in the middle of, well, a shopping mall. Highly, highly recommend visiting!
Searsucker
Celebrity Chef Brian Malarkey's "new American classic cuisine" has expanded and recently set up shop in Caesars Palace. Being 'suckers' for fresh hummus and pita bread (see what I did there), seeing Malarkey's version on the menu was enough for us make dinner reservations. We like simple things. Expect large portions and flavourful food here, not to mention a varied and reasonably priced wine list. All things that backed up the hummus hunch, yassssss!
HUMMUS.
Brisket w/ giant onion rings. Hi.
The Buffet at Wynn
Apparently an "award-winning buffet" – according to my boyfriend who spent toooo much time watching videos (yes, videos) of it on YouTube prior to our trip – the Buffet at Wynn was quite incredible. Indulging at your hotel's buffet can sometimes be hit or miss, especially in an environment like Vegas where the cost of a buffet can top $50 USD. However, most hotels offer specials where you can receive vouchers for buffet breakfasts, etc. at the time of booking, so look into that when considering the hotel of your choice. Although not always super cost-effective for light eaters (I think the breakfast buffet at The Wynn ran something like $32.95 USD per person), the free breakfast thrown in with our room when booking saved us from buying both breakfast and lunch most days. One thing to note is that it's not unusual to wait 30 minutes in a lineup for the buffet here, so factor your hangriness in.
"The Atrium" of the buffet. A garden worthy of Wonderland.
PARTY
There are no shortages of places to party in Las Vegas, obviously. I cannot profess to be a Vegas nightclub expert at this time, visiting exactly zero nightclubs while I was there (I know, I know. Why am I even here?). However, I walked past several and definitely got their general "vibes", so for this reason and this reason alone I will proceed to judge some here for your benefit. In summary: I was pretty disappointed Scott Disick wasn't hanging out at the entrance to 1OAK circa 3pm on a Wednesday, however the girl in the LBD that was standing there handing out flyers told me all I needed to know. The Kardashians have NOT been by lately. 'Intrigue', the newest club on the scene with residency at the Wynn of all places, might be the new hip spot – it hosted celebs ranging from Kate Hudson to Lauren Conrad to Vanessa Hudgens on its opening night last month, and Gigi Hadid hosted her 21st birthday here (unless all bottles are always engraved with 'GiGi's 21st'? A possibility). Beach Club at Encore seems to be the hippest pool party right now, boasting resident DJs like Calvin Harris, Diplo, and David Guetta. But what do I know. The only pool party I went to was for one + a book at the Wynn, and Treasure Island's pool on a Saturday – no DJ of note, but plenty of drinks and girls named Ashley popping their booties poolside.
What I DO know for sure, is that if you are in town for a Bachelorette party or just with your grandma, the famed 'Thunder From Down Under' show is a must-see. This show is literally Magic Mike come to life, and was a lot more fun than I expected it to be. Although the dancers aren't all quite as good as Channing Tatum and his backup, their rippling abs and tight butts make up for it. The host is a HIGHLIGHT – I don't know who this dude is, but I suspect he was deported from Australia for being a part of one or more gangs (his bod is fully tatted and he rocks a half bun like no chick I have ever seen). When he made out with a grandma on stage while giving her a lap dance, I knew this place was for real. Make some time to go. Also, Vivica A. Fox was there when we went, and was reallllllly good at receiving a 50 Shades of Grey- themed strip show on stage. Girl's got it going on.
GO OFF THE BEATEN PATH
Finally, if you find yourself with a free day while in Las Vegas, consider renting a car and exploring the surrounding area. As much as there is to do within the bubble of the strip itself, there is also an expanse of mountains and desert a mere stones' throw away. Several of our friends rented convertible Mustangs for something ridiculously cheap, like $45 for the day, and drove up into the nearby mountain ranges or even to the West Rim of the Grand Canyon (about a 5 hour drive). All said the adventure and beautiful views were worth it.
And that, nuts, wraps up my hopefully helpful Las Vegas guide! Final advice: get a better tan than I did, and go to a damn nightclub.
Who might this guest be?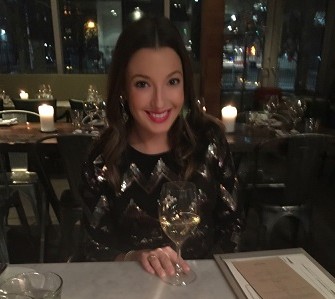 Shannon is a Tostito enthusiast who balances her unhealthy obsession writing reviews from her TripAdvisor account with a day job in Legal Marketing. She lives in Toronto, where she has yet to meet a carb she didn't like. Follow her misadventures on Twitter @codeshanaynay.