Croatia. Turkey. Peru. New Zealand. Morocco. Kenya.
What do all of those countries have in common? Well, they've all been on my travel bucket list for almost a decade. Beyond those top six, my list goes on and on…and somewhere, hovering down at the very bottom of the list was…Iceland.
I'll have to plead ignorance with you, because when I thought of Iceland, images of icy terrain and barren towns came to mind – this, of course, was supported by zero research.  Luckily, I have a partner whose list differs to my own and, almost by a flip of a coin, I ended up in Iceland with him this summer.
People always say cliché things like: "There's something for everybody", but in this case, it's true…really! Whether you're a party animal, a nature lover or an adventure seeker, Iceland will tickle your fancy. I know I'll be going back, but I'll tell you about those travel plans another day…
For now, here are the top 9 reasons to visit Iceland:
1. The (not so icy) Terrain
Visit Iceland in the winter and, yes, you'll get icy conditions (perfect for hiking on glaciers, if that interests you). Visit Iceland in the summer and you'll get to experience some of the most diverse terrain you'll ever see. Mossy fields are interrupted by gaping craters; rolling hills abruptly give way to masses of volcanic rock. It's really quite spectacular and unlike anything you could ever imagine.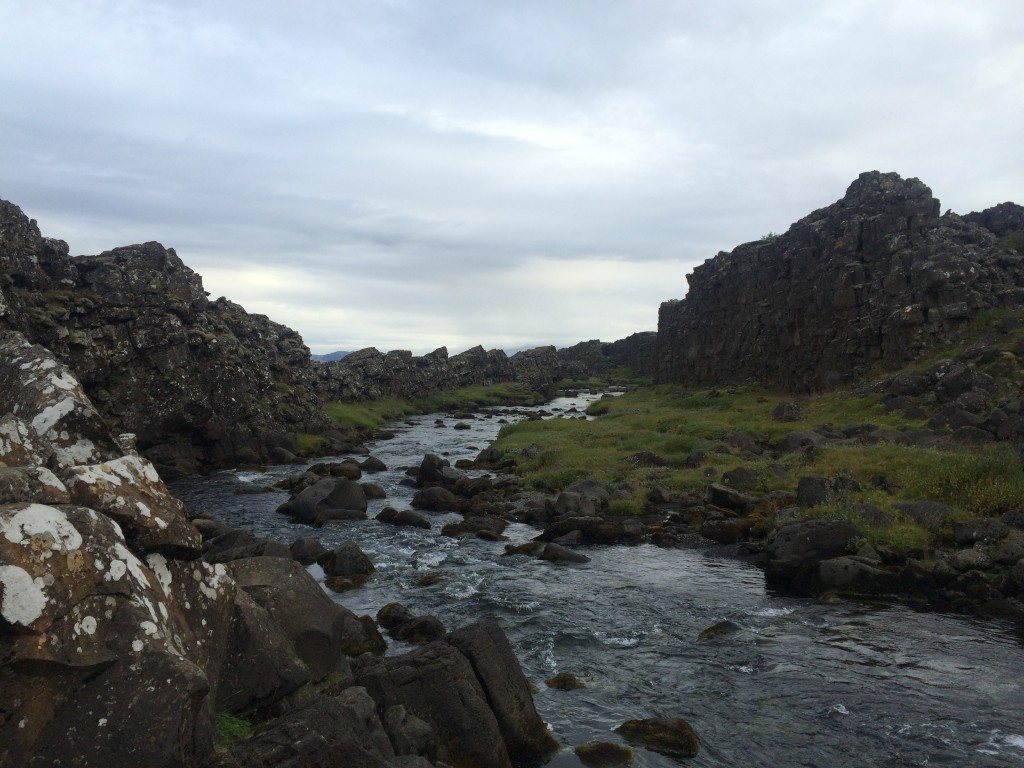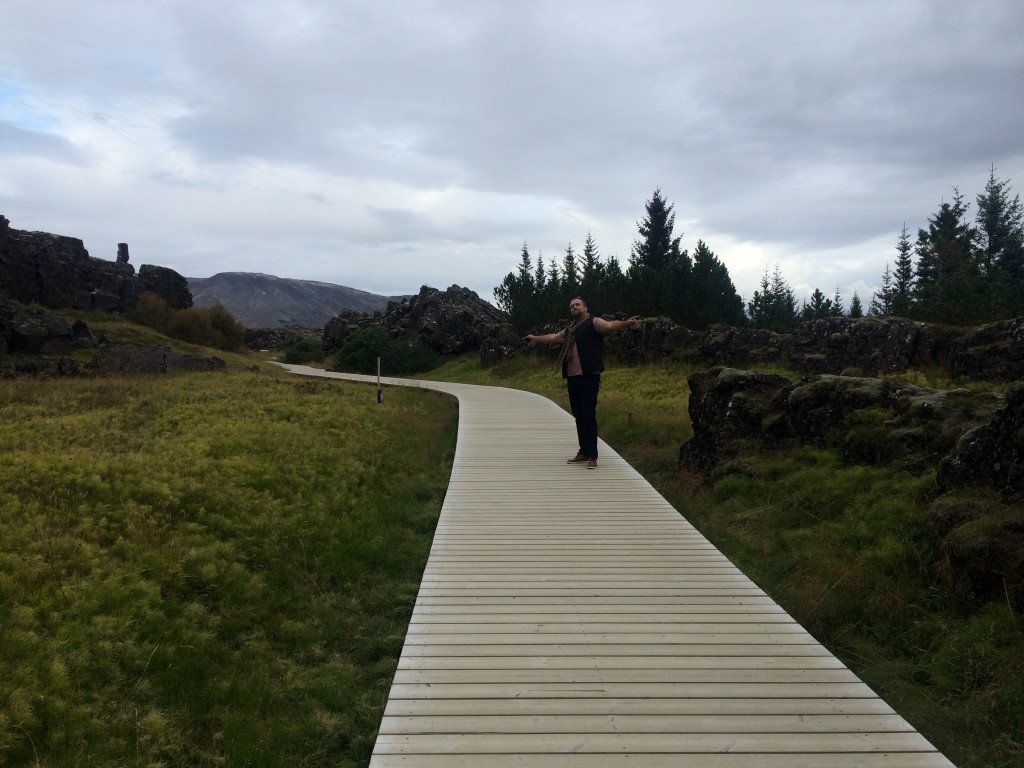 2. The Geo-Thermal Spas
Iceland is home to many natural geo-thermal hot springs and spas. Known for their restorative powers, the waters of these pools are rich in silica, sulfur and other nourishing minerals. A trip to the notoriously famous Blue Lagoon  – 400,000 tourists visit this world-famous attraction each year –  can make for the most relaxing portion of your trip to Iceland. But there is one thing you should know: though National Geographic called the Blue Lagoon one of the "Wonders of the World", it actually isn't entirely natural. Shocking, I know. Let me explain: the water of the Blue Lagoon is natural, but the water itself is pumped into the lagoon by a neighbouring geothermal plant(!). To sum it up, in the 1970s the geothermal plant was built to produce natural energy for the neighbouring towns of Reykjavik and Keflavik. Piping hot water is pumped up through the ground, near lava flow, and runs through turbines to generate electricity. The water is then pumped into the lagoon. Mind. Blown.
But that still  doesn't take away from the appeal of this Icelandic geothermal spa experience. Tourists continue to flock to the lagoon, bathe in its waters for hours on end and enjoy a complimentary mud and algae mask during their stay. Did I mention there's a swim up bar?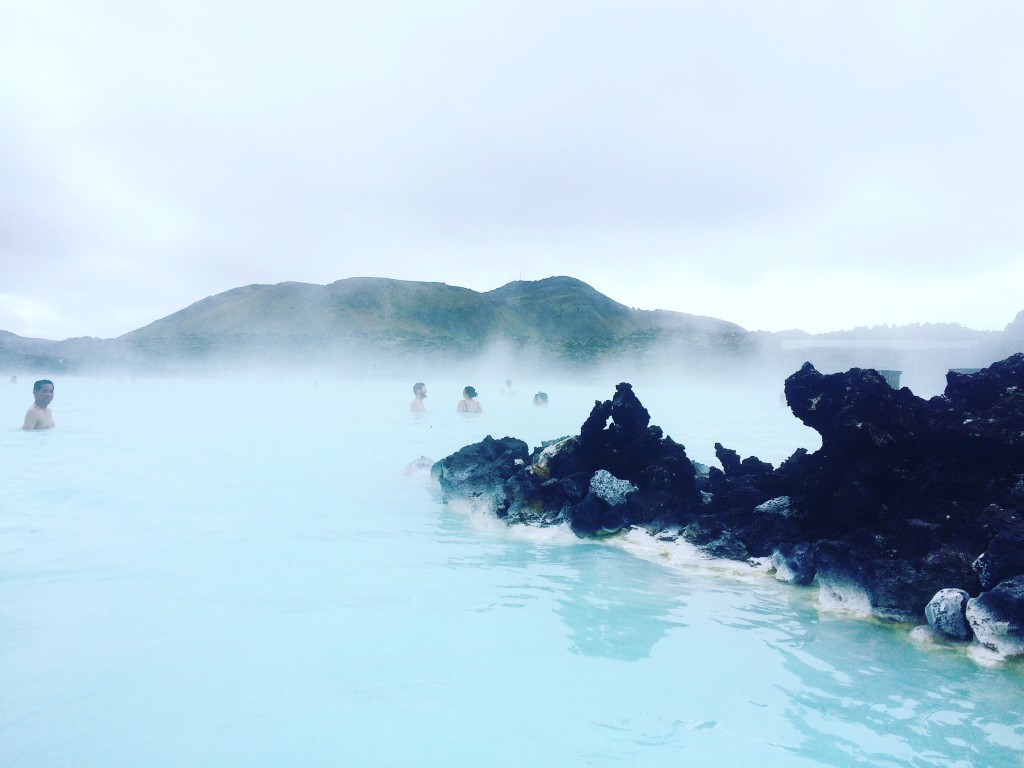 3. The Horses
Icelandic Horses are a quirky breed. Known for being shorter and stouter than their long-legged stallion cousins (they actually look like ponies!), they have shaggy manes, sturdy statures and are cute as hell! These "ponies" are EVERYWHERE in Iceland.  I made a point of pulling off a highway  to say hello to some handsome chaps – I was told  by a skeptic that Icelandic Horses are more aggressive than regular horses – but I made friends with them quickly (pictured below). I was also able to leave the encounter with both of my hands fully in tact. Win! So, if you get the chance to pet or ride an Icelandic horse, take it!
4. The Nightlife
Did you know that Reykjavik experiences almost 24 hours of darkness in the winter? So in the summer, you might be able to guess the opposite: almost 24 hours of sunlight. You can stay out until midnight and still have hours of light on your side. You can only imagine what this does to the restaurant/bar scene. Merry-makers go out to eat later (10 pm) and  stay out until 4, 5, sometimes 6 am. Rekjavik has a main drag that is full of rowdy bars and restaurants …. and there is a healthy handful of dive-bars, too, which always make for a good time…no?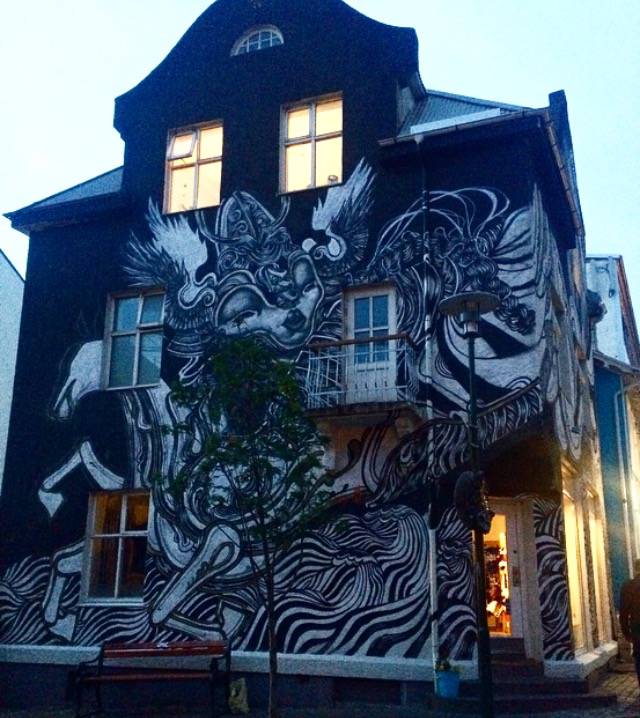 5. The Architecture
When it comes to architecture, Reykjavik is a colourful town. Any birds-eye view will leave you with a breathtaking sight of bright rooftops set against a picturesque harbour. Take a walk along the harbour and you can marvel at the Harpa concert hall which has been aptly likened to fish scales. Another 15 minutes by foot will lead you to the Hallgrimskirja Lutheran Church, whose tower marks the highest point in Reykjavik.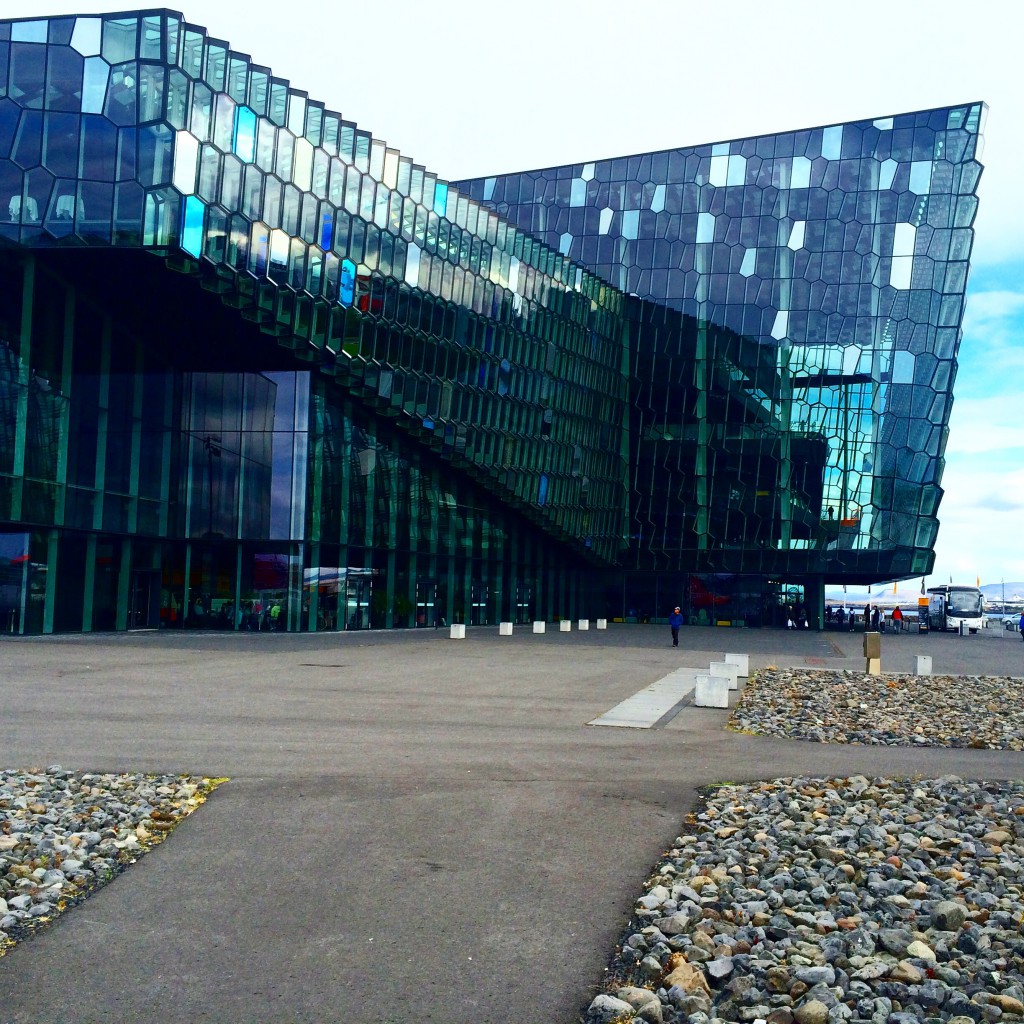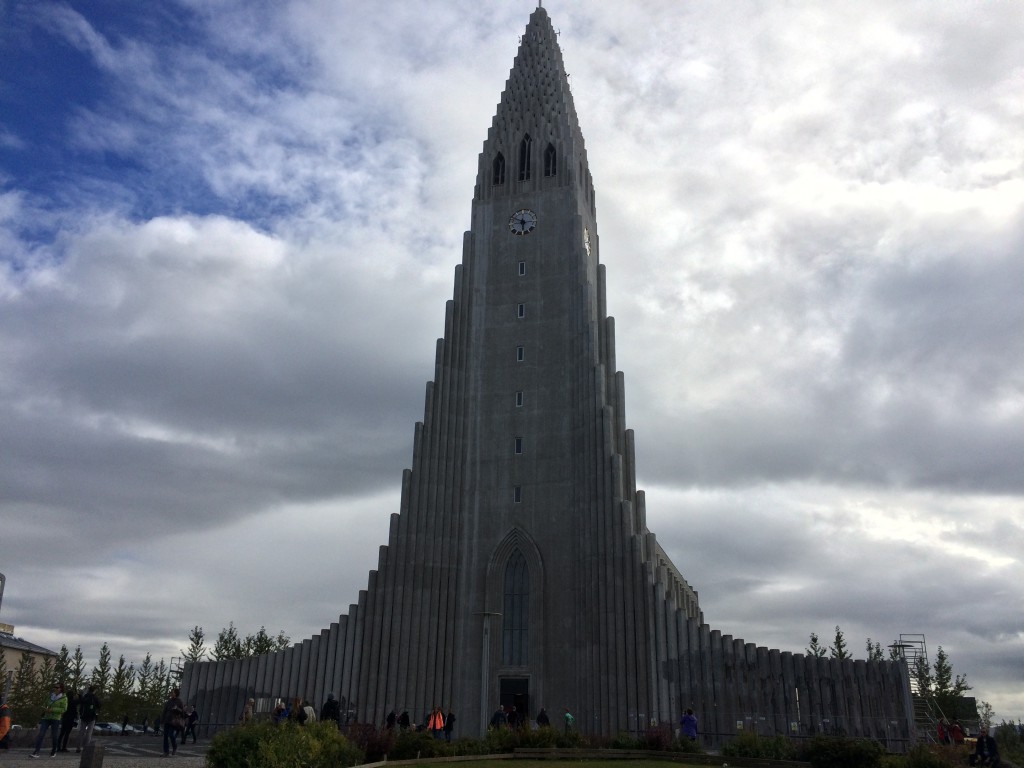 6. Icelandair #mystopover
If you don't know, now you knowwwwwww … that IcelandAir offers a cost-effective means to visit Iceland. #MyStopOver is an IcelandAir campaign that has worked to support the tourism industry in Iceland and encourage more travellers to include Iceland in their travel plans. This nifty stop over allows anyone travelling from a hub in North America (Montreal, Toronto, New York) to a hub in Europe (London, Frankfurt, Paris) to stop over in Iceland for a nominal fee. A word to the wise: it may not cost you a lot to #stopover, but everything else in Iceland is expensive!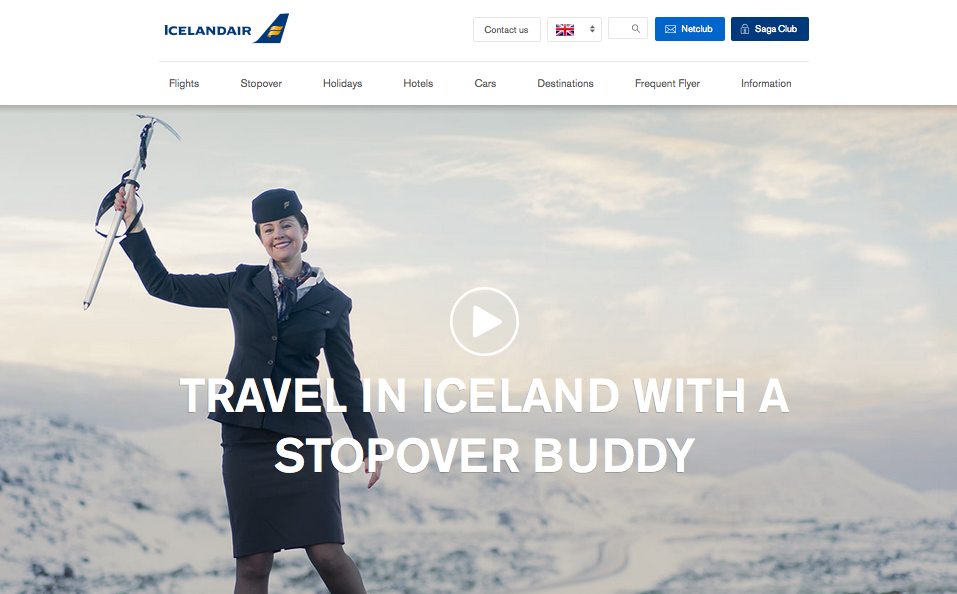 7.  Adventure Travel/Tours
For the adventure seekers, you really don't have to travel far from the city of Reykjavik. Drive 40 minutes outside of town and you will find yourself in Pingvellir National Park. Drive a little further from there and you'll come upon, what is known as, the Golden Circle. Travellers will hike this circle in a few days, trekking across the unique landscapes, waterfalls and other natural spectacles of Iceland. Iceland also offers an abundance of guided adventure tours – snorkeling between tectonic plates to spelunking in ice caves – which you can read about here.
8. The Northern Lights
If hiking the Golden Circle sounds too rigorous, a leisurely drive out of the city on a clear night will lead you to see the dancing Northern Lights. Though you can see the lights from places like Moose Factory in Northern Ontario, a clear night in Iceland promises spectacular (maybe the best?) views of the sought-after Aurora Borealis.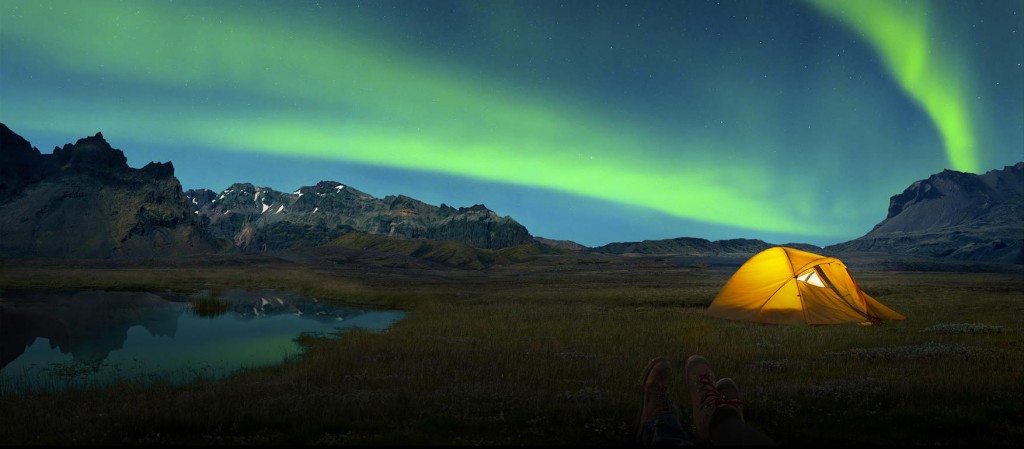 9. Geysers
Iceland is full of them. And no, I'm not talking about a country full of old-timers. I'm talking about boiling water that periodically shoots out of the surface of the earth. In fact, "Geysir", which is the namesake for all other geysers in the world, finds its home just on the outskirts of Reykjavik.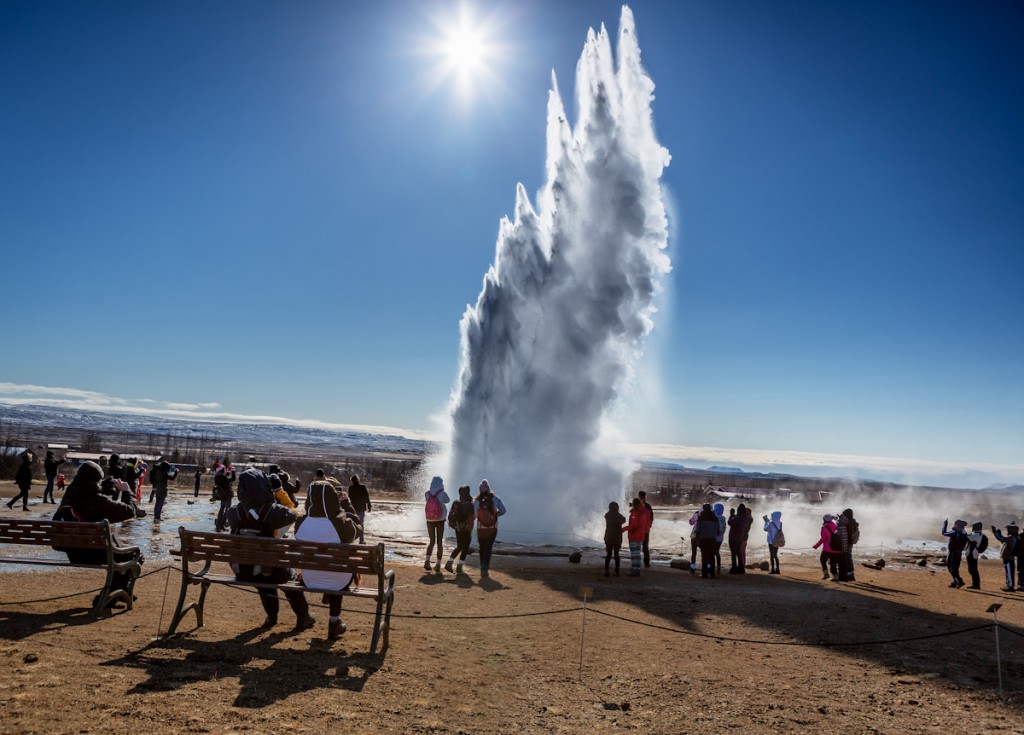 Geysers, geo-thermal spas, pony rides and never-ending daylight.
Is that enough to send you to Iceland?