Last night, Hollywood got together to honour film and television get drunk and hand out trophies. Luckily, they invite cameras and allow all of us to join in on the fun. Not only do we get to enjoy a parade of unbelievable (and sometimes off-based) fashion, but we get an inside look at celebrities laughing, crying and sending serious stink-eyes to their enemies. It's the perfect type of celebrity drama that we live for. Here are the good, the bad and the awkward from last night's Golden Globes…
@inanutshellca: After the gowns, my fave part of these shows is the cut to the audience. Touch-ups, evil eyes, tears, kisses. Why do I live for this stuff?
The Good:
Amy Poehler & Tina Fey Killed Their Hosting Duties
These besties were the perfect pick to host the Golden Globes. While co-hosts at these type of events often feel awkward and ill-picked (remember Anne Hathaway and James Franco?) these two feed off each other in the best and most hilarious way. Highlights: equating Kathryn Bigelow's marriage to James Cameron torture, asking Taylor Swift to stay away from Michael J. Fox's son and chirping Lena Dunham after she thanked them for getting her through middle school. Either invite these ladies back or ask them to host the Oscars. #FeyPoehler2014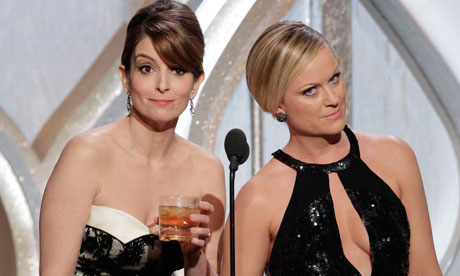 @inanutshellca: Too busy laughing at Tina and Amy to tweet. #GoldenGlobes
Will Ferrell & Kristen Wiig Confirm That They Are The Funniest People On The Planet
These two are notoriously funny and they certainly did not disappoint last night. With their over-the-top, fabricated summaries of film plots when introducing the nominees for Best Actress nominated in a comedy or musical, they had all of the nuts in stitches. Rumours have it that they may be asked to host next years' ceremonies… and I'm not complaining one bit.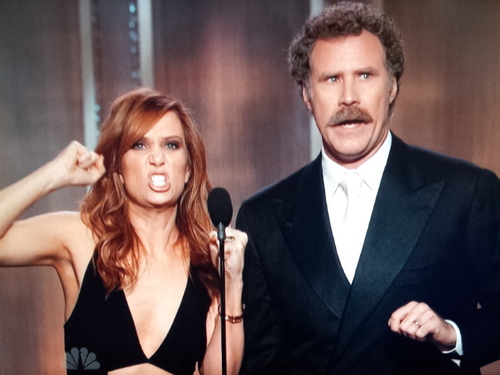 Ben Affleck & Jennifer Garner: Super-couple
These two solidified that they may, in fact, be the world's cutest couple. Ben Affleck's acceptance speech melted hearts across the world as he said, "And I want to thank my wife. She's the reason I'm standing here. I adore you, I love you so much. Thanks for sitting through this. You're my everything." Later, when Jen acted as a presenter, she thanked people who Ben forgot (notably, George Clooney) on behalf of her husband, because she's also the best.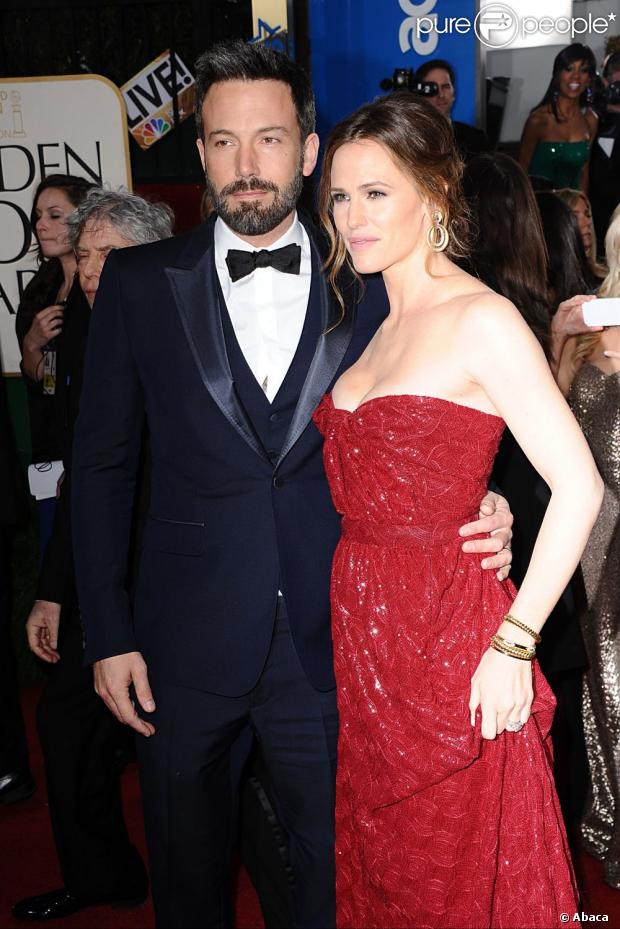 @inanutshellca: Oh Jennifer!!! You're so beautiful. Earrings and hair are perfection. Ben and Jen are the most human celebs. #GoldenGlobes
Jodie Foster's Moving Acceptance Speech
While Jodie's news-making acceptance speech for her life-time achievement award wasn't loved by ALL viewers, this viewer thought that it was wonderful. While many didn't understand if she was coming out or retiring, I thought that she was eloquent, confident and personally loved that she spoke from the heart, especially when addressing her mother. It was a moving and beautiful moment.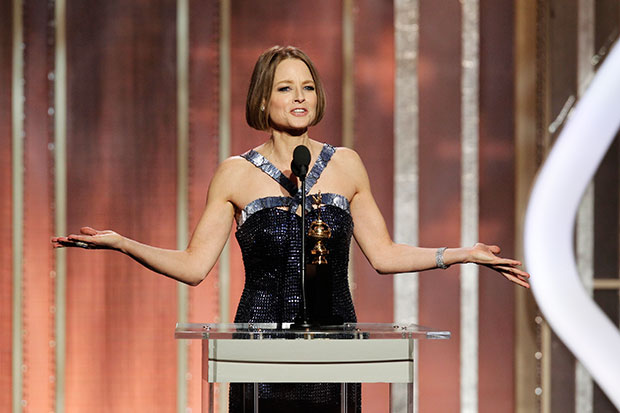 Jennifer Lawrence's Sense of Humour
I knew that Jennifer Lawrence was down-to-earth based on some recently published interview articles, but I didn't realize quite how hilarious she actually is. Her speech was laden with sarcasm and self-deprecation and it was great. Highlight: Exclaiming, "I beat Meryl!" which is, arguably, one of the hardest things to do as a female actress in Hollywood.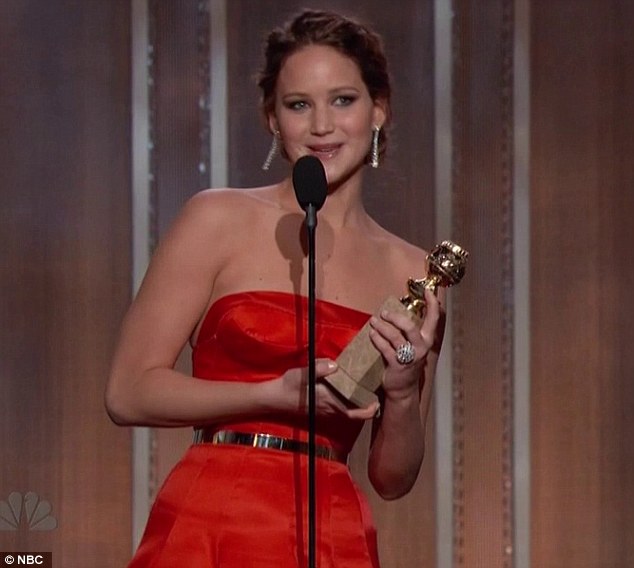 The Bad:
Tommy Lee Jones' Frown
While the rest of the world was laughing along with Will Ferrel and Kristen Wiig, Tommy Lee Jones was… NOT. Now being compared to Grumpy Cat, TLJ grimaced through most of the awards show. Come on, lighten up!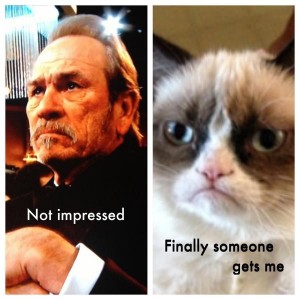 Taylor Swift's Stink Eye
Taylor Swift was definitely not in a good mood last night. Maybe it's because her stylist aged her 10 years, but either way, she was NOT impressed when Adele won for Best Original Song, nor when Tina and Amy poked fun with her.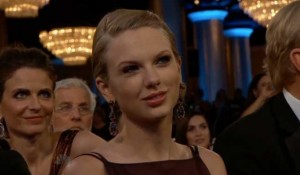 @danjlevy: Taylor Swift is still SO upset. Almost as upset as Tommy Lee Jones.
Anne Hathaway's Kanye Moment
Having previously addressed the audience after winning Best Supporting Actress for her role in Les Miserables, the film itself won Best Comedy or Musical. While the large cast filed on to the stage, Anne stole the spotlight from the film's producers and director by thanking some people that she forgot. Come on girl, you had your time to shine…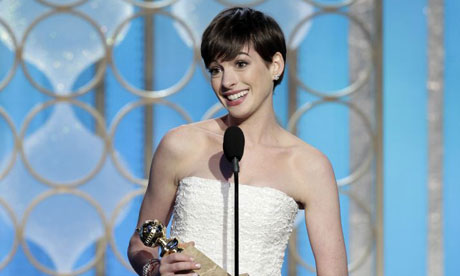 @gailmcinnes: I feel like Anne Hathaway did a bit of a Kanye just there. Not Impressed. #GoldenGlobes
Lena Dunham's Shoes
Obviously unprepared for the long trek to the stage, Girls creator Lena Dunham was seriously struggling in her heels. Next year, maybe some sparkly flats would be best… #newbieproblems
@catkitts: Lena Dunham obviously didn't think she'd have to walk to the stage #cantwalk #workthoseheelsgirl #GoldenGlobes
(President of the Hollywood Foreign Press) Dr. Aida Takla's Weird Speech
Addressing the crowd, Takla tried to be funny and "with-it" but didn't really succeed at either. Her final punchline consisted of hitting on Bradley Cooper, with Call Me Maybe lyrics. Yes, from the 2011 hit by Carly Rae Jepsen. Thanks Grandma, now everyone's feeling uncomfortable, most of all, Bradley.
The Awkward:
Lea Michelle's Tan
Channeling her inner-guido, Lea Michelle had everyone questioning why she imitated Snooki last night.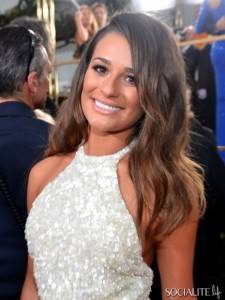 Paul Rudd & Selma Hayek's Innability to Ad-Lib
When their teleprompter didn't work, these two proved that not everyone can improvise. While I love Paul Rudd and actually thought he was being awkward on purpose the first time he sputtered, it became clear REALLY quickly that these two had no clue what was going on.
Catherine Zeta-Jones Singing
Les Miserables is a musical. Rock of Ages is a musical. Catherine Zeta Jones introduced the clip for Les Miserables. She also starred in Rock of Ages. Despite these facts, there was no reason that she should have burst into song…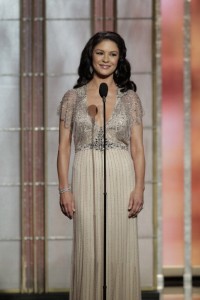 Mel Gibson's Face
Why did Mel Gibson look like this?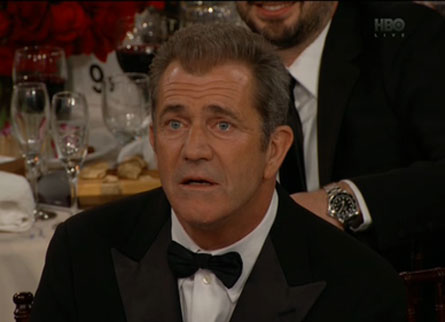 J.Lo's Many Exes
At every Hollywood gathering, you can be certain that at least one of J.Lo's exes will be in the audience. Last night, we had two of them…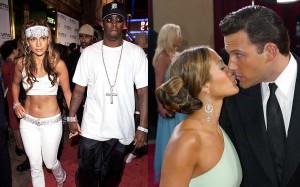 @inanutshellca: Oh J Lo. You haven't changed one bit. Despite motherhood. #GoldenGlobes
And there you have it folks! We're coming full steam ahead into Awards season, a magical time of year! While we live-tweet the Bachelor weekly, we also live-tweet Awards shows. Don't forget to follow us: @inanutshell.ca!