These past couple of months I have been all over the place – literally and figuratively. So when I take a second to pen down all of the books I've read lately, it's no surprise to me that they are equally as spastic in nature. In this volume of the Booklist, I've got you covered no matter what mood you're in: imaginary wizarding worlds, earthy Irish landscapes, plant-based cooking, and feminist words of empowerment await you for this coziest of reading seasons.
HARRY POTTER AND THE CURSED CHILD by J.K. Rowling, Jack Thorne and John Tiffany
I couldn't resist this trip down memory lane. To say that I was a massive Harry Potter fan growing up just isn't accurate enough – I straight up went to bed every night for an embarrassing number of years hoping Hagrid would burst in and come take me away to Hogwarts à la Hut-on-the-Rock (spoiler alert: that never happened).
Rowling's revisitation to Potter in the form of Cursed Child is a different one: this book is actually the script to a play, currently on stage at London's Palace Theatre. And unfortunately, the format isn't the only way this installment differs from it's predecessors… before I get into my thoughts, I will preface this by saying that I WANTED to like Cursed Child – I really, really did – but it's just not the same wizarding world of Harry Potter that we're used to. The writing and character development (or character continuation, in many cases) is not familiar, and that is in large part because the writing itself was done by Jack Thorne based on an original new story by J.K. Rowling, himself and John Tiffany. Harry, Ron, Hermione, Draco, and all of our old favorites are all but unrecognizable under Thorne's pen, and Harry's son Albus (whom the story centres around) is not at all fleshed out the way I would have imagined Rowling doing – too dramatic, and certainly not doing his namesake proud (R.I.P Dumbledore). The premise of the story itself is unbelievable in a way that Rowling was always able to avoid through her prose and character development, and I would say that is Cursed Child's biggest downfall.
I stuck with it because it's an easy read and I'm always dying for more Potter, but overall am disappointed that Rowling put Harry & Co. into strange hands. Maybe the story translates better on stage, but I'm not yet convinced. If you need me, I'll be waiting here for Eddie Redmayne and Fantastic Beasts to get my next Potter kick.
POND by Claire-Louise Bennett
Hailed as a "stunning debut… narrated by a rural recluse", I was drawn to Pond for its Irish west coast setting and promise of eloquent prose. The thin volume is a deceptively slow read, as it requires your full attention to drink up every passage depicting the narrator's mundane day-to-day perceptions living in her small cottage on the coast. I found myself stopping to re-read passages often, finding new meaning in them each time around. Bennett does a beautiful job of appealing to your subconcious with her often blunt – sometimes jarring – observations of the world. I highly recommend this as a rainy day read, something to delve into when you have an afternoon or weekend to spend cuddled up losing yourself in a book. Some of my favorite passages are below.
"I just threw my dinner in the bin. I knew as I was making it I was going to do that, so I put in it all the things I never want to see again."

"Since her death is not dealt with in the book the only place it can occur is in my head, and I feel as though something is still haunting me or even that I am still haunting something…"

"No, there are times when men and women don't belong inside rooms."

"So even though it sometimes feels as if one could just about die from disappointment I must concede that in fact in a rather perverse way it is precisely those things I did not get that are keeping me alive"
OH SHE GLOWS EVERYDAY by Angela Liddon
Example #9000 of effective product merchandising: I picked this little baby up at my local Indigo after spotting it nestled in a gorgeous table setting. Did I realize it was a vegetarian cookbook? No. Am I a vegetarian? No. But the cover is cute, and the shelf it was on was cute, so here we are. Thankfully, Liddon's follow up to her insanely successful first cookbook, Oh She Glows, is full of delicious and guilt-free recipes that even this chicken afficiondo has fallen for. Although I do not practice vegetarianism, I've done enough reading to know that opting for meatless options once in awhile certainly does not hurt – and with these recipes, you don't even miss it! Some of my favorites:
 Crowd-Pleasing Caesar Salad;
Comforting Red Lentil and Chickpea Curry;
Roasted Garlic Basil Pesto Potatoes with Arugula;
and the Endurance Crackers!
There are also a ton of smoothie recipes that I'm dying to try.
WE SHOULD ALL BE FEMINISTS by Chimamanda Ngozi Adichie
With the US Election (namely, the involvement of Donald Trump) stirring up so much controversy around gender lately, this colorful title struck a chord with me as I walked past it in the bookstore. Adapted from Adichie's TEDxEuston talk from 2013 of the same name, the short 50-page essay makes a case for the re-evaluation of "feminism" – both the way we view the term and the idea that sexism no longer exists. I always enjoy opinions being boiled down to basic facts and experiences, so this was a refreshing take on an argument that is often reduced to semantics.
I also realized halfway through reading that the lines I was finding familiar are actually featured in Beyonce's 'Flawless' track – she used Adichie's voice in select lines from the TED Talk speech. AMEN.
Who might this guest be?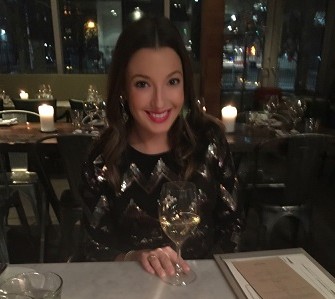 Shannon is a Tostito enthusiast who balances her unhealthy obsession writing reviews from her TripAdvisor account with a day job in Legal Marketing. She lives in Toronto, where she has yet to meet a carb she didn't like. Follow her misadventures on Twitter @codeshanaynay.
Banner image via 1.