I am back with Volume 2 of The Booklist – 'Summer Reads' edition! Looking for that perfect book to curl up with on the porch or by the water, cold cocktail in hand? Look no further! Below, I have curated a list of 3 perfect books for whatever vibe you are feeling. Looking to brood over a contemplative commentary on society and a woman's place in it? Try reading some of Joan Didion's first non-fiction work. Is reading about the luxurious lives of the "one percenters" more your game? Anthropologist Wednesday Martin's memoir has plenty of that. Maybe you want to escape into an enthralling female coming-of-age story set in the NYC restaurant scene? Debut novelist Stephanie Danler will excite and stun you with this work of fiction based heavily on her own experiences.
Okay, nuts: ready, set, READ!
SLOUCHING TOWARDS BETHLEHEM by Joan Didion
Joan Didion is my spirit animal. I think I might make a shirt that says that. This is the first of her works that I am introducing to The Booklist, but it will definitely not be the last. I read and re-read Didion often, having been introduced to The White Album in a university lit class. Hers is the type of prose that can be put down and picked back up when needed, always reminding you what you need to be reminded of. Her first collection of non-fiction essays, Slouching Towards Bethlehem is written with purposeful intent that oozes from each page. I read her stories and get lost in them; the time, the place, the people. It's only when I finish the last sentence that I sit back and marvel at her ability to use short passages of the seemingly mundane to tell a much larger story.
In Slouching, Didion splits her work into three sections: Lifestyles in the Golden Land, Personals, and Seven Places of the Mind. All of the stories are set in California, from San Bernadino to San Fransisco, and let me say that California in the 1970s has never had a stronger voice. My favourite is the first, entitled Some Dreamers of the Golden Dream. Didion's voice is articulate, commanding, despairing. You read her work to feel. Enjoy, and you're welcome!
PRIMATES OF PARK AVENUE by Wednesday Martin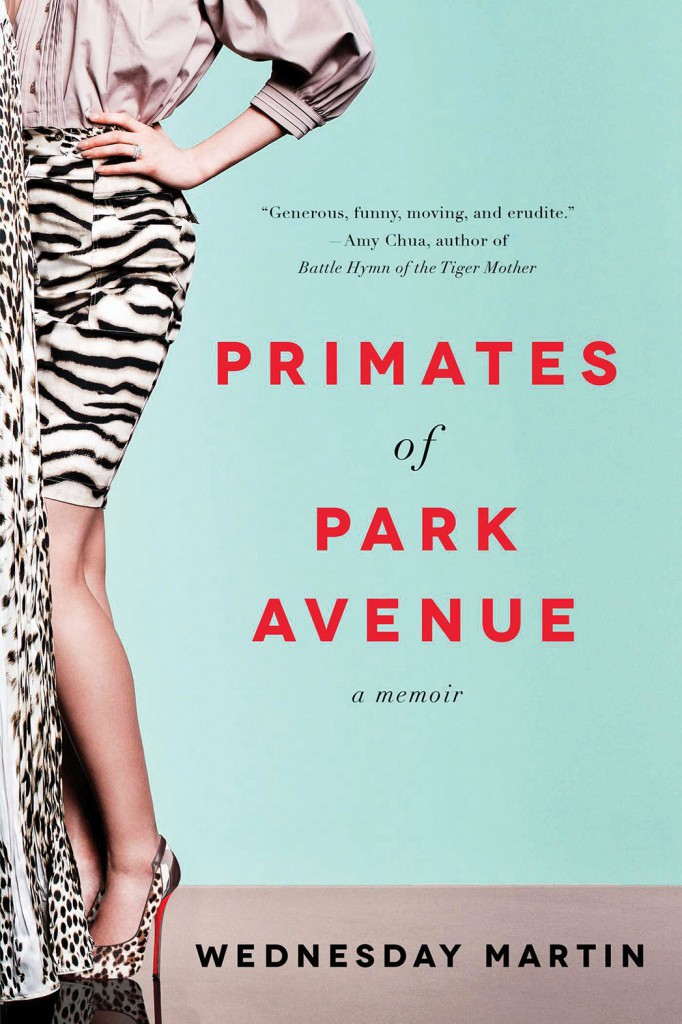 "This book is the stranger-than-fiction story of what I discovered when I made an academic experiment of studying Manhattan motherhood as I lived it."
So begins Primates of Park Avenue. I am really into memoirs lately, and this was such(!) a fun read. Equal parts Upper East Side glamour and anthropological insight, Wednesday Martin's clever depiction of motherhood on the island of Manhattan is the UES Bible for outsiders. Holding a PhD in Social Anthropology from Yale, Martin hilariously walks the reader through her Upper East Side culture shock after moving north of W 23rd St. with her husband and young son, navigating the rocky terrain between her old, hip, "Downtown"-mommy self and the new, highly competitive and elite world that is being an Upper East Side mother.
Eventually admitting to what she calls "crossing over" – when anthropologists cross the line from observant academic into practicing subject – I found Martin's self-aware narration to be highly relatable and very readable. I love a smartly written story, and Martin manages to give her readers entertaining slivers of privileged information on this elite tribe of mommies (the chapter on the feud between the "cults" of SoulCycle and Physique 57 was ah-mazing) while also drawing attention to patterns of disturbing behaviour unique to this cohort of wealthy women. Often taking her linguistics back to that of field anthropologist (referring to condos as "vertical villages", real estate agents as "dwelling shamans", and nannies as "alloparents"), Martin manages to successfully mix the technical with the indulgent – giving us an entire chapter on the process of obtaining a Hermes Birkin bag, for example (it's titled 'Going Native: Mommy Wants a Birkin'. I die).
Cited as a modern-day Jane Goodall, you don't want to miss this intriguing look into the lives of the über-rich, told by someone "sort of" on the inside. Well, fully on the inside, but sort of an outsider on the inside… oh just read the book, she describes it much better than I do!
SWEETBITTER by Stephanie Danler
I devoured this book. You know when you read book reviews that are all, "Couldn't put down! Total page turner! You will read this in one sitting!" and then roll your eyes and wonder why ELLE can't come up with a more original quote for them to slap on the book sleeve? No, just me?? Well, I will stand corrected on this one occasion: Sweetbitter – like the fast-paced, reckless life of its protagonist, Tess – is absolutely addicting. I finished it in a week, and in case you couldn't tell from the sporadic nature of my Booklist posts, finishing a book a week is not something I do regularly.
Hailed as a story smudging the lines between fiction and memoir (Danler moved to New York at age 22 and got a job at the famed Union Square Café), I had heard some hype on the novel but was reluctant to pick it up – the last thing I was looking to read was some glorified version of The Nanny Diaries. Curious though, I did some digging on the author and came across her essay for The Paris Review, 'The Unravelers'; it stopped me in my tracks. This girl has chops, I thought. And Sweetbitter, her first foray into fiction, did not disappoint.
Following one year in the life of 22-year old Tess, Sweetbitter chronicles her move to NYC from somewhere in the Midwest (the character development is very subtle – we learn little to nothing of Tess' past, her character built out slowly through her thoughts and decisions), her ratty Williamsburg-circa-2006 digs, and her subsequent employment at a place that is only referred to as 'The Restaurant'. Tess immediately falls for emotionally damaged, bad boy bartender Jake – but also falls for older super-server Simone, who takes Tess under her wing. The relationships Tess forges with Jake and Simone – and the relationship that Jake and Simone have long fostered – offer the reader a poignant look into the way lost souls find homes in the transitory world of restaurants, and we see how these relationships act as a catalyst for the "coming of age" that Tess always seemingly seen coming.
As a young woman who has been a 22-year old server, I was immediately captured by Tess' cuttingly honest description of the restaurant industry and – more importantly – the personalities and lifestyles of the staff who work there. But the story isn't what makes this novel extraordinary; what sets it apart is Danler's ability to intertwine prose and poetry, the way she uses her words like weapons, simultaneously speaking ugly truths and romanticizing the mundane. The way she filled out the character of Tess, a young woman with both palpable naivety and a contrastingly strong sense of herself and the world she lives in, is a feat on its own. There is a remarkable similarity in the way that both Danler and Didion's writing makes me feel… depressed yet optimistic. As if the life and thoughts of the protagonist are all that matters, like the world is being painted outwardly from them and not the opposite. To me, that's the sign of an amazing writer. I would read – devour – anything Danler writes. Get this book, and prepare to prove ELLE right.
Who might this guest be?
Shannon is a Tostito enthusiast who balances her unhealthy obsession writing reviews from her TripAdvisor account with a day job in Legal Marketing. She lives in Toronto, where she has yet to meet a carb she didn't like. Follow her misadventures on Twitter @codeshanaynay.