Social media is, without a doubt, here to stay. The latest craze sweeping the social media scene is Pinterest. Pinterest is a site that allows you to create virtual pinboards and pin items of interest. It is an online community that shares photographs and ideas within a variety of categories.
If you're anything like me, you are obsessed with "pinning". I often joke about how Pinterest has allowed me to pre-plan my future wedding and first home… except I'm not really joking. Besides fantasy pinning, this site has also inspired many projects of mine in the Do It Yourself and Craft world. The only problem is that sometimes Pinterest projects are much more difficult than they let on.
I experienced this "Pinterest Problem" a few weeks back when number one nutshell supporter, Kelly and I undertook a list of Pinterest Projects we had been meaning to get around to. At first, "Craft Day" was something we were eagerly awaiting. We couldn't wait to make our trips to Michael's and The Dollar Store for supplies. And while some of our projects finally worked out, in many ways, Craft Day crashed and burned…
Project #1: Wine Glasses & Chalkboard Paint
Our first undertaking was to re-create the cute Chalkboard Paint wine glasses that we had both re-pinned. Firstly, chalkboard paint is EXPENSIVE. A small container costs approximately $20. But, despite the high cost, we forged on. After picking up some standard wine glasses at The Dollar Store, we set out to dip the bottoms to create cute, personalize-able wine glasses.
Unfortunately, there was no mention of how to DRY these glasses in this pin's instructions. After scouring the internet to solve our problem, we ended up working out a solution. Unfortunately, our glasses had some strange bubbles from having to dry them on their sides…  Not a total failure, but definitely not as perfect as they appear in the Pinterest Photo.
Project #2: Sparkly Keys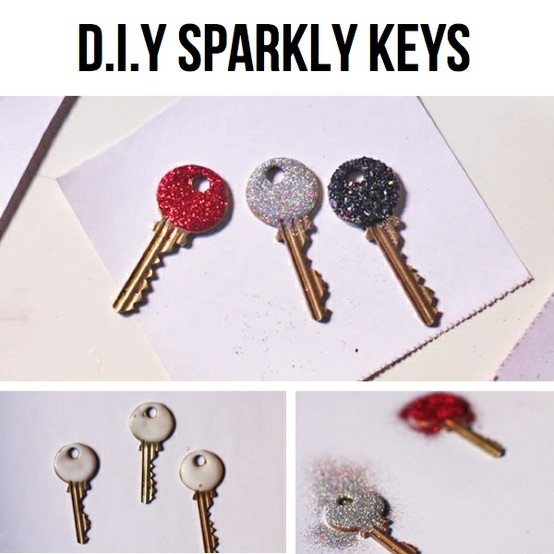 Our second undertaking was differentiating between all of my keys by covering them with various colours of sparkles. It seemed simple enough: Elmers glue and sparkles. WHAT could go wrong? Well, I'll tell you. If you use the wrong colour of sparkles, your key will look weird. Two of my keys looked great. But, the key I used white sparkles on looks like I partially dipped it in clumpy sugar… Again, not a total failure, but the white key shames me every time I take out my key ring.


Project #3: Hand-made Mugs
Our third project was making personalized mugs. The description on Pinterest claimed that a plain old Sharpie would stay on white dinnerware when baked. I created a cute message on two mugs for my boyfriend and I. Unfortunately, to my horror, my personalized message washed away with the coffee grains. I discovered after some (angry) internet searching that MY pins baking instructions were at a much lower heat than other similar pins. Luckily, I have been able to re-create these mugs quite easily; however, it just proves that NO Pinterest project goes perfectly smoothly.

After the frustrations I endured after last craft day, I have realized that Pinterest is a magical place where only the finest craft queens and DIY divas collide. In a nutshell, I'll still continue my quest to be our very own Martha Stewart, but I doubt I'll ever complete a project without one snag. But, then again, even Martha has had her share of crafting snafus…
Have you had any Pinterest Project Fails? Let us know in the comments and spare us from taking on more impossible tasks…