On Wednesday, I bared it all (well, all of my face) and showed you an inside look into my evening beauty routine. My daytime routine is a bit more extensive because it not only involves skin care, but also, my favourite part – makeup! I've always been a big fan of makeup, including a period when I relied heavily on turquoise eyeshadow and Avril Lavigne inspired black, smudgy eyeliner. I'd like to think that now I have a bit better of a handle on things, so read on for all of my favourites.
DAYTIME RITUAL
I usually rely on my morning shower to wake up, so after I rinse my face and wash my hair I turn my attention to prepping my skin for the day. As I previously mentioned, I have very dry skin and that does not pair well with makeup. My pet peeve is dry, flaky skin that is accentuated by foundations and powders. I was recently turned on to a line by L'Oreal called Youth Code. This line was designed to correct skin by minimizing pores and fine lines and smoothing the texture of the skin. Designed for those of us who are past the point of rolling into bed without doing a thing, but don't quite need a full anti-aging skin care line just yet.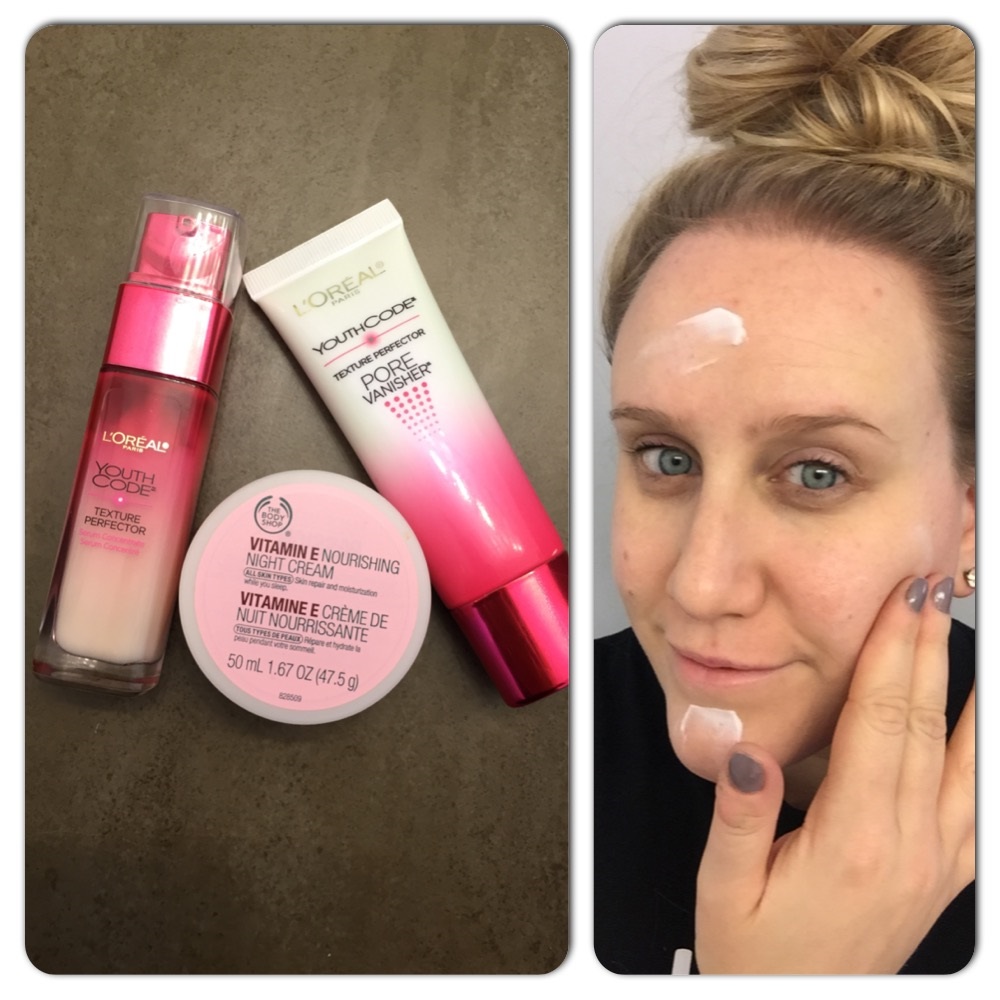 1. I apply Youth Code Serum Concentrate. It evens out my skin's texture and helps to lock in the moisture.
2. I apply my Vitamin E Night Cream. I warned that I have dry skin! Even though this is a night cream, I find it works better for me than any day cream I have used. I stick with what works, despite whatever the packaging says.
3. I apply Youth Code Pore Vanisher Cream to any areas where my pores are more visible or where I have any breakouts or especially uneven patches. Personally, I tend to need it along my chin and base of my nose.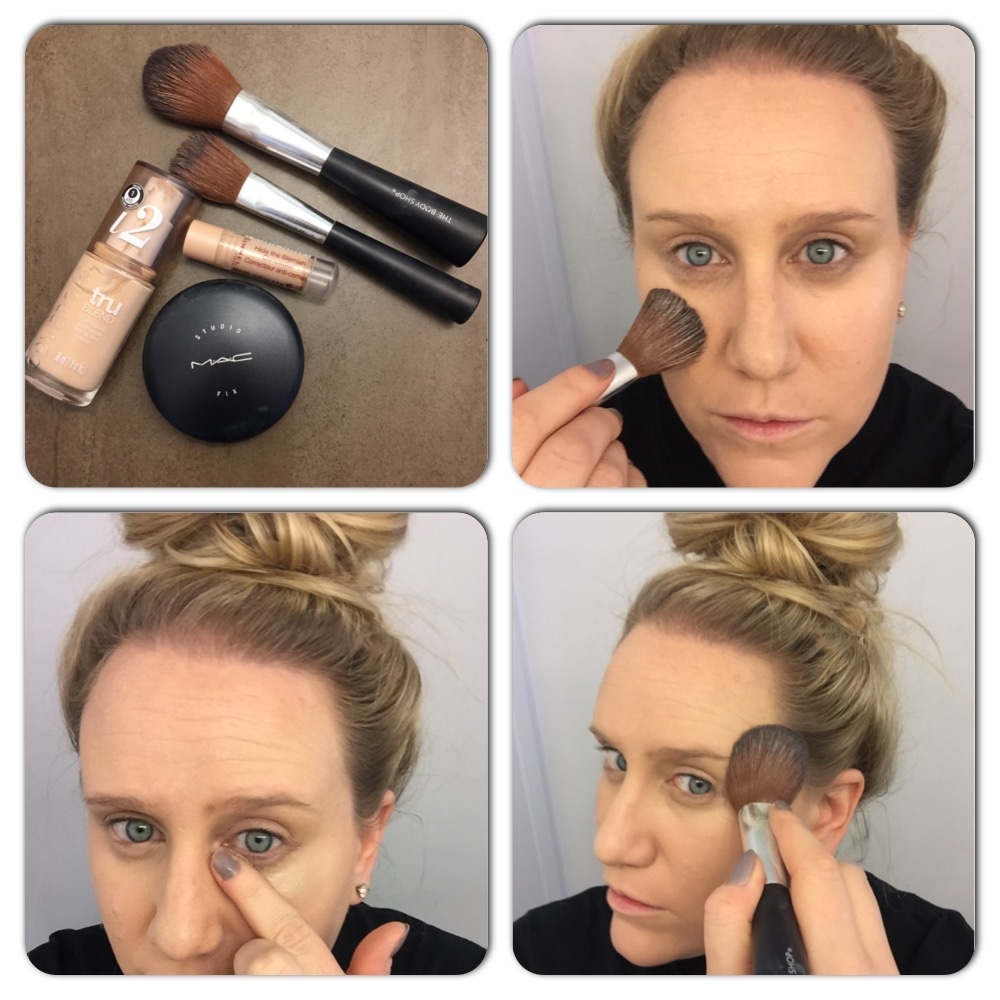 4. Once my skin is prepped, I lightly apply my Covergirl TruBlend foundation (in shade i2) using this makeup brush. Rather than pumping the product directly onto the brush, I put 3 pumps of foundation on the back of my hand and take the product from there. The trick is to brush it on lightly and dab it to blend it in.
5. As you can see in my photos, I have dark circles under my eyes, just like my mom (thanks MOM!). The best concealer in the world (in my opinion) is the Hide the Blemish Concealer by Rimmel. I like to warm the product by applying it to my fingers and then tapping it on under each eye and above each eyelid. I also apply it to any blemishes I might have. Note: the only shade in this concealer that works is Golden Beige. I have tried lighter shades and it does not work nearly as well. I can't explain it, but it's a reality. Golden Beige forever.
6. Finally, I apply my MAC Studio Fix Powder using this makeup brush. While this powder is marketed as a powder plus foundation, I find that if I apply it with the brush, lightly, rather than with the sponge it comes with, it sets my previously applied makeup nicely without looking cakey.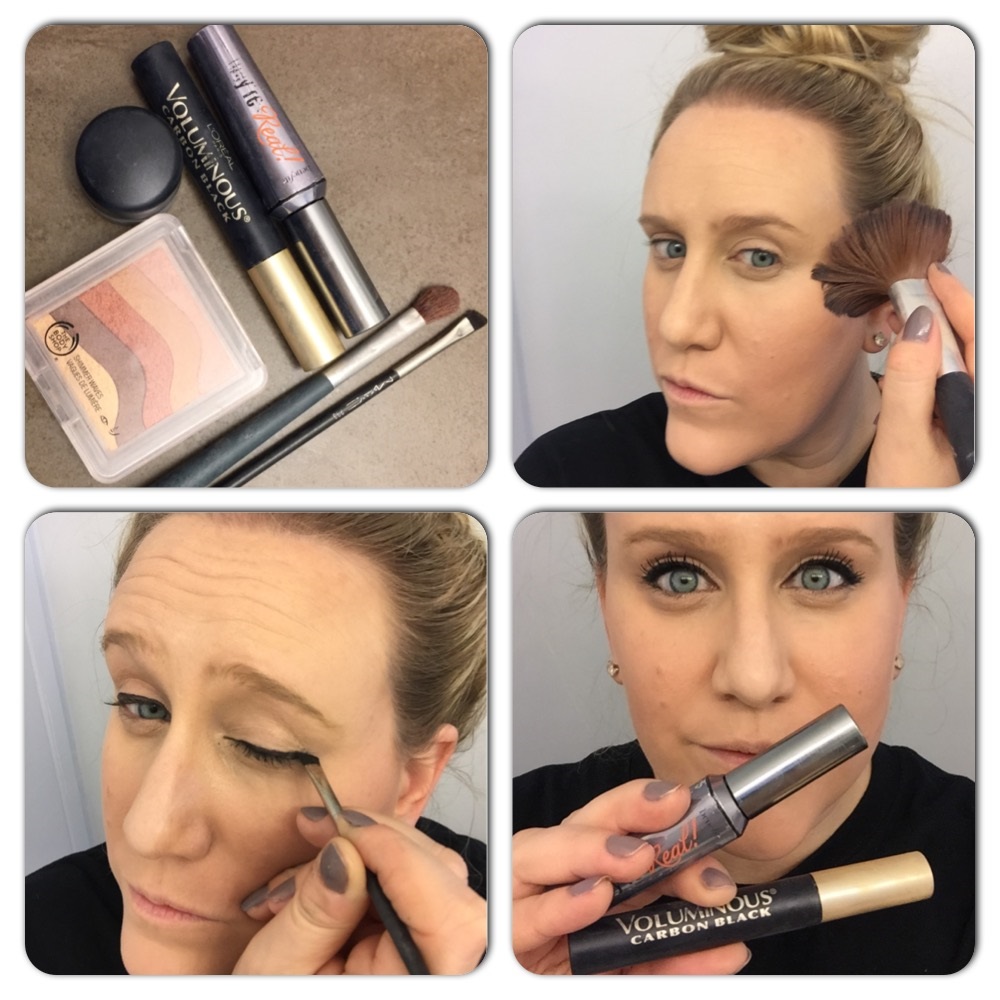 7. I use The Body Shop's Shimmer Waves (in the shade Bronze) to bronze my cheeks. It gives me nice, shimmery colour through my cheeks. When I wear eye shadow, it's usually using this product as well, although in this picture I'm not wearing any!
8. I like to play up my eyes more than any other feature, so I like a heavy handed black liner. While I like liquid liner, I haven't found one that stays as well as MAC's Fluidline, a gel liner that I apply with this brush.
9. Finally, I use two mascaras to get volume and definition in my lashes. First, I use 2 coats of L'Oreal Voluminous Carbon Black and then one coat of Benefit's They're Real.
10. It's not pictured, but I also apply a lip balm, which varies based on what I haven't lost.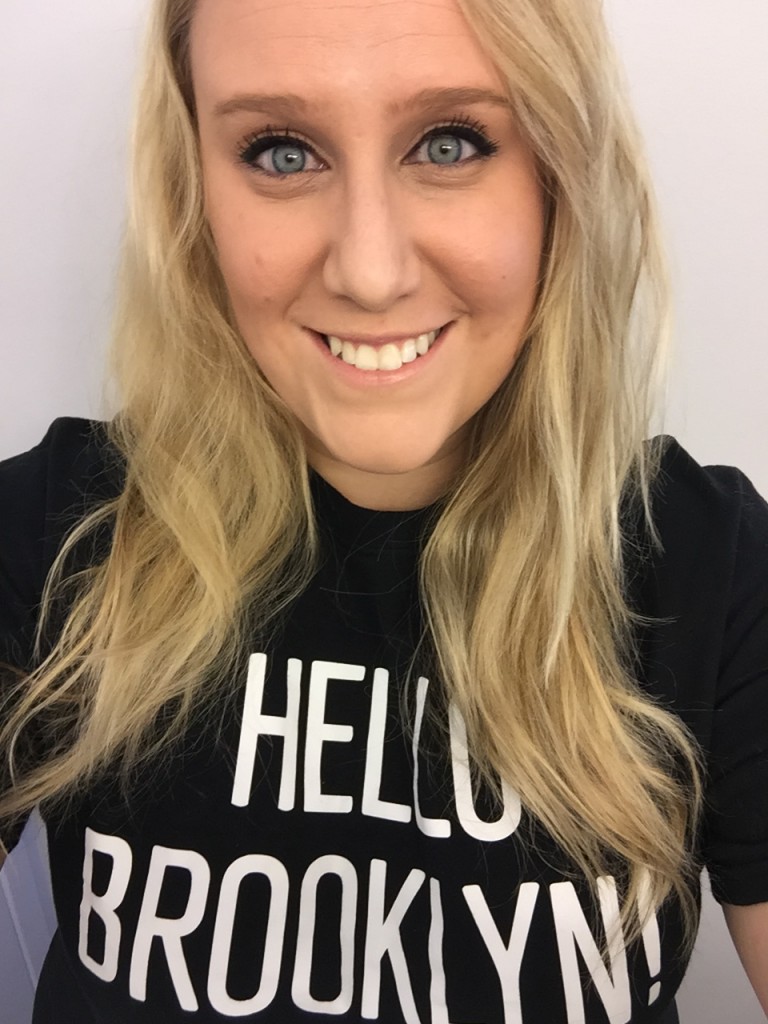 Et voila! The finished look – no editing, #nofilter! Depending on how my hair is looking, I might use a TEENY little bit of Moroccan Oil to smooth flyaways and minimize the look of split ends. Plus, I love the #inspiredbywomen campaign, sponsored by Moroccan Oil, so every time I use it, it makes me happy! If you haven't already checked out the campaign, check out the video below!