30 DAYS, 3 NUTS, ONE CHALLENGE: WEEK TWO
We've made through two weeks of classes at The Dailey Method and, based on our round-ups, it sounds like The Dailey Method is here to stay for the nuts!….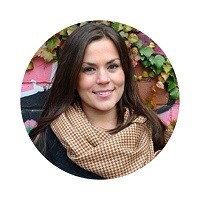 KATE:
Rounding out my second week of classes at The Dailey Method, I can say with confidence that I've found a fitness class that suits me and that I genuinely enjoy! Over the course of two weeks, I have taken eight classes and each class is always a little bit different than the last- whether it be a "ball day" (see image below) or a class where our instructor, Sarah, introduces something new, no two classes are ever the same. I've also found that TDM classes have caused me to tune into my own body and become aware of muscle groups that require more strengthening – for me it's my butt and my back.  I'm also surprised by the changes I've seen in my core. Though probably only noticeable to me, my sides and stomach are becoming leaner and slightly more sculpted.
The Dailey Method is a group workout setting but it still maintains a personal approach, where the instructor takes time to guide you as an individual – something that I love. Sarah comes around to assist everyone with alignment and positioning and she is constantly offering up alternative poses and postures that allow you deepen or lessen your engagement based on your physical capabilities.
Aside from the workout, the one-on-one training and the diversity, I've really come to love the last few minutes of class when Sarah reminds you to send gratitude toward yourself – a necessary reminder for busy lives and busy minds. At the end of class, as you rest in child's pose, she'll  ask you to take a moment to think of someone you are grateful for and then to think about how that makes you feel. She then asks you to send that same feeling, that same gratitude towards yourself.
It's great to head to class, sweat it out and push your limits, but to end the class by acknowledging what you've just accomplished makes it, truly, a happy hour at the barre.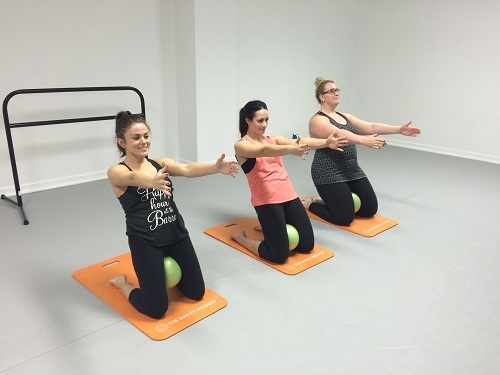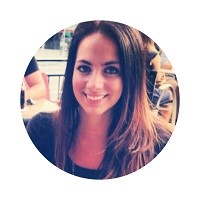 CAT:
Two weeks in and I have to say I haven't felt this good in a long time. As I shared in our first post about taking on the blogger challenge with The Dailey Method, I had made some changes to my diet and fitness regimen about a month ago. Healthier eating, more sleep and finding time in my schedule for multiple workouts a week is definitely contributing to the way I feel. I have to say the biggest change I've noticed (I have not hopped on a scale once) is my level of fitness in my other workout class. I managed to go to barre five times last week and when my
Monday
morning boot camp class rolled around I had more energy, was less fatigued and felt like my breathing was more regulated. I had enough enthusiasm left over to go for an (outdoor! in the snow!) run after my work day. I'm pretty much one step away from purchasing a 'Kale' sweatshirt and prancing around in my underwear (Beyonce, 7/11, watch it.).
Although I was familiar with being in a room with ballet barre, the exercises Sarah guides us through at The Dailey Method were foreign to me and are great at revealing my strengths (flexibility) and weaknesses (thigh work). But, already, the exercises I struggled through on week one are getting easier and I'm getting more in tune with my own body and placement. I think the fact that The Dailey Method instructor is there to guide you through movements, find proper alignment and give encouragement when you're doing something right, is the most motivating part of the class. The time flies by, I always leave energized and I seriously look forward to barre days. Not to mention, it's extra fun doing it with my best buds.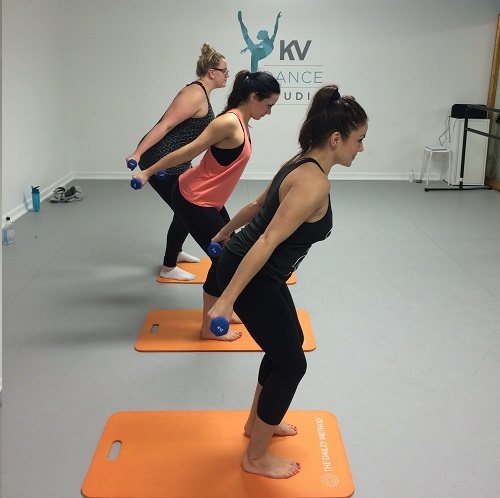 MEG:
After completing the second week of our challenge I am feeling…GREAT! I'm feeling so good about committing to the classes and making exercise a priority again. The atmosphere is so warm and welcoming that even when there are things I can't do or that I struggle with, I don't feel discouraged. And, this week I'm already finding that I can do things I couldn't do in my first week! I'm not saying that I've seen instant "results" but I can feel a difference in myself, both in class and out of it. Maybe it's the exercise endorphin high talking, but I think my overall contentment boils down to finding something that is challenging, rewarding and fun all at the same time. Bring it on Week 3!
---
What about the Boys?
On November 30, and to close out another furry month of mustaches, Sarah taught a class for the Mo's in our lives. Both Shaun and James didn't know what to expect when they came to barre class, but they left with a little bit of insight as to how hard we work at The Dailey Method…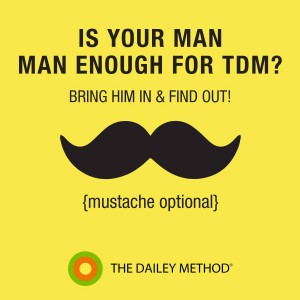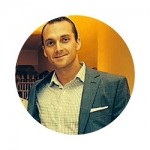 JAMES:
My first barre class was an unforgettable experience.  Going in I did not know what to expect.  I'm someone who can find the motivation to exercise on my own, but being part of such a stimulating environment as the one at The Dailey Method brought a whole new level of excitement and encouragement to working out.  From the welcoming atmosphere to the upbeat tempo of the class, to the enthusiastic and supportive teaching staff, it was overall a great experience for myself and I would highly recommend it to anyone of any fitness level.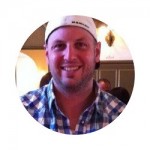 SHAUN:
When Meghan asked me to join her in a class at The Dailey Method, I won't lie, I was slightly apprehensive. I had never done anything like this and was feeling slightly out of my comfort zone. To my surprise, I really enjoyed it! Sarah made the class very upbeat and was very receptive to each student's needs as well as abilities; constantly giving everyone positive feedback and making me feel very comfortable! The atmosphere in the class was great and I am looking forward to attending another class in the future.
The round-up of Week Two is complete with the perspective of three nuts and two Mo's! The nuts invite you to join us for our next class. Pre-opening specials are now available for purchase! 6 weeks of unlimited classes at $100! To learn more about the class schedule or how you can get involved, visit The Dailey Method online.
Stay tuned as the nuts take on week three, learn new poses and sweat it out!