As Jess reported on Monday, this weekend's Gentlemen of the Road Stopover in Simcoe was truly an unforgettable experience for us Toronto nuts and our fellow festival goers. The brain child of folk rock band Mumford and Sons, this two-day event, was about a whole lot more than music. While the 12 participating bands certainly took plenty of the event's spotlight, much of the undeniable charm came from the execution, the purpose and the setting of this under the radar, down to earth summer festival.
When we first purchased our tickets in the middle of Toronto's greatest blizzard back in February, we were certain it would be a memorable weekend, but there was so much more yet to learn…
1. Who knew? The Town of Simcoe is nowhere near the much more well known Lake Simcoe. You'd think they would be in close proximity, but we soon learned we were very wrong to assume such things. Simcoe, population 15,000, is actually just under 2 hours West of Toronto, and the largest community located in Norfolk County.
Upon arrival and throughout our stay in the small town, we learned that "There Ain't No Folk…like Norfolk" – literally. The people of Simcoe were more than inviting, continually asking if we were enjoying ourselves, and welcoming us into their restaurants, bars, stores, streets, fairgrounds and even…front lawns, with open arms. (Shoutout to one Simcoe couple – Al and Marilyn – who allowed us to park two vehicles in their yard for the weekend, they wouldn't accept money in exchange for their generosity, but we finally forced them to accept a gift of wine from us.)
2. The "Mumford and Sons Effect" (as CBC likes to call it) does not only speak to the band's success and popularity, it has to do with the band's real purpose behind this tour. At the start of it all, the band intended to bring small towns a little – and as it turns out quite BIG – economic boost. By selecting towns that wouldn't normally be visited by such high caliber bands, the festival brought thousands from surrounding cities and towns to the quaint streets of Norfolk.
It didn't stop there, though. The band gave local stores permission to use its name as well as the festival's, to create custom merchandise. All money procured from these sales remained with the local suppliers, as long as they agreed to donate 10% of the sales to a local charity. Cue the applause.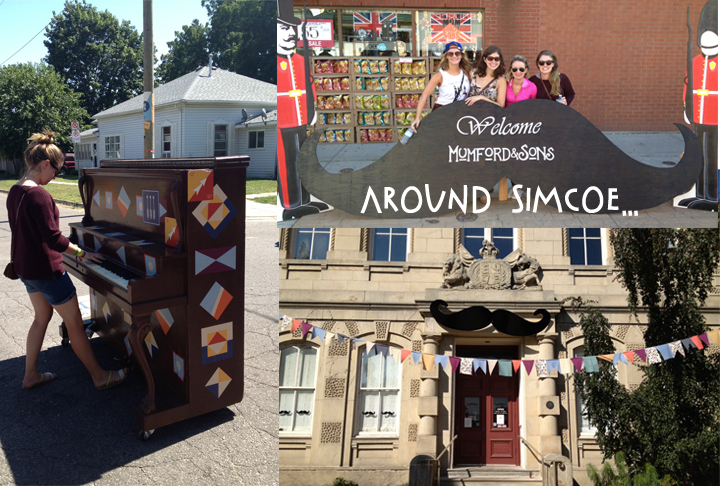 3. We had no idea what to expect when it came to the on-site camping tickets we purchased in conjunction with our concert stubs. What we found out right off the bat was that, camping within a few feet of each other, makes for instant friendship. As you can see below, the camping grounds were strategically organized to accommodate the high volume of people, and the execution was flawless.
We could hear the bands play from the comfort of our sleeping bags, but more importantly, we were just a short walk away from the main event. The people inhabiting each surrounding tent were as enthusiastic about the experience as we were. The general sentiment was that of pure thrill, joie de vivre and 100% carefree. It may have been that clean Simcoe air, or the proximity our living arrangements found us in, but it was obvious that each and every person was at their best, in their element, living it up and taking advantage of such a rare event.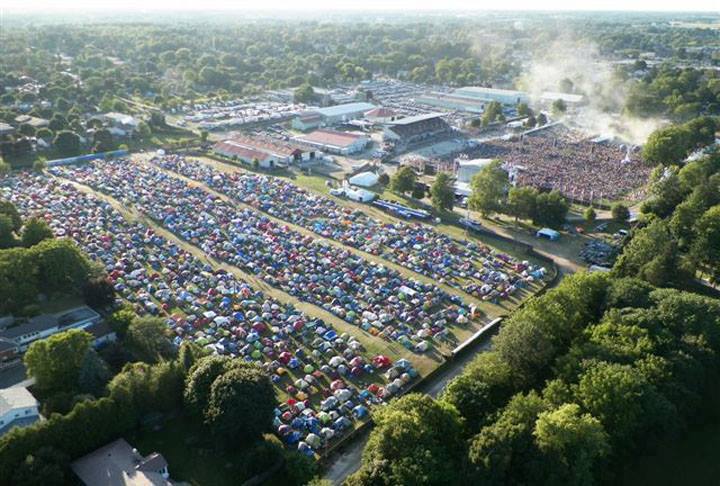 4. If that wasn't enough already, it dawned on us quite quickly that even the visual component of the festival itself was different than any other. In place of beer advertisements and radio station banners, the Gentlemen of the Road grounds and Simoce itself were clad with flags, mustaches and those vintage, almost quintessentially "folk", signs that only read Simcoe or Gentlemen of the Road. In a word, it was tasteful. It wasn't overbearing or obnoxious, it almost seemed completely respectful of the town's heritage, while still allowing us ample photo opps.
Many of Simcoe's small streets were closed off for the weekend, and in the middle of certain crosswalks, passersby would find abandoned pianos adorned with those colourful flags, sitting and waiting to be played. It was those little things that made our weekend so memorable, and perhaps…one big thing, too. Mumford and Sons, a band that has appeared on the cover of Rolling Stones magazine and won a handful of Grammy's, cared enough to bring all of these tiny details to a little town that never expected such attention.  In a nutshell, let's hope Canada is once again on the 2014 Gentlemen of the Road Stopover tour …we'll see you there!