With the holiday season fast approaching, I was thinking about gifts that I could give my friends and family this year. I started doing some searching on Pinterest and the things I liked the best were all DIY projects!
DIY is the epitome of "made with love". What better way to show my appreciation and admiration to my giftees than with a hand crafted a gift that is unique and unlikely to be repeated by anyone else.
Luckily, the other nuts were on board, so we set upon a mission to complete DIY day. If you've read the blog before, you know that I've talked about Pinterest Fails – this DIY day wasn't without a few struggles, but, luckily for you, we've picked out the easy projects and provided you a list of where to pick up the items you need to cut down on your shopping time. (Seriously, wandering through Michael's is completely overwhelming).
1. Personalized Mugs and Serving Platters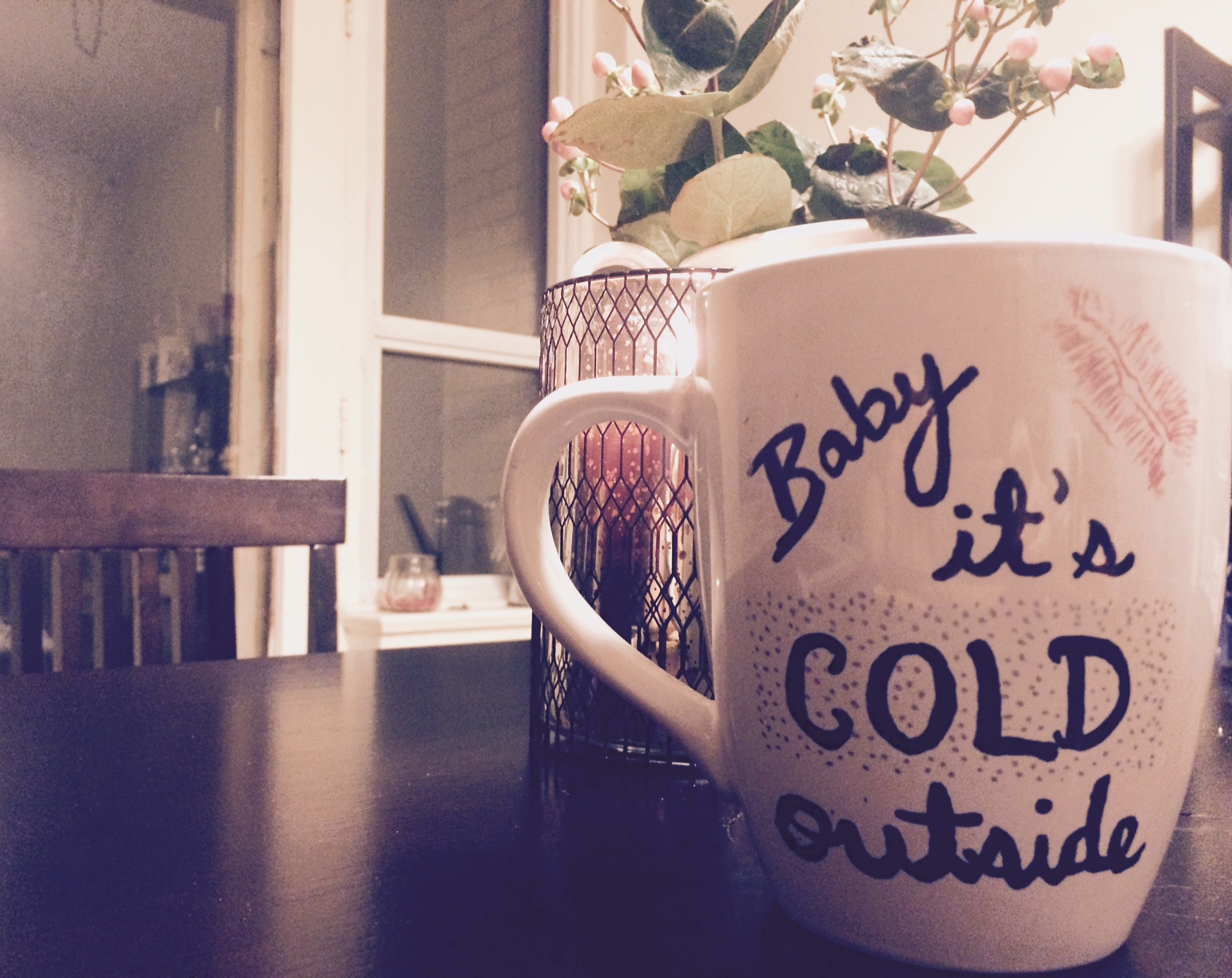 I've featured personalized mugs on the blog before, but this year we took it to another level. Our mug is holiday-themed and the cutest gift to give to someone special. Catherine opted for the saying "Baby it's cold outside". If you want to take it to the next level, you can put a small bag of their favourite cofee and a mini bottle of Bailey's Irish Cream inside the mug and wrap it up with cellophane and ribbon!
Another option is to make personalized serving ware. This is a great gift for anyone who loves to entertain or has recently moved into a new place. On our version, we used the saying "Good food is always sweeter when enjoyed with good friends". This platter can be used year round to searve cheese, appetizers or dessert.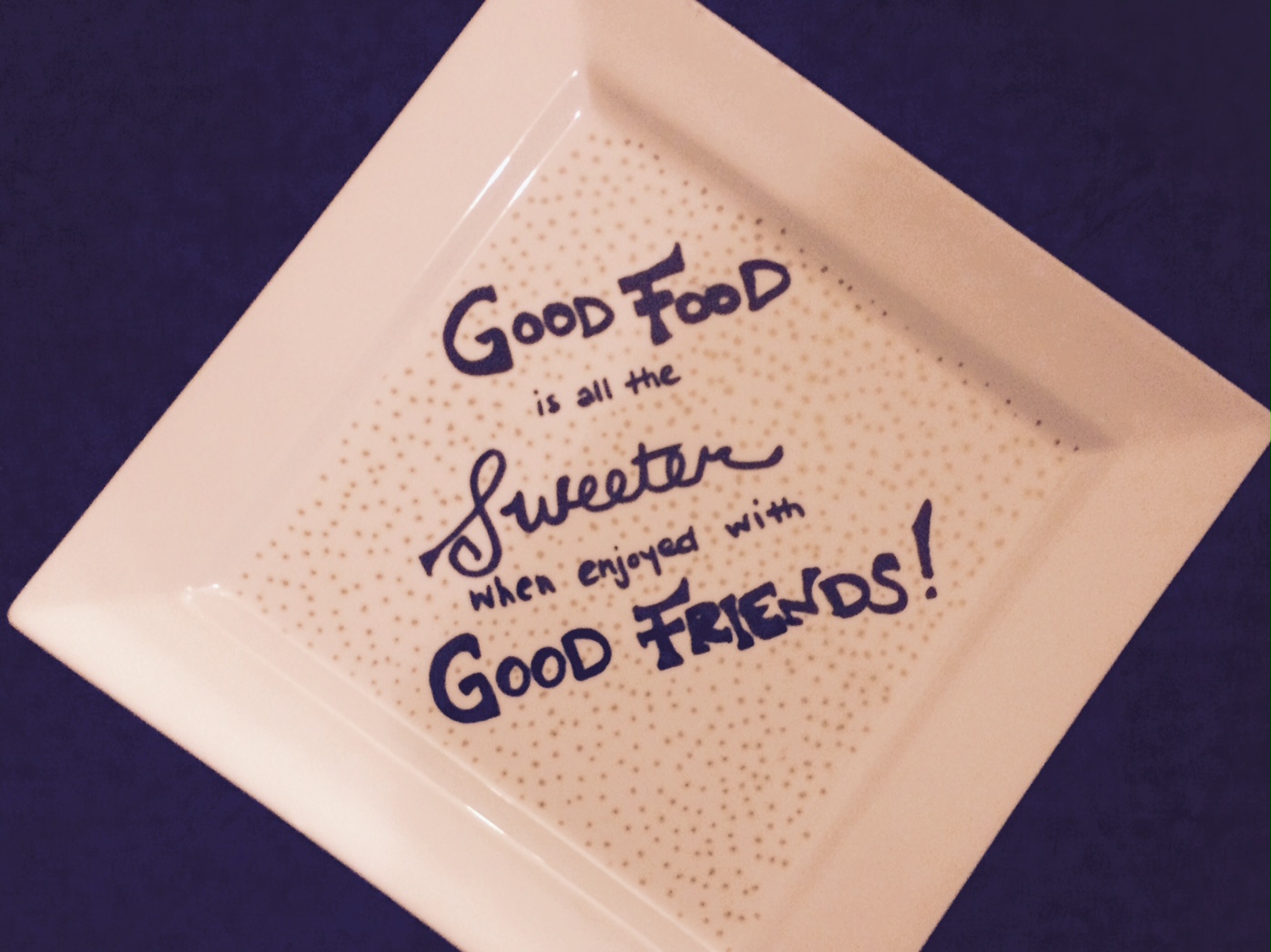 Both of these ideas are very simple to execute – pick up some sharpies and draw whatever saying you'd like on your ceramic piece (mug, bowl, serving platter, etc.). Let it sit for 24 hours and then bake for 35 minutes at 350 degrees. Voila! You're done.
2. Letter-Tile Coasters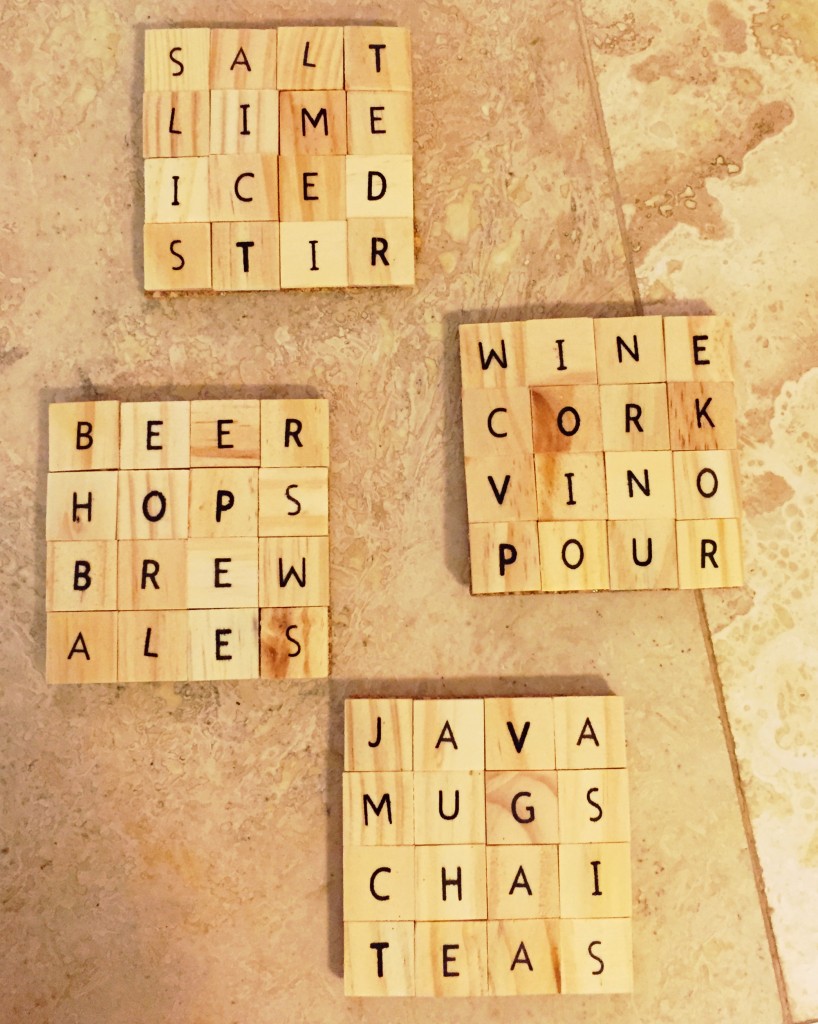 We saw this version floating around the web, using Scrabble Tiles. Since I wasn't ready to ruin my board game, we headed to Michael's where we were able to find wooden letters. We re-created the coasters we'd seen, with a drink theme, but we changed some of the words used.
To execute, you'll need 3 packages of wooden letters, one bottle of E6000 glue, some clear spray paint and some sheets of cork for the base. Arrange your wooden tiles and then carefully glue them to the cork base. Let them dry overnight. Next, use an exacto knife to cut the cork. Spray paint the tiles clear to seal them and give them a shiny finish; let them dry overnight again. Voila! You're left with a unique set of coasters for your giftee!
3. Infused Olive Oil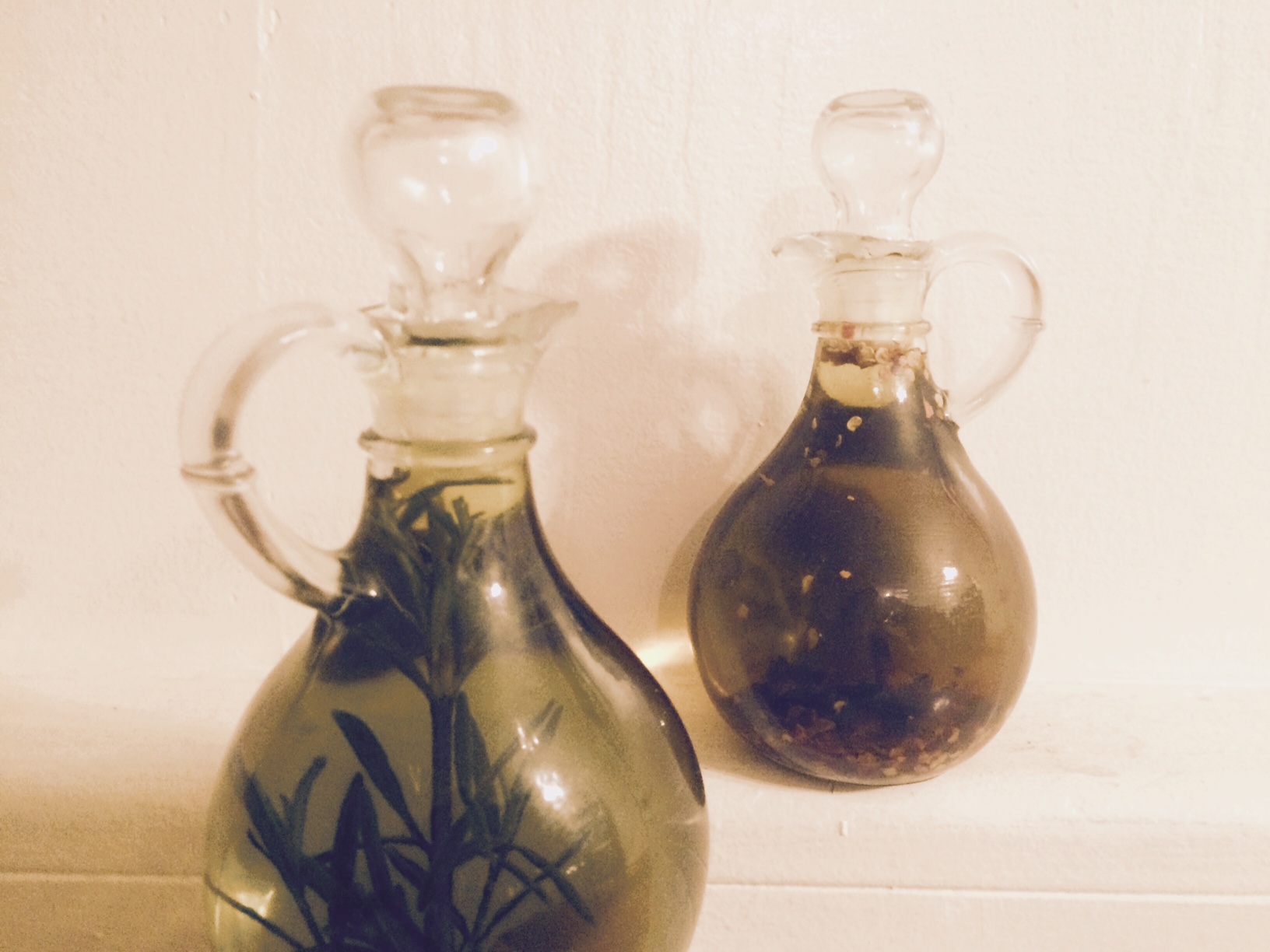 For the foodie in your life, creating infused olive oil is a simple, but VERY cool gift. Pick up your favourite extra virgin olive oil and some glass bottles that have a good seal. We picked up these small air-tight vinegar bottles from Walmart because they looked like they would pour easily, but we also love the look of these bottles.
You can infuse your olive oil with a variety of things, but we stuck to two simple ingredients. For one, I added a few springs of fresh Rosemary to the oil and for the other I used about 1/4 of a cup for Chilli Flakes.
It's best to allow the oil to sit for 1-2 weeks before using it to really allow the flavours to settle. It should keep for about a month and the lifespan increases if it's stored in the fridge. Other things you can infuse your olive oil with: lemon, garlic and basil!
Also a good option: Infused Booze – we made this in previous years and it was a hit!
4. Candycane Sugar Body Srub & DIY Manicure Kit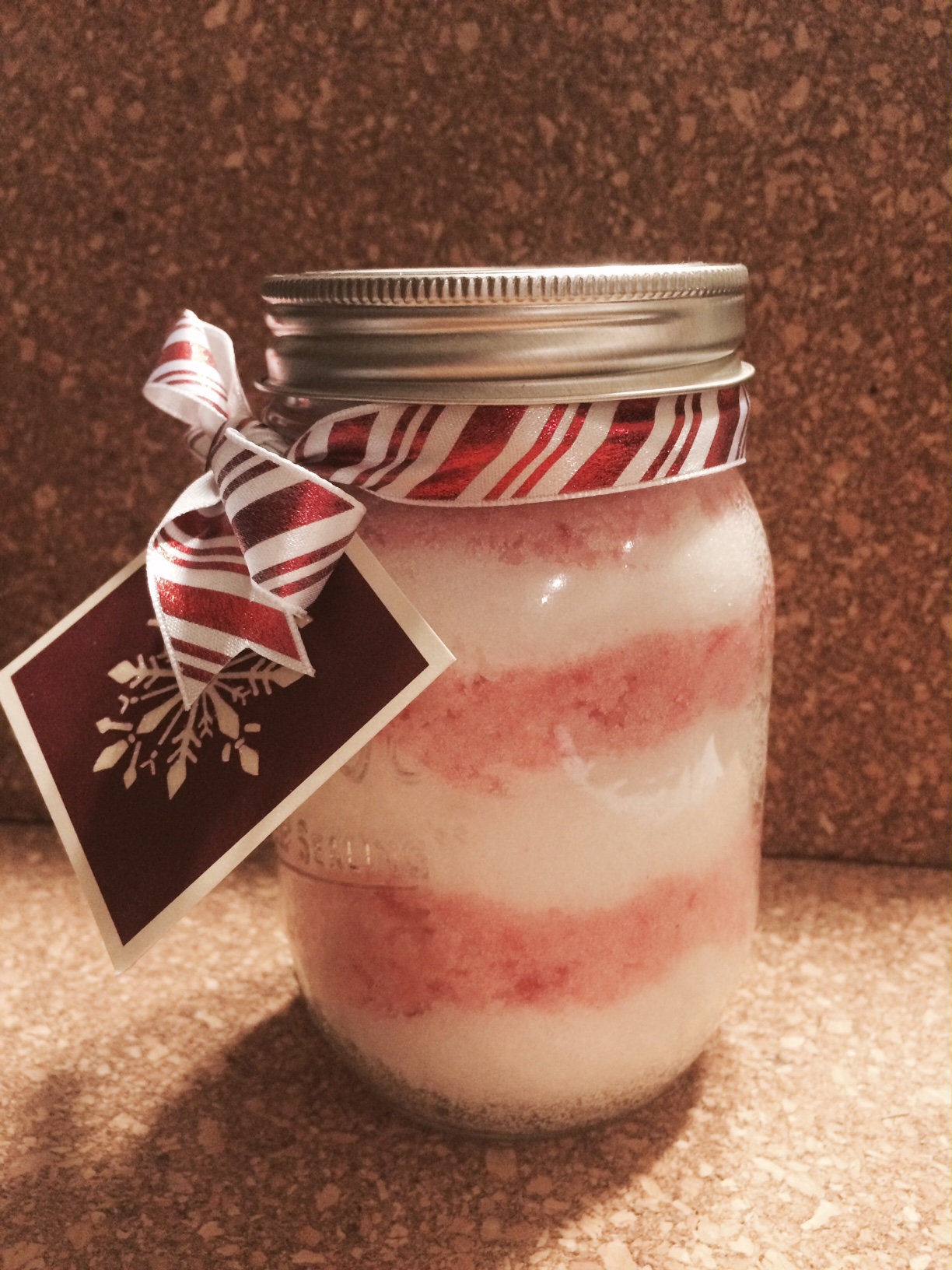 For the giftee who you think deserves a little pampering, this homemade sugar scrub is the perfect gift. Pick up a bag of refined, white sugar, some coconut oil, a bottle of peppermint essential oil, red food colouring and a mason jar.
Place 2 cups of sugar in a bowl. you will need about 1/4 cups of coconut oil. I buy my coconut oil jarred, so I warmed it in the microwave for a few seconds to loosen the consistency. Mix the coconut oil into the sugar until you get a good grainy texture that feels good when rubbed on your hands. Then add about 5 drops of peppermint essential oil. The sugar will exfoliate the body and the coconut oil will help to moisturize and rejuvenate the skin. The peppermint makes it smell like a candy cane! I died half of my mixture using 4 drops of red food colouring and layered it in a mason jar so it looked the part!
This scrub can be used all over, but I am presenting it as part of a DIY manicure kit. Pick up a sparkly, holiday nail polish, a nice emery board and a small bottle of hand lotion and put all elements in a small box or basket.
5. Wine & Socks: The Last Minute Hostess Gift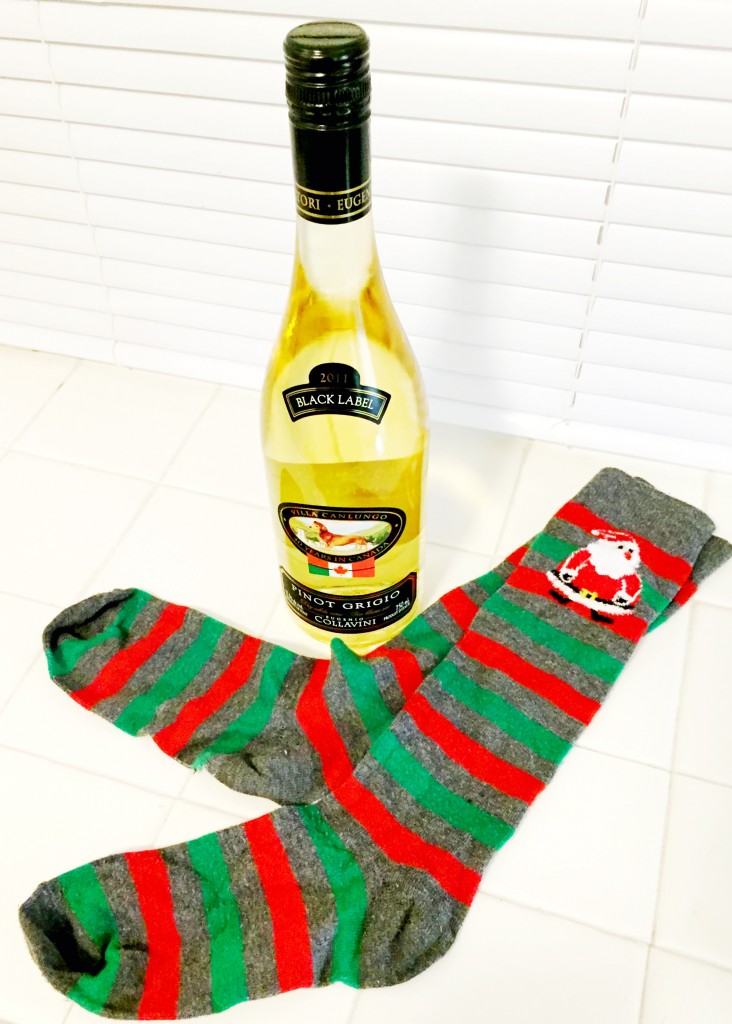 Everyone brings wine to Holiday parties, but if you want your bottle to stand out, why not wrap it in socks instead of a wine bag? Pick up a cute, patterned pair of knee socks and your favourite bottle of wine. Put the bottle in one of the socks and use the other sock to tie a bow around the neck of the bottle. You're sure to be remembered as your hostess kicks up the following day with a nice glass of vino and toasty toes!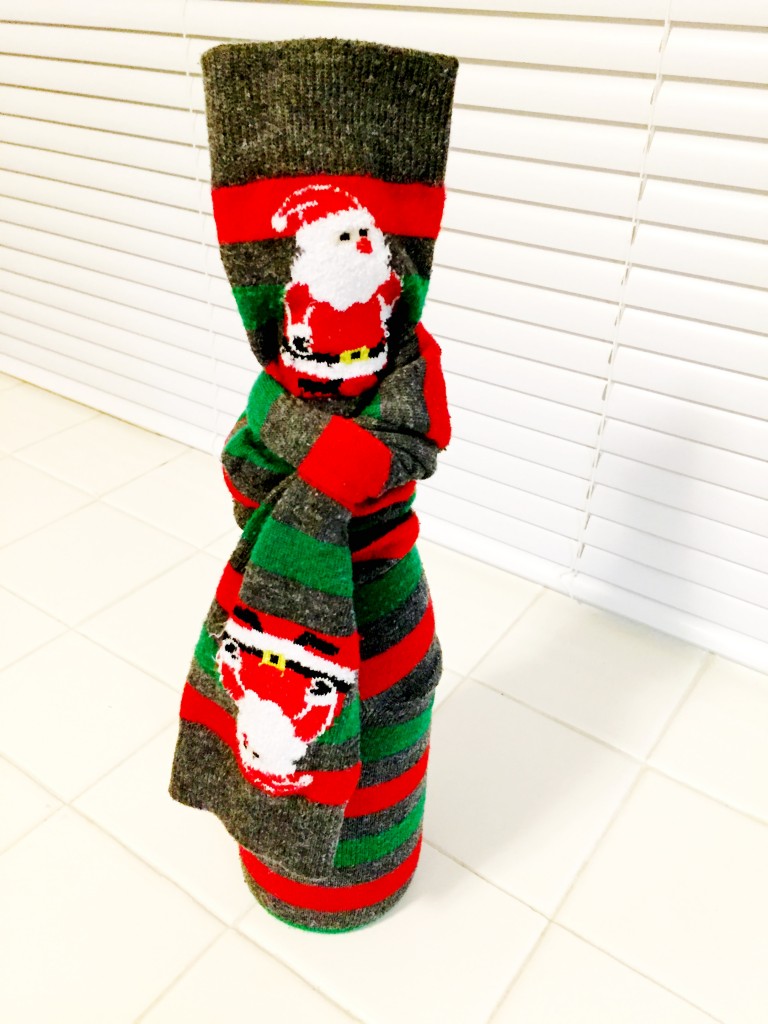 Are you looking to get crafty and support a good cause at the same time?? If so, you can check out Ravenswing Ottawa's Handmade Holiday Fundraiser, TONIGHT from 7-10 p.m. Get into the holiday spirit and join Ravenswing Ottawa for an evening of craft workshops! One workshop will cost you $5 or you can do all of the workshops for $18. Food and beverages will be available for purchase and the proceeds from tonight's event will support the Ravenswing Arts & Music Fair 2015.