After watching Emily Schuman's adorable tutorial on how to style a coffee table , I began thinking about how I would decorate my own if I wasn't, pitifully, still living with my parents at 24 years old.
I was only day dreaming, pouring through Urban Barn's pricey pieces, window shopping relentlessly and shunning the thought of wandering the Ikea maze.
Three months later and the idea of moving to the downtown core with another one of the nuts is a real possibility and therefore, so is a coffee table of my own. But, on a budget (as we all are), I've realized that the dream centerpiece may not be within reach just yet. That's when I began sifting through Craig's list postings and Kijiji ads in a quest to find an affordable piece that often is the eye-catching,  conversation-starting piece to anyone's living room.
In this hunt, I've not only picked up a few tips and tricks to style a coffee table but also a few cost-cutting tactics that will leave your table still looking flawless.
Most of the styling tips for coffee tables ($499) include adding a focal point on the table, in this instance I've chosen a silver bowl ($49.00) from Urban Barn. Next up, stylists suggest including a stack of reading material that reflect the homeowners personal interests: In Vogue, Wine Encyclopedia, Mile Davis Complete Illustrated History ($150 approx.) from Chapters. Colour is another key component which I've integrated with the sweet little blue birds ($49) from Urban Barn. Try adding a touch of something organic, like flowers or a plant ($20) and finally, incorporate scale or height with an elegant vase or candle holders ($38) from Pier 1 Imports.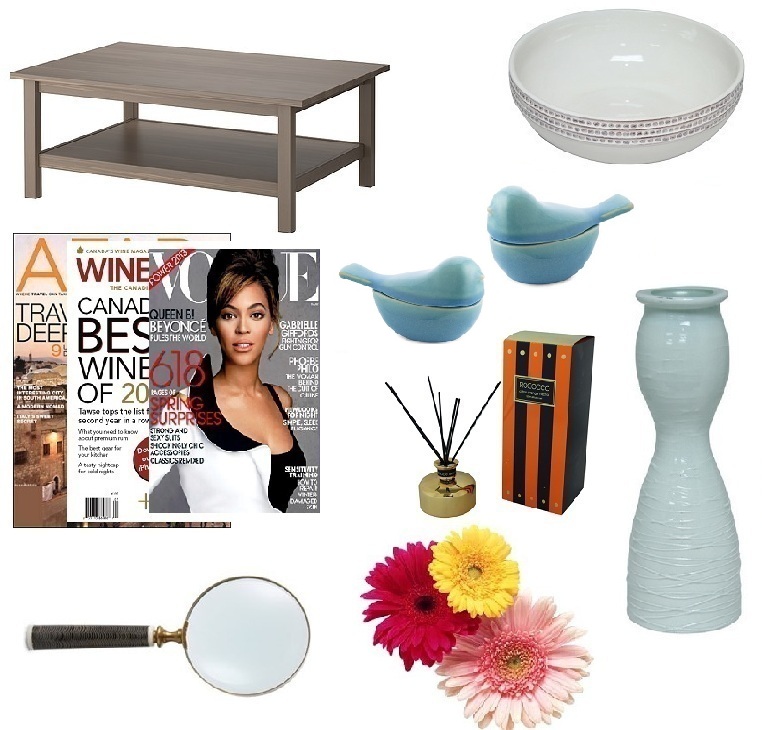 It's surprisingly simple to maintain these same styling tips for a coffee table without paying a premium. The focal point, a Moroccan bowl, is a steal ($22) from Zone in comparison to the aforementioned silver bowl. Reading material can be covered with interesting magazines-  try getting a few different subscriptions  which will end up costing the same as some books ($150) and keep a constantly changing line of reading material available on your coffee table. Colourful blue birds found for ($19) at Chapters. Constantly buying fresh flowers to incorporate an organic element on your table can cost a pretty penny, try buying fake gerbera daisies as they are often the toughest  to discern from the real deal. For scale and height, try an incense diffuser which often cost less than $20 and add a delightful scent to the room or a beautiful, sleek vase ($19) like this one from Urban Barn.