Last summer, when we brought home #winstonthedog, a lot of things changed. Yes, some of our sanity was lost due to a hyper puppy on our hands, but one of the best things (besides unconditional love) was that we suddenly became much more connected to our neighborhood. As soon as you start walking through your hood 4 times a day, you will undoubtedly start to meet more people and feel more connected (at least to the other dog parents you see every day, if nothing else).
Another amazing thing that has me feeling connected to my neighbourhood is a group that was introduced to me by one of my neighbours: the Buy Nothing Project. The project's mission is to, "offer people a way to give and receive, share, lend, and express gratitude through a worldwide network of hyper-local gift economies in which the true wealth is the web of connections formed between people who are real-life neighbors". But what does that mean?
Buy Nothing groups use Facebook as a free platform to link people within their geographical location and provide them with the opportunity to be part of an online community that I have found incredible touching. The main purpose: to share items and services with our neighbours. Everything is freely gifted. No buying, no selling, no trades. Just giving and gratitude.
It works so simply: if you have something to give, you post a picture of it with a description and members will comment if they would like it. If you're looking for something, you ask for it and members will freely offer it to you, if possible. During these exchanges, you get to meet people who live nearby and you get to give and receive thanks.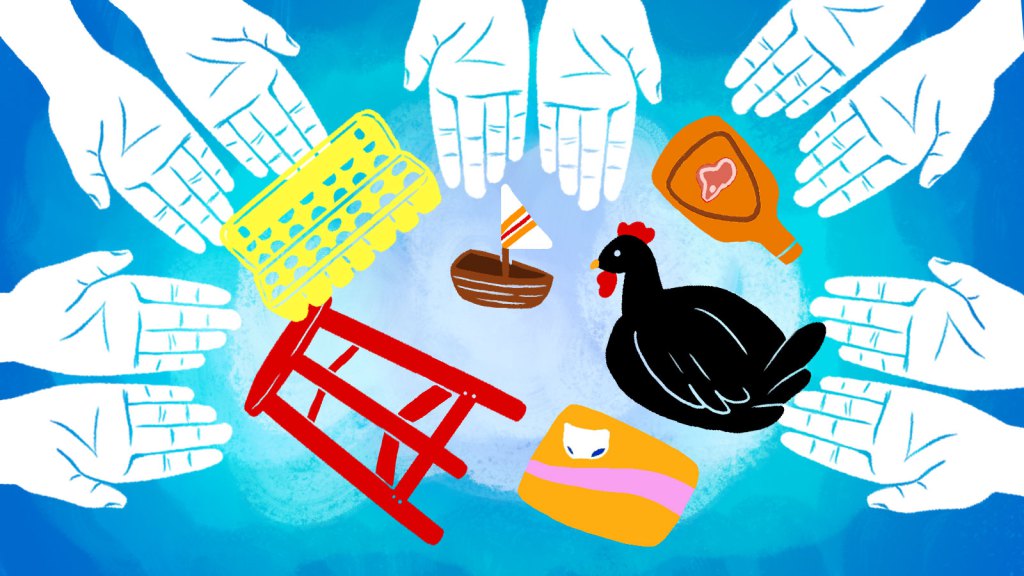 From the time I joined the group in the spring, I have seen people put on Birthday parties, anniversary parties and even a wedding with the items they have received through the group. Parents often exchange clothing and toys that their kids grow out of so quickly. I was able to pass on Winston's old food dishes and some boxes of treats to a dog that had just been rescued from an abusive home. And when a local teen had his bike stolen (even though he had locked it) there were 6 different offers of free bikes to ensure that he wouldn't miss out on a summer of riding with his friends.
It's not just material goods that are offered: people offer up their time as well. I've seen people pitch in on weeding a large garden for an elderly woman, offer to cut a lawn when someone's lawn mower broke down, prepare meals for those recovering from surgery and offer rides to job interviews when a bus wouldn't get the person there on time.
The biggest example I can share took place after a devastating fire happened within the neighbourhood. Within hours of the fire, the group had jumped into action and collected all of the immediate necessities for the affected families: toothbrushes and toothpaste, clothing, shampoo, assorted toiletries and countless offers for whatever assistance they required. The families affected were not members of the group, so you can imagine their surprise and appreciation when they found out how the community had banded together to help them.
Ultimately, this group is an online space that makes my heart happy. So far I've been able to successfully gift 3 items and I have received a wicked Swiffer wet jet that makes cleaning my floors a breeze. But, aside from my own positive experiences, I actually just love sitting back and watching the exchanges between other members. Currently, the group is just shy of 1,000 people and it makes me so happy to know that there are so many people nearby who would be willing to lend a helping hand if I needed it. One of our members shared the following:
"It seems today that our sense of community is changing from our geographic neighbours to our online neighbours. This is a way to bridge the gap between the two and feel connected again to where you live and the people who are around you. Check Facebook to see if there is a group in your neighbourhood and join it. If there isn't one, consider starting it. You won't regret it."