We've talked about weddings quite a bit on the blog as of late, because, let's face it: we're at the age where everyone is getting married. It's even more special when it's one of your besties. So after she surprises you with the news that he popped the question, what's the ideal engagement gift? Why not put together a special basket filled with some things to get the wedding planning started and keep her entertained throughout the process?
The nice thing about this idea is that you can customize it to match your friend. Some ideas of items to include:
A wedding planning guide
Bridal magazines
Honeymoon magazine
A cute notebook that she can write her ideas in
A mini bottle of bubbly and two flutes so she can toast (with her hubby-t0-be or YOU!)
A sparkly nail polish to match her new bling
Wedding-themed movies (think: The Wedding Planner, My Best Friend's Wedding, Wedding Crashers, etc.)
Gift Card(s): maybe a gift card to the couple's favourite restaurant or a local spa
Optional: A groom's guide (because he deserves a little something too!)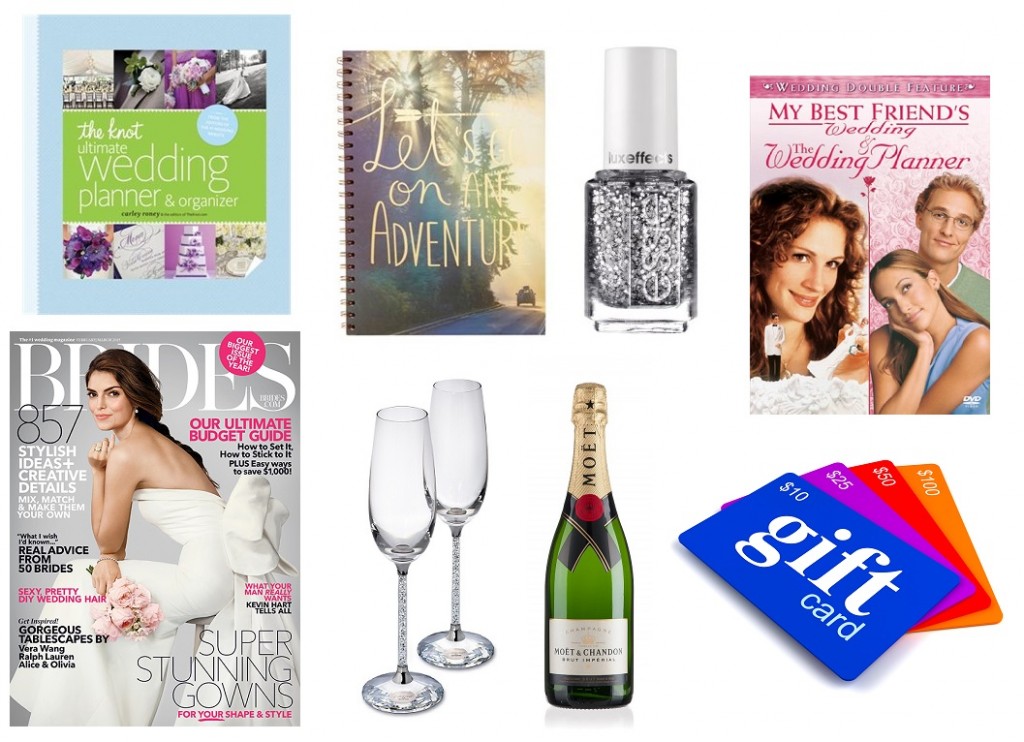 Pick out all of the things you want to include and pick up a memory box or wicker basket and some tissue paper and arrange everything. If you go with a box, she can reuse it to keep mementos from her engagement and wedding day.
No matter what you do to celebrate your bestie, she's sure to love the thought and effort you put into making her feel loved. But let's face it: a gift like this will likely secure your place in the MOH/bridesmaid hall of fame… #yourewelcome