What are the nuts up to now, you ask? Why, we're taking on a barre fitness class challenge of course! But this isn't any old barre class – it's The Dailey Method, the only barre class of it's kind in Ottawa. This approach to fitness combines ballet barre work, core conditioning, and muscle strengthening through yoga, pilates, and orthopedic exercise.
So, for the next 30 days, The Ottawa nuts are committed to the Dailey Method blogger challenge where we will take at least 3 classes per week. Catherine, Meghan and I are now entering our second week of classes and, after just seven days, we each have had a chance to learn about the style of exercise and see some preliminary benefits, too. Each of us have different backgrounds, different strengths and weaknesses and we will each navigate the challenge at our own pace and capability.
But how did we learn about these non-impact, weight bearing exercise classes? The Ottawa nuts met instructor of The Dailey Method Ottawa, Sarah Thompson, early in November and that's when she first told us about her classes, her new studio in the Glebe and the blogger challenge. We were thrilled to begin what was sure to be a worthwhile commitment…
Thompson herself  has a background in dance and is a natural athlete. Until the age of 12, Thompson was an avid dancer and then turned to tennis to pursue it competitively. Tennis lead her to a scholarship in the United States at the University of Toledo in Ohio, but her long career as a tennis player resulted in many injuries: tendinitis in almost every joint, unable to lift her shoulder or fully engage in high impact sports. Unable to participate in much more activity than a yoga class, Thompson was searching for something that wouldn't aggravate her injuries, but would still provide physical results…
Thompson recalls an encounter with her aunt about five years ago. She said her aunt  was always an athletic woman – a marathon runner and a hiker- but that she was never able to "lean down" and remained a size 10 for many years. Sarah visited her aunt in Arizona, who had been taking Dailey Method classes for a year, and was surprised  – Thompson saw noticeable changes in her aunt's body. But it was the next year (two years of practice for her aunt) that Sarah was dumbfounded by the changes she saw. Her aunt had dropped multiple dress sizes and her body had completely transformed.
Thompson immediately began taking classes at a studio in Vancouver and was hooked. Not long after, Thompson realized that her love for teaching, combined with her passion and enthusiasm for the Dailey Method meant one thing: that she should open a studio back in her home town of Ottawa. After many months of preparation and practice, Thompson met with Jill Dailey, the creator of the Dailey Method, and she was approved to begin her teacher training and to open her very own barre studio.  The Dailey Method Ottawa is currently holding pre-opening classes, seven days a week, at KV Studios in the Glebe but anticipates the opening of their brand new studio, in Fifth Avenue Court, for early 2015!
To learn more about the Dailey Method, follow on Instagram, Facebook and Twitter or visit their site….
Or you can follow along as the nuts take on the Dailey Method blogger challenge…
30 DAYS, 3 NUTS, ONE CHALLENGE : WEEK ONE
---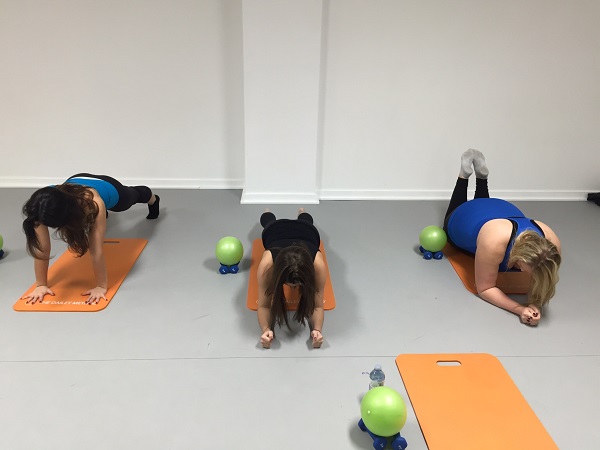 KATE:
I came across The Dailey Method just as I was beginning to search for an exercise routine that could take me through the winter months. For most of the summer, I was running four times a week and slowly, but surely began to love it. Winter running, though, just isn't for me. I needed something (preferably indoors) that would help me stay in shape instead of plunging, head first, into hibernation mode. My first class was incredibly challenging and I didn't really know what to expect. There were many difficult poses and exercises – thigh work and ab work nearly killed me – but within the hour I had strengthened, toned, stretched and felt like a million bucks. I was hooked and couldn't wait for the next class. Since my first class, it hasn't gotten any easier, but I'm focused on reaching full extension in many (if not all) of the postures. In conjunction with this challenge, I have adopted healthier eating habits and will be finishing the Dailey Method blogger challenge with a two week clean eating challenge. The Dailey Method  is my way of kick-starting some good, old fashioned clean livin', right before the holiday season!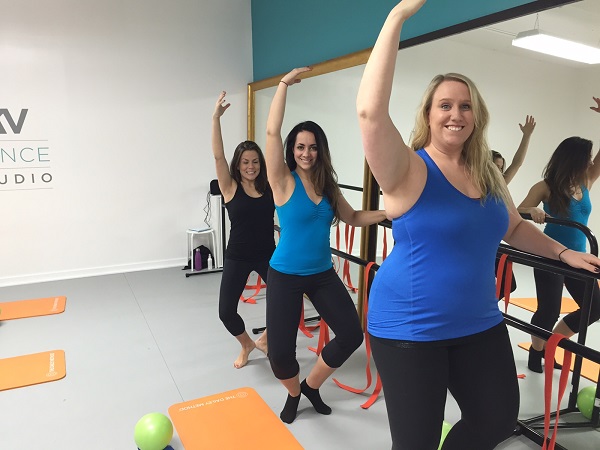 CAT:
Recently, I've made some life changes. I wouldn't say I'm on a diet and I have no real weight goals or an event I'm trying to get in shape for, I just wanted to get healthy … really healthy. I work a lot and more often than not was picking up food on-the-go. Exercise fell to the bottom of my priority list and I missed the more active lifestyle I used to live. Starting with my diet, I now eat a lot better, loosely following Paleo (dairy still sneaks its way in there) and cooking almost every meal for myself. I also enrolled in a boot-camp style workout class and am in the gym at 7 a.m.three times a week. Growing up I was a competitive dancer and through my early 20s I still taught lessons. So, when I first heard about barre classes—specifically, The Dailey Method—I knew it would be something I would love. Familiarity always works to your advantage when you're trying something new. Another key component to enjoying your fitness class is enjoying your instructor. My first meeting with owner Sarah Thompson lasted only about five minutes, but already I was sold. Her energy and enthusiasm is contagious and I couldn't wait for her to guide me through my first barre class. I knew that The Dailey Method was about isometrics—small movements that would work towards toning my body—and that it was likely going to be harder than it looked. Bang on. Holding postures while slightly pulsing up and down ("up an inch down an inch") is a battle. My legs were shaking after a particularly difficult quad exercise at the barre and I left feeling like I'd worked out every inch of my body. Which is exactly the way I wanted to feel. If you're looking for a one-hour workout that will completely fly by, test you and begin to tone muscles you forgot you had, then join us for a class as we complete our #bloggerchallenge. You won't regret it.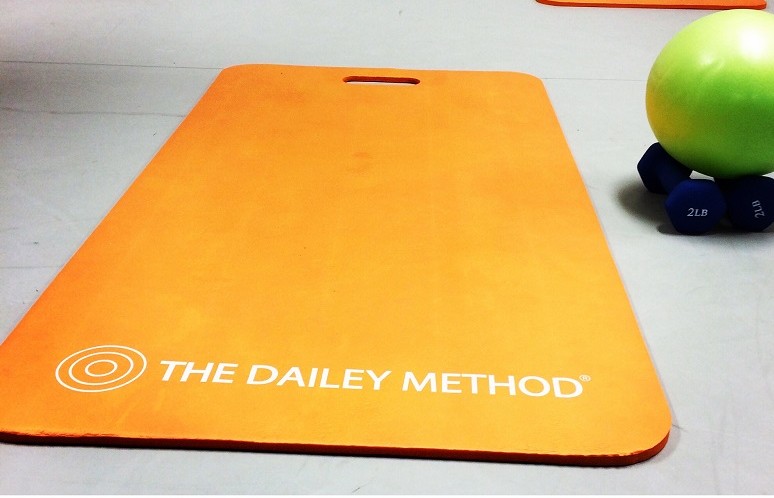 MEG:
I had heard of The Dailey Method before meeting Sarah; I (embarrassingly) follow a former Bachelor contestant on Instagram who takes these classes in New York. I was always intrigued about this type of workout, but haven't been pursuing group fitness classes for some time. I took competitive dance classes throughout junior high and high school, but couldn't keep up with the commitment once I entered University. Over the past year and a half, I had taken the odd Zumba class here and there and did yoga once weekly, but my fitness routine has been really compromised since bringing home my puppy, Winston. Rather than devote an hour and a half to the gym, I was spending that time out walking my very active pup.
I was nervous and excited when Sarah asked us to take on this challenge. I have some limitations after breaking my right leg a couple of years back, so I wasn't sure how the class would be. Plus, I haven't been "working out" regularly since the start of the summer. My overall goal for this challenge was really just to kick my butt back into a regular exercise routine and, of course, I hope I see some physical improvements as well.
Not knowing what to expect, I was pleasantly surprised that not only was it a great workout, but that you're encouraged to take the class in a way that best suits your own body. There were many modifications offered and Sarah was so encouraging and supportive throughout the class that I felt motivated to push myself, but knew I wasn't failing when I couldn't take something to the next level. I'm feeling really good about the whole situation so far and I'm looking forward to the next three weeks!
---
STAY TUNED FOR AN UPDATE FROM OUR SECOND WEEK OF CLASSES!!