It was almost two years ago when I tasted my absolute favourite wine. It was an oddball, it made me think and each sip revealed a new layer, a new identity of the wine.
It was an Assyrtiko. Reigning from Santorini, this Assyrtiko was bursting with minerality and, even, saltiness. It carried notes of black and green olive and truly tasted of the Greek island it came from.
Long after Assyrtiko and I crossed paths , I came across a food that I instantly identified as Assyrtiko's perfect match. It was a cheese called Prestige that echoed those same flavours of minerality, saltiness and olive yet it maintained the traditional creaminess found in many goat or chevre style cheese.
Another food and wine pairing for the books.
After working in a restaurant that celebrates impeccable food and wine pairings, discoveries and thought patterns like the aforementioned have become second nature to me now. But it occurred to me that our readers may grapple, a bit, with what bottle of wine to pick up for a spicy Saturday night recipe.
When it comes to pairing wine and food, the reality is that there are very few outstanding pairings. Equally, there are even fewer pairings that are completely terrible. In many instances, the food and wine will lean upon each other peacefully. But if you have some basic guidelines to assist your wine and food pairing ambitions, you will be far more likely to encounter a pairing that allows both the flavours of food and wine to be accentuated. The below guide is a simple compilation of popular wines, what they taste like and what foods they will pair best with- a beginners pocket guide to food and wine, in a nutshell.
                                                  Champagne/Cava/ Prosecco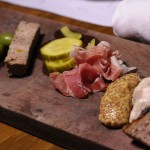 Sparkling wine, in its many forms, can take on a wide variety of flavours ranging from bone dry to off-dry.
A brut or extra brut can be identified as relatively dry and, of course, bubbly wine. It is the bubbles, or as it is called by wine professionals snobs, the "mousse", that will play a large part in your pairing. Bubbles act as a palate cleanser or, even, as a combative tool against fat or rich foods. That is why champagne and caviar are commonly paired together. It is the mousse and acid of the Champagne working together to combat the oily, rich texture of the caviar. But, lets face it, not all of us are sipping the finest bubbles and foods every weekend. For a more down to earth approach try Cava, Spain's "Champagne" which also shows nicely when paired with charcuterie. Beer, carrying similar compounds as sparkling wine is traditionally suggested with Charcuterie, but if you're more inclined toward wine, Cava or even Prosecco is an effective (and more afforable) alternative.
Off-dry Riesling will carry residual sugar and leave the impression of sweetness (however bold or mild that may be) on your tongue. For this reason, Riesling pairs well with spicy Indian curry or Asian fusion cuisine. The sweetness counteracts the spiciness leaving a perfect harmony of sweet and spicy flavour in its wake.
Chardonnay
The cardinal rule for pairing chardonnay with food is saving this luxurious white wine for fatty fish or lush sauces. Any cream-based or butter-heavy sauce will welcome a rich, bold chardonnay. Chardonnay is often characterized by notes of butter, nuttiness and apple. These flavours respond well when they are complemented by buttery or nutty foods- think butter lobster or  butter seared scallops. Chardonnay is also an alternative for those who don't enjoy red wine, but are cooking up meat for dinner- an oaked chardonnay will stand up to the bold characteristics of meat whereas a Pinot Grigio or Riesling will be masked by the strong flavours of protein.
Habitually zesty, fresh and lively, Sauvignon Blanc pairs best with tangy foods or tart dressings. Often pegged for flavours of grapefruit, lime, lemon and, even herbaceousness, these flavours will stand up to a lemon based dressing or even a ceviche-style dish.
Pinot Grigio
Pinot Grigio is generally a very mild and subdued wine, with softer flavours of tropical fruit or tree fruit. Paired with a light fish like sole and a sauce that is mellow, Pinot Grigio will put its best foot forward.
Pinot Noir- whether Burgundian in style or Californian- will carry notes of sour cherry and earthiness. Due to these characteristics, Pinot Noir pairs best with food that incorporates ingredients such as mushrooms or truffle. Pinot Noir also offers great acidity and will contrast foods that are rich or fatty. Pinot Noir pairs well with trout or even salmon but shines when coupled with stews and game birds.
Sangiovese brings us to a  pairing style not yet mentioned- that is the regional pairing. The staple grape of Tuscany finds its best self when paired with classic Italian foods like tomato-based pasta or pizza. These dishes, high in tomato acid, will accentuate the herbaceousness and bright acidity found in Sangiovese.
Malbec is a full bodied wine, yet it is lush and the tannins are usually soft and well-rounded. Malbec also carries robust flavours of spices and dark ripe fruit. Barbecued foods with sweet and spicy sauces will heighten the flavours of ripe fruit in the Malbec but will not over-power the wine.
Cabernet Sauvignon
It will probably come as no surprise to hear that Cabernet Sauvignon is best suited to rich, red meats like steak or chops. Among its intense flavours are blackberry, black currant, cedar, black tea, mint, eucalyptus, coffee, tobacco and chocolate. Cabernet Sauvignon is also high in tannin and therefore requires a dish high in protein and fat to tame its often unruly tannins.
Stay tuned for a more comprehensive list of off-the-beaten-path wines and their ideal food pairings.