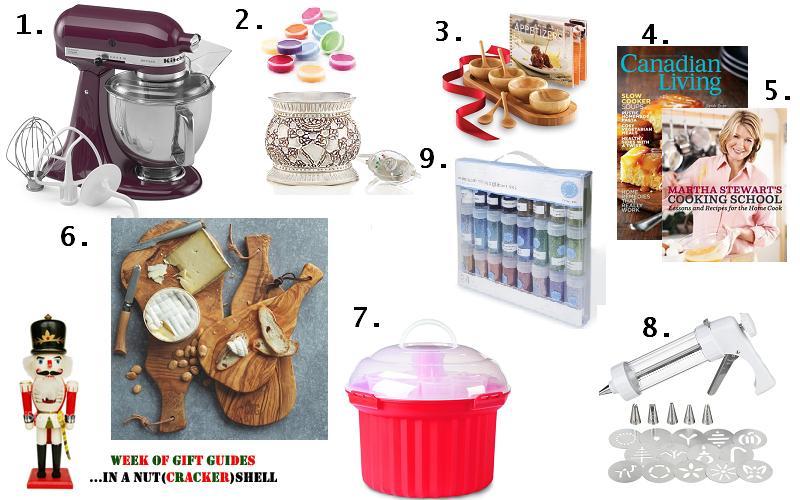 1. KitchenAid Boisonberry Artisan Stand Mixer $350
Go big or go home. For anyone who spends a lot of time in the kitchen, this standing mixer is a coveted item. This mixer is perfect for any at-home chef and can be used in a variety of ways. It's available in a wide range of colours and prides itself on being easy to clean. Best of all, this mixer boasts 10 speeds and won't leave your arms feeling like jelly. Baking exhaustion is a common syndrome, after all…
2. Gold Canyon Pod Warmers & Scent Pods  $68
For anyone who loves the aroma of a scented candle, but might be worried about the danger of an open flame, these Scent Pods are a perfect match (pun intended). Scent pods are flameless fragrances that are heated with a Pod Warmer that plugs in. What's even better is that they come with 4, 8 and 12 hour timers so you can set it and forget it, without worrying about burning the house down. With scents like Toffee Drizzled Popcorn and Warm Apple Crisp, they create the perfect atmosphere for entertaining. The Premier Pack comes with a Pod Warmer and three Scent Pods.
3. The Pampered Chef "Start the Party" Bamboo Gift Bundle $67
Start the party right with this gift bundle from The Pampered Chef. For any entertainer, presentation is key; this set of Bamboo serving ware is perfect for serving appetizers with flare. It includes the Bamboo Cracker Tray, Petite Snack Bowls, two sets of Petite Bamboo Spoons and a cookbook of delicious appetizers. The petite bowls are perfect size for condiments, charcuterie accompaniments and can even be used to serve fajita fixings. Your host with the most will be shocked how often they'll turn to these bamboo babies.
4. Canadian Living Subscription $24
For the fashionistas it's Vogue and for us it's Canadian Living.  Not only are the recipes always mouth-watering, but this magazine has so much more to offer than just food. Covering everything from  health, beauty and relationships to home decor and crafting, Canadian Living has something for everyone. The best part is that once a month your giftee will be reminded how awesome you are – and if you're lucky they'll whip up their latest recipe as a thank you!
5. Martha Stewart's Cooking School: Lessons and Recipes for the Home Cook $52
It wouldn't be a "What Would Martha Do" gift-guide without featuring her home-cooking bible. For anyone who wants to learn HOW to cook, rather than simply WHAT to cook, this is the perfect gift. Martha breaks down cooking techniques and still provides you over 200 recipes. (God she's amazing.) This gift is perfect for a young cook (or struggling cook) who is looking to improve and develop their skills and become their own at-home master chef. If you order online through Indigo, you can save 34% on the list price! What a steal…
6. West Elm Olive Wood Paddle Board $20-50
Available in three sizes, this wooden paddle board from West Elm is perfect for anyone who loves cheese (read: everyone). Handcrafted in Germany, they're rubbed with organic oil to accentuate their rich grain. This board, available in three sizes, is not only perfect for serving cheese, but acts as a beautiful display when not in use. The best part is that West Elm will personalize this product for only $7.29, adding a monogram or name of your choice. This gift is sure to be a knock out for any foodie!
7. Fox Run Red Cupcake Carrier $25
For anyone who bakes cupcakes, this is the PERFECT gift. The age-old struggle with cupcakes is how to transport them without ruining them. There's the toothpick and saran wrap method (always fails), carrying them open on a tray (dangerous) or icing them once you've arrived (surprise-ruiner). None of these methods are ideal… Enter, the genius cupcake carrier. With three removable trays and the capability to transport 24 cupcakes, this carrier (which resembles a cupcake) will make any baker squeal with delight! Available at Sears; similar models available at Wal-Mart, Marshall's and Michael's.
8. Crate & Barrel Cookie Press & Decorating Kit $38
While we're on the subject of baking, this kit will let your Betty Crocker perfect the art of cookies. This kit contains fourteen discs that construct cookies in traditional and modern shapes, as well as six decorating tips for perfect frosting. No longer will their cookies look amateur; this kit will take their baking to a whole new level.
9. Martha Stewart Glitter Multipack $19
For our final item, we head back to the Queen Bee's line of craft supplies. Whether they love to scrapbook or DIY, adding a little sparkle is never a bad idea. Martha's fine sparkles come in a variety of colours and this kit combines 24 of them, stacked in a resealable plastic case… Because who wants their sparkles in disarray?
***
Today is Day 2 of inanutshell's Week of Gift Guides! Stay tuned for 3 more inspiring gift guides from your nut(crackers) for everyone on your list!
What was the best gift you've ever received?