From the maple leaf in our logo, to our consistent chatter about supporting local, we are a group of women who couldn't be prouder to be Canadian. And among the things we love most about this great country, one thing that tops our list is how well we Northern folk know how to party. With a reputation for throwing a shaker or two ourselves, we know nothing is better than raising a glass to the country we call home in a sea of red and white. With three of us calling the capital home, we're gearing up for the city's busiest week of festivities. Below, just a few of our party planning tips to help steer your celebration in the right direction.
PART ONE: Throwing the party
---
DECOR
A backyard BBQ should be laid back, so the décor doesn't need to be too fancy. Try these DIY rustic flower vases and style them with a variety of candles. They will look pretty during the day and really pop at night once lit. To make them, pick up a spool of burlap and a spool of red ribbon. Wrap the burlap around a mason jar and fasten it with the ribbon. The best part, you can re-use these mason jars for every occasion by simply switching out the ribbon!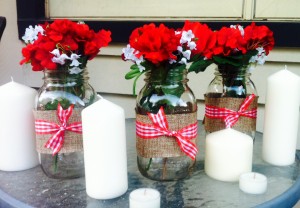 There's a few truly Canadian bevvy's that you can't pass up on 

July 1
st
. Of course, you should grab a homegrown craft beer at some point during the day, but there's a few cocktails that you can whip up for your guests as well.
CAESAR BAR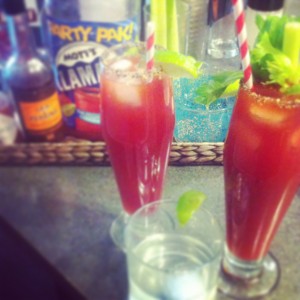 Did you know that Caesars are inherently Canadian? We did! And nothing tastes better on a hot day than a Caesar with all the fixings.
Ingredients: Vodka, Celery Salt, Salt and Pepper, Montreal Steak Spice, The Extreme Bean, Canadian Bacon, Olives, Lemons and Limes. Set these fixings out and let your guests garnish to their heart's delight!
THE MOUNTIE
Canadian whiskey is second to none, so Canada Day wouldn't be complete with at least one whiskey-based cocktail.
Ingredients: 1 ½ oz. Canadian whiskey of your choice, ½ oz Bitters.
Directions: Combine whiskey and bitters in a shaker with ice. Shake gently, strain and serve.
STRAWBERRY SPARKLING SANGRIA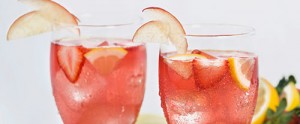 Since everything red is appropriate on Canada Day, try this twist on a regular sangria and embrace our country's colour.
Ingredients: 1 bottle of sparkling wine, 3 oz. of Grand Marnier, 1 litre of 7up and 6 cups of fresh, sliced, strawberries.
Directions: Mix all the ingredients in a large punch bowl and add ice.
Keep the menu simple at this backyard BBQ. For an appetizer, use Canadian Bacon and local produce and cheese to make these Apple, Bacon and Cheddar Crostinis. Then, throw on burgers and dogs (again, locally sourced) for the main course.
For a great side, try Yukon Gold Potato Salad: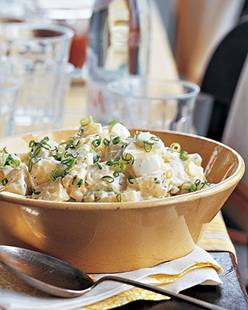 Finally, for dessert, try these super cute maple leaf cupcakes, using fresh strawberries: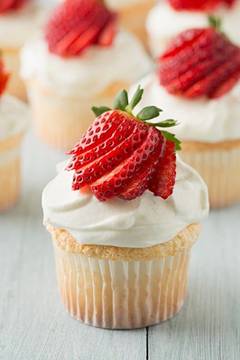 PART TWO: Where to buy Canadian
---
Buy the food that's grown in your backyard and support local for a truly Canadian BBQ experience.
Brewer's Park Farmer's Market is your one-stop shop for everything you need at a Canada Day BBQ. It's open every Sunday from 8 am – 3pm, directly across from Carleton University.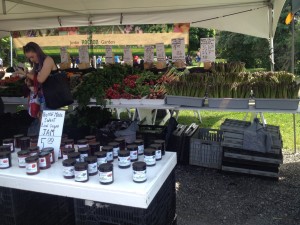 Find  homegrown products from local sources and, as a bonus, meet the men and women behind the produce. Try O'Brien's beef for your burgers, Art Is In Bakery for your buns, cheese at Lancaster cheese and whole whack load of veggies can be found at every other stand in the market; one of our favourite vendors is Foster Family Farm for the freshest veggies in season. If you want to try something a little more adventurous try the elk ranch (also at Brewer's Market) for delicious elk burgers. Everything on our Canada Day menu can be found at the farmer's market.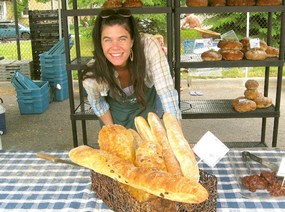 If you can't make it to the market on Sunday, swing by Seed To Sausage, an artisan producer of locally sourced meats. The Ottawa location just opened last week on the corner of Gladstone and Chamberlain Street and is a real commodity to the Ottawa meat market. They craft a wide selection of Bacons, Sausages, Salamis, other assorted meats and cheeses.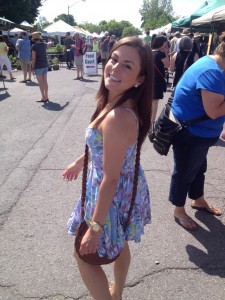 Parliament Hill.
 Concerts by Serena Ryder, Marianas Trench and Daniel Lavoie. Fireworks at 
10pm
. 
pch.gc.ca
Major's Hill Park
. Olympic athletes, buskers and VIA Rail mini train. 
pch.gc.ca
National Arts Centre.
 Free concerts, BBQ and kids corner. 
nac-cna.ca
Jacques-Cartier Park
. Sand sculptures, face painting and SkyHawks. 
pch.gc.ca
EAST END
Support local: Meatings BBQ Catering will be on site serving up local grub. Check them out!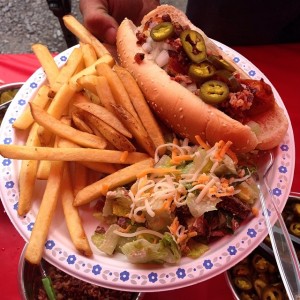 WEST END
VARIOUS LOCATIONS
Escapade Music Festival. 
 One of the biggest parties in the city featuring the best in electronic dance music. Rideau Carleton Raceway June 28-29. On July 1, 191 George St. 
www.escapademf.com