As Kaylee mentioned earlier this week, with the Fall season comes a particular desire to snuggle up – with a loved one, a cup of tea, a good book, a favourite TV show – or – a board game.
So while the capital is still being graced with unseasonably warm day time temperatures, when the sun goes down, and the chill settles in, the Ottawa nuts have been tapping into our child-like selves and opting for old school entertainment, as of late.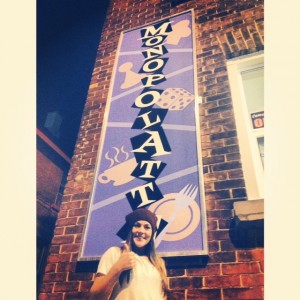 Instead of a typical traipse of the town on a Thursday night off, Kate & I had a different idea –it was Monopolatte that was in the cards for us (ha!).
Monopo-what, you say?
This board game café with a bit of buzz only opened four months ago. Located on the edge of Chinatown on Somerset West, this renovated house opens its doors to game lovers of all kinds.
Boasting over 800 different games, a $5 cover charge gets you a spot at a big wooden table, a menu of both games and treats alike, and can accommodate large and small groups.
As Kate & I moved are way through the tables of clustering groups, past the small kitchen and bar towards a large back room, it was impossible to not gawk, at least momentarily, at the shelves upon shelves of different boxes. From the classic – Trivial Pursuit, Clue, and, of course, Monopoly – to the new, the rare and the never-been-played, the hardest part of the evening was deciding what to play.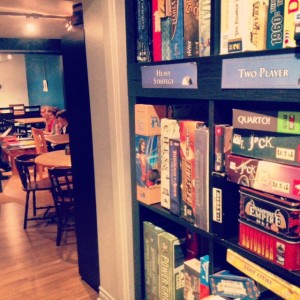 It's impossible not to be overcome with a feeling of childhood nostalgia in a place like this; spotting even the most obscure games I was SURE only my family managed to have among our collection.
Monopolatte's deal, however, is simple: you can stay as long as you want, play as many games as you want and fill up on tasty snacks of beverages while you're at it. The friendly and clearly game-enthusiastic staff was all too ready to suggest a game, an approximate time length and even teach us how it's played.
On a Thursday night at 9:30 p.m. the place was bumpin, but our group of four was lucky enough to be seated –sans reservation- at a table in the corner. A round of Wellington Dark Ale's a Stiegl and a Somersby later and we were on our way to playing the naughty game that is Cards Against Humanity.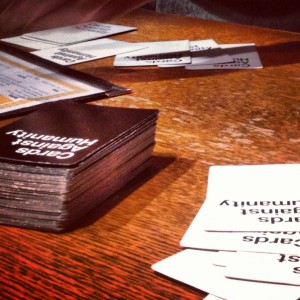 We then moved on to Payday, before asking our server what her favourite game was. Ten minutes later we were keeled over in laughter playing one of the most shockingly challenging, yet simple, games we've ever played. If you get the chance to stop in, make sure you ask a staff member where Ghost Blitz is. It is highly recommended by this reigning champ.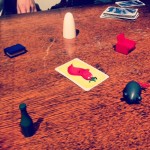 None of us dabbled into the food menu but I was more than tempted by the yummy selection of grilled cheese's and paninis, kettle chips and CandyLand platters. Oh, and did I mention, $9 triples? Might be the best booze deal in town!
With that said, we rounded the night out by grunting and stomping at each other playing Ugg-Tect (SO hard!), Scattegories and a heated game of Taboo.
Staying way longer than we expected to, and leaving only at close at 2 a.m., I think I can speak for everyone when I say we left just pleasantly tipsy, sides split from laughter and a vow to return again soon.
Before our inaugural visit, I was warned by a friend that going to Monoplatte felt "like you were hanging out in your Mom's basement" – but in retrospect, I think that's exactly what the owners are trying to achieve. Just a bunch of big kids, remembering the simplicity of what it's like to "just play".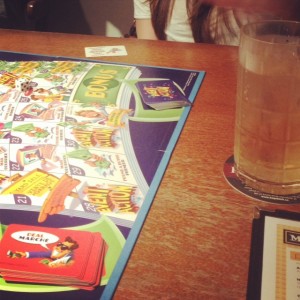 So, in conclusion: go directly to Monoplatte, do not say no, (do not collect $200).