Fashion, food, music, life. This slogan has embodied our blog from day one and, really, couldn't be more accurate. A space of discovery for the things that we care about most, inanutshell has led us far and wide to restaurants, spaces and events all over the world. But when it comes to fashion, food, music and life, we nuts will always have a soft spot and love for all things local. Whether it's a local band, a new restaurant or a designer, if it reigns from somewhere nearby, you can expect a gold star from nutshell.
That's why we were thrilled to have the opportunity to meet with a winery based out of Beamsville, Niagara. Rosewood Estates Winery began their journey into wine and honey country in 1966 when R. William Roman Sr. applied for an Ontario Mead License. R. William Roman Sr.'s dream of bottling mead only came to fruition when his son, Eugene, fulfilled his father's legacy and began beekeeping in 1980. 20 years later he bought 40 acres of prime Beamsville Bench land. Today, Rosewood Estates Winery  is producing award-winning wine and is Niagara's first winery-meadery. With 40 acres of land, Rosewood successfully  planted 10 acres of vines and have dedicated several acres to the apiary where they practice natural and sustainable bee-keeping. Their craft is set in family tradition, where people and place have everything to do with the quality and success of their product. Krystina Roman, the "Social Bee" from Rosewood Estates, beamed with enthusiasm about the team behind Rosewood and left us no choice but to try a selection of Rosewood's award-winning wine and even a sample of their honey (twist our rubber arms why don't you?).
So what's the buzz about their wines? Offering exceptional quality and value, in a nutshell, Rosewood is a testament to what Niagara wine country is truly capable of.
The 2012 Sussreserve Riesling, $15, oozes layers of honey, stone fruit and white flowers.  Sussreserve translates to "sweet reserve" meaning that a portion of unfermented grape must is added to the wine as a sweetening component. Despite this, the wine maintains bright acidity and minerality, true to Niagara terroir.
The 2012 Semillon, $18, is an Australian style Semillion carrying flavours of stone fruit, nuttiness, and even some salinity on the finish. The mouth feel is lush and round with prominent flavours of citrus and melon.
The 2012 Pinot Noir,$22, aged in neutral french oak barrels, is fashioned after classic Burgundian Pinot with strong notes of sour cherry, pepper, earthiness, cloves and tart cranberries on the finish.
The 2011 Merlot, $22, was one of the most complex examples of great Niagara wines. Green pepper and jalapeno are present on the nose, carrying undertones of saline and classic notes of Niagara terroir. The salinity continues on the palate supported by bold flavours of baking spice, peppers, cranberries and cherry.
The Ambrosia Gran Reserve Mead, coming in at 16% alcohol, carries notes of honey, pears and nuttiness with hints of burnt sugar and floral notes lingering through the finish. This is the ideal  pairing with salty cheese or honey based dessert
We ended the day of wine tasting with a sweet ending, Town's Panini split-a combination of honey vanilla gelato, banana, dolce de leche, chocolate sauce and housemade skor- paired with the Ambrosia Grande Reserve Mead, a delicous ending to a very tasty meeting.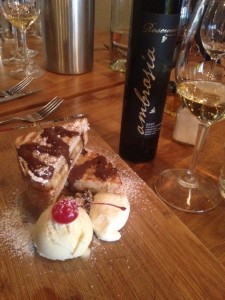 Pining for more Rosewood? Find their wildflower honey at Chapters Indigo stores across Canada and their wines at the LCBO.