The dirtiest brunch around and I only experienced it a week ago. For shame.
Murray street is celebrated for its cutting-edge Charcuterie plates, stippled with wild-game terrines, chorizo, head cheese, smoked duck breast and artisan cheese from around the country. Boasting in-house made quality, Chef Steve Mitton stamped Murray Street on the face of the capital dining game in 2008 and they've been rolling with the big players ever since.
Most of my visits to this favourite spot, located in the heart of the Byward Market, have occurred on warm summer nights where the patio was alive with carnivorous noshers making Murray Street the first stop of a night on the town. But my most recent visit offered an unexpected experience and a very welcome surprise. Intending to plonk myself at the bar for a  luncheon off the regular menu, I was instead handed a brunch menu entitled: "That Weekend Thing".
Evidently only available on the weekend,  the brunch menu offers six or seven bursts of brunchy-goodness that inadvertently make the regular menu pale in comparison.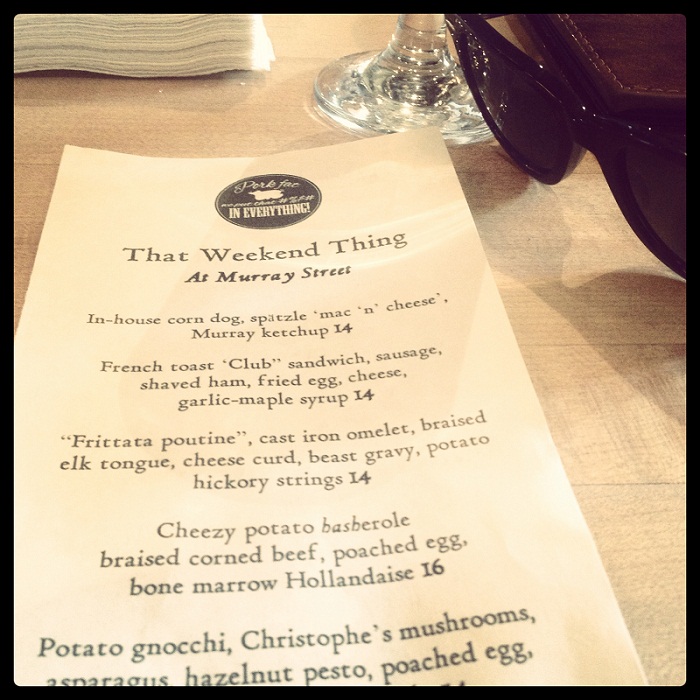 Plates blanketed in hollandaise, cheese and maple syrup were whizzing past me and made the decision to get the Cheezy Potato Haserole that much more difficult. My dining partner ordered the French Toast Club and neither of us had a bad thing to say. In fact, we didn't say much as we both happily tackled our dishes- coffee and mimosas at our side and at the ready.
The Cheesy Potato Hasherole:
A stratum of  braised corn beef, hash potatoes, poached egg and bone marrow hollandaise.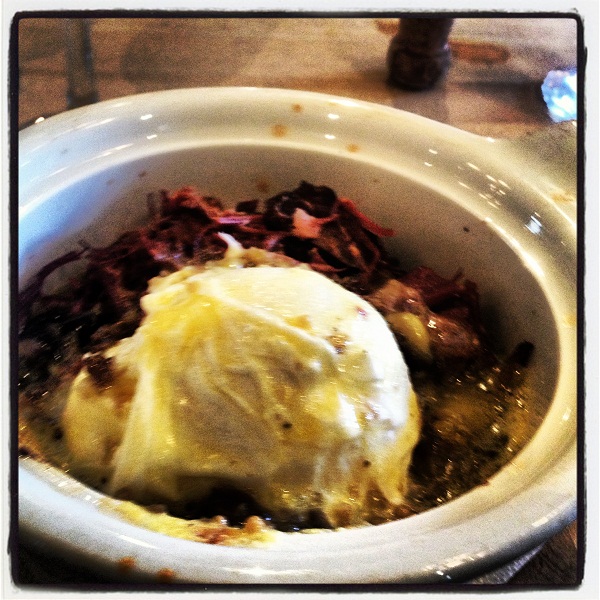 The French Toast Club:
French Toast. Sausage. Shaved ham. Cheese. Repeat.  Topped with a fried egg and  drenched in garlic-maple syrup.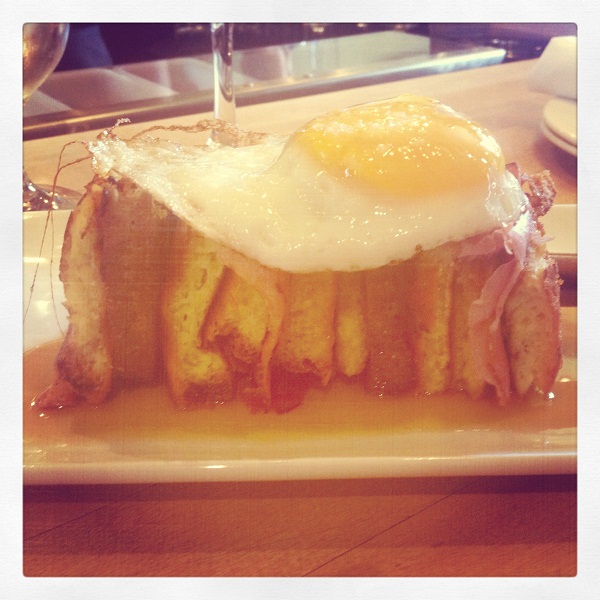 Although my brunching days are limited and I have yet to sample some of the top contenders in the brunch-o-sphere of Ottawa, my utter satisfaction with Murray Street aligns it with popular brunch places like Oz and Baker Street.
In a nutshell, there is no better way to spend a Sunday.