The obsession with food trucks- or should I say specialty food trucks- has surged in the last ten years, most likely led by pioneers like Kogi-  a Korean barbecue truck that opened on the streets of Los Angeles in 2008. The United States quickly got on board with the  movement- of particular interest to young restauranteurs who were seeking the opportunity to express themselves and build a reputation.  As the wheels kept turning, a new appreciation for a slightly rebellious take on food swept through North America reaffirming the notion that amazing food can be enjoyed on a dime budget. Canada soon followed suit and in February 2013, the City of Ottawa announced 11 new food truck permits, after sifting through a total of 61 applicants.
Of the newly licensed trucks, familiar names in the restaurant scene such as Benjamin Baird and Layne Belcher attained the highly coveted licenses and have been at the helm of the food truck lime light.
But, it was a trio of men launching the Epicurean Munchie Truck (EMT) that caught my attention- and what I found out about this particular truck is nothing short of mouthwatering.
I sat down with one third of the crew – Jamie McConnell- to find out the nitty gritty on food truck culture and what exactly his own food truck will bring to the proverbial table.
—————————————————————————————————————————–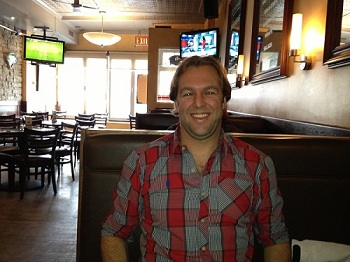 McConnell has worked in the restaurant industry for 13 years, currently holding down two positions- one at Steak  Modern Steakhouse Lounge and the other at 10Fourteen. Working alongside Peter Bowen and Mat Gregoire, McConnell is ecstatic to be taking on a business of his own. For McConnell, the restaurant industry- and food in general- is a passion he has finally managed to turn into a career.
Kate: How did you and the guys originally come up with the idea to open a food truck?
Jamie: About seven months ago, we got together and thought it would be something really fun and wacky. We were sitting around, having a beer, you know the permits came out, and we figured why not? Let's throw our names into the ring, we have the skill set to put it together.
K: What do you bring to the table?
J: I'm taking care of the website, but really, I'm the service guy. I'm putting together the front of house, the service side of things.
K: Tell me about the truck
J: We were looking for vehicles and then someone said , "What if we got an ambulance?! You always notice an ambulance." So we rolled with it,  and then we came up with  EMT. But we couldn't just call it EMT- that must be illegal, so then we came up with Epicurean Munchie Truck and we thought, this is gold! We did some research to see if anyone was doing anything remotely similar and we couldn't find anything like it.
K: So what's the food like?
J:We're trying to give people two options- we've got low sodium, low calorie- that's the Dr. Oz menu.  But we figured, if we're going to do this, we might as well have a little fun with it too and just do something evil, that's where Dr. Kevorkian comes in. So really, you can have a healthy lunch or get something ridiculous.
K:  A menu called Dr. Kevorkian, served out of an ambulance. Do you think people will be put off by that?
J: I think it's going to be interesting. We're having fun with it.
K: Because you're a mobile entity, will social media play a big role in advertising?
J: Social media is one of our main marketing strategies-you can drop flyers out and put up posters, but at the end of the day when you have people talking about you on twitter, liking you on facebook, you can post menus, you can post pictures and you can just reach people easier.
K: Because you're a food truck, do you think people will have certain expectations when it comes to prices?
J: That's one of the reasons why we worked out our menu the way we did, we barely have an item on there over ten dollars- we want to offer value and a good product.
K: Who do you think is your biggest competition of the new food trucks that were granted licenses?
J: I don't think it's about the competition, I think the more the merrier. The more education you can get into that scene is phenomenal. I'd love for there to be more food trucks out there.
K: I feel like Ottawa is late to the food truck scene, what's your take on that?
J: Ottawa is generally a conservative city, but I think this culture is growing at the right pace and doing it it's own way. A lot of people say the city is going about the licenses in a big brother kind of way, but this way, they are ensuring that a certain standard is met.
K: Where do you guys stand on the farm-to-fork mentality?
J: We're doing a 100 km radius,  locally, organic if we can, depending on the season. But we have no disillusions, we know it's going to be insanely hard work.
K:If you were to have your last meal ever, where would it be and what would it be- if you had to pick somewhere in Ottawa?
J: Like, I'm dying or I'm leaving Ottawa? Does the restaurant still have to exist? That's tough. I'd make a day of it and hit about 10 places. I'd go from Town, to Murray Street, whip over the Izakaya for scallop ceviche. I had three of them last time I was there.
K:  Beverage of choice?
J: Coca-cola, in a glass bottle.
K: …Alcoholic?
J: I'm a big wine guy, but I love a well made cocktail. No bells, no whistles, just a great old fashioned, a good martini. That, for me, is perfect.
K: If you had to give that up, or cheese, for the rest of your life what would it be?
J: I'd give up booze. I love cheese. I LOVE cheese, I can't get enough. Get me a plate of truffle stuffed brie? I'll follow you around for years.
K: Any restauranteur in Ottawa that you admire?
J: You know what, I really admire the small guys, you know the guys behind Supply and Demand, Back Lane Cafe. They are coming into a traditionally conservative scene and just doing their thing.
K: Have you had any challenges opening the food truck?
J: Everything is a challenge.  The permit lottery was the hardest part. Submitting our business plan with the city and not knowing what would be the result. We were nervous for a couple of weeks. We were sitting there the night before the press release went out asking each other, "Have you heard anything?". We had to build the whole business plan, the labour plans, projected sales. It was putting all this effort in and then having a two month wait. And when we got it, it was such a relief. It was awesome.
K: Why a food truck and not a restaurant?
J: A restaurant is the long term goal. But food trucks are great, we want to jump into this and build our reputation from there.
Keep an eye out for the Epicurean Munchie Truck, set to take to the street in May, 2013, located at the east end of Olmstead, south of Montreal Rd.