Sometimes a night out on the town is not the key to a perfect Saturday night. All you really need is a cozy, candle-lit home, a few Holiday tunes, some red wine …and nutmeg, cinnamon, cardamom seeds, lemon, lime, clementine, sugar, cloves and a touch of ginger wine. The result? A delicious, warm beverage to warm your insides and stain your teeth, worth every sip indeed. Some Saturdays ago, Jess and I set out to test our culinary skills by concocting a batch of mulled wine and then heading to a lovely College St. bar, Kalendar, to compare our creation with the so-called "best in the city". We were not threatened by the competition …but by the grocery list? Perhaps. "What on earth are cardamom seeds?" and "where does one purchase ginger wine?" were two questions out of our mouths that day. Turns out, these are ingredients easily found at your neighborhood Bulk Barn and LCBO (respectively.)
While the grocery list may seem daunting to some, the process itself is quite simple! Read on to see how you can make your very own batch, and discover if Jess and I succeeded in foiling the master of the mull…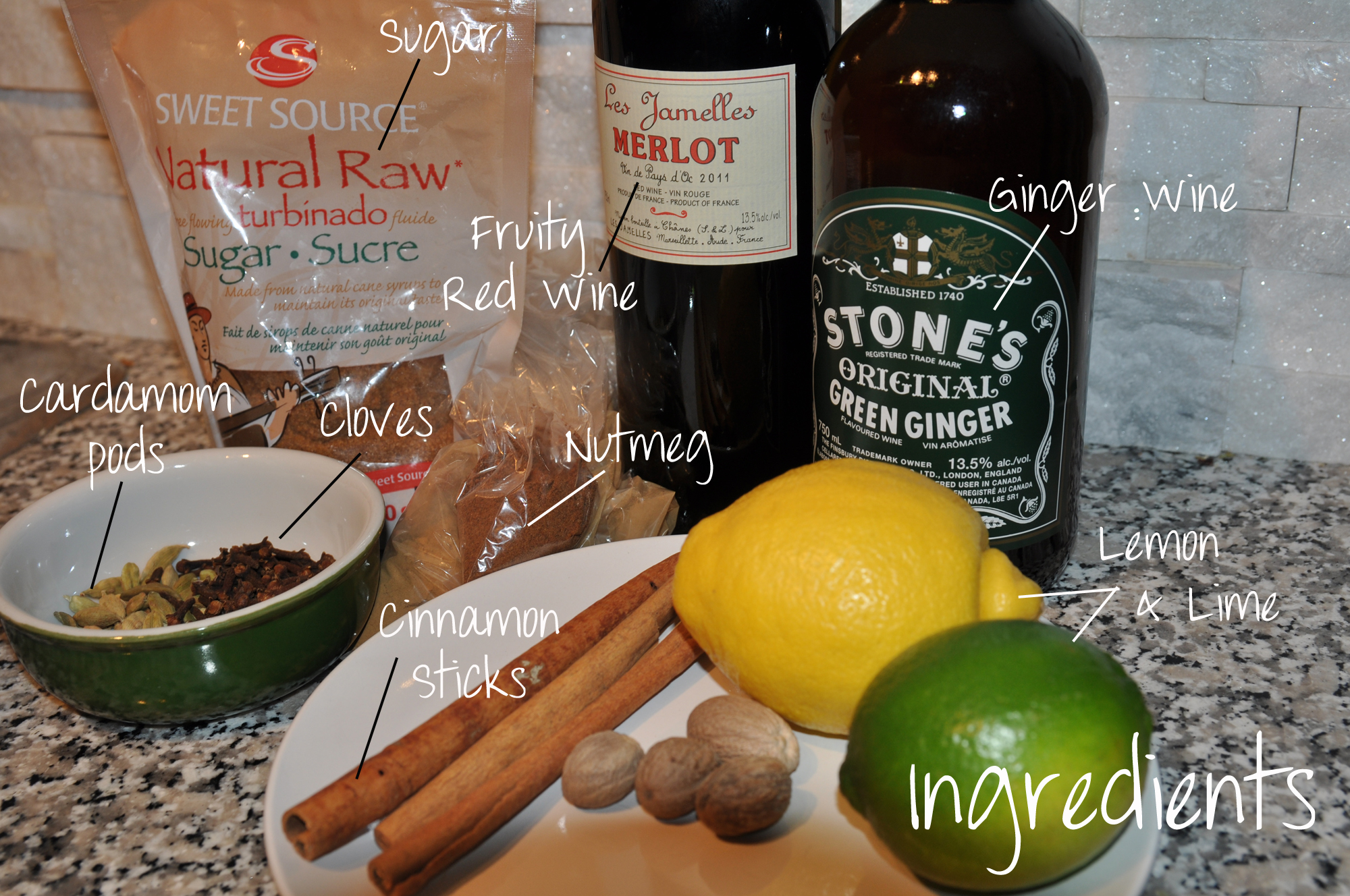 Ingredients:
– 1 lemon, 1 lime, 1 clementine (not a big deal if one's missing)
– 6 whole cloves
– 1 cinnamon stick
– 5 cardamom pods
– 150ml of Ginger Wine
– 1 bottle of fruity red wine
– 150g caster sugar (we used natural sugar, and about half of that)
– A pinch of nutmeg
Step 1:  Peel large sections from your lime, lemon and clementine, pour the sugar in a large sauce pan over medium heat, add peels and squeeze clementine, as such:
(excluding the look of confusion on my part)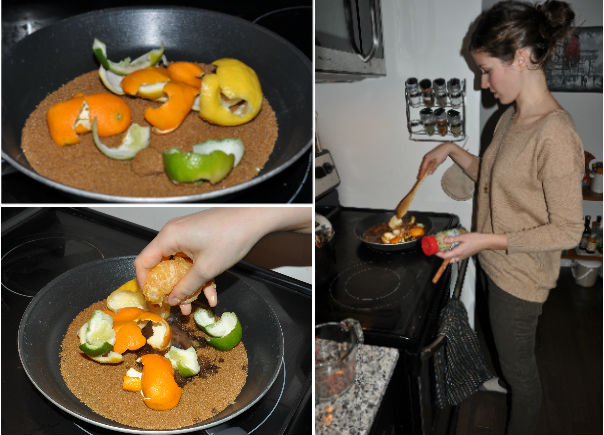 Step 2: Add the cloves, cinnamon stick, bay leaves, cardamom and pinch of nutmeg.
Step 3: Add enough red wine to cover the sugar, heat gently until the sugar is dissolved, stir occasionally, bring to a boil and cook for 5 – 8 minutes until you have a thick syrup, as such:
Step 4: Reduce heat, stir in ginger wine and remaining red wine, as below:

Step 5: Serve and enjoy!

Our wild Saturday night did not end there folks. After several servings of delicious syrupey Christmasey goodness, we ventured to College (just West of Bathurst) to Kalendar, the perfect venue for a casual yet classy drink, and the home of many scrumptious winter drinks, like cider, hot toddies and wouldn't you know it…mulled wine. Once seated, we promptly ordered the drink of choice, noticing that the menu listed honey as an ingredient…doomed from the beginning…
The beverage arrived in a sake set (pictured below) – a unique take on the Christmas classic. Upon our very first sip – we knew. We were beat. If it wasn't due to the lack of post-drink clean-up, it was likely the sweetness of the honey that made Kalendar's version that much more scrumptious than ours.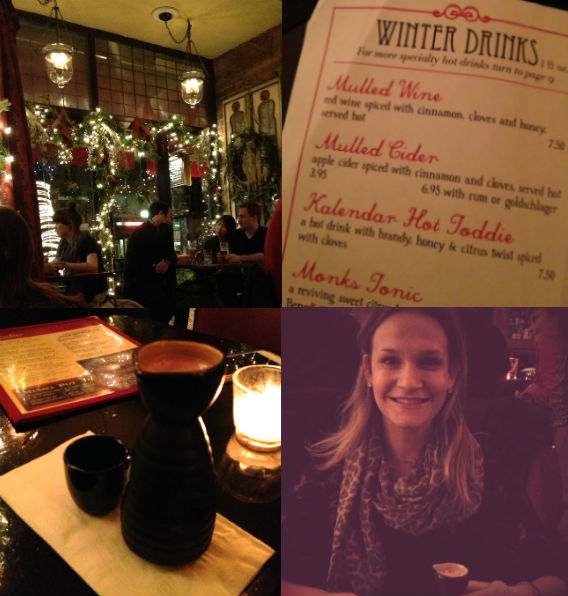 Skimping on sugar was our way of making this Christmas treat a little less heavy on the hips, but the truth is, it needed the sweetness to be at its best. The solution is to drink mulled wine in small doses and save it for those merry special occasions. In a nutshell, nothing beats having a good excuse for wine consumption. Happy Holidays!
Visit Kalendar for some delicious Winter drinks!