El Camino.
The literal translation from Spanish to English:
1)the path, road
2)the journey
3)the way
Although Chef Matt Carmichael claims the name has a lot to do with his love for the Chevrolet coupe utility vehicle,  the literal translation behind the name of Ottawa's newest restaurant is vulnerable to cryptic interpretation. When Chef  Carmichael decided to breathe life into another restaurant in the Ottawa area, offering small plates namely defined by tacos, he made damn sure that he stamped it with a name to declare he is here to do it right. Renowned for guiding kitchens such as Social, Side Door and eighteen, Carmichael decided it was about time Ottawa became home to a restaurant where he could visualize himself as a regular patron.
"The reason I'm doing it is because I think there is a need for this kind of restaurant. It's going to be a restaurant that I like to hang out at, and food that I like to eat." – Carmichael, Lunch Out Loud
Nestled in the heart of Elgin Street, just below street level, rests El Camino, where Carmichael has redefined "the way" tacos should be served.
Back to the basics, Carmichael has forgone the bells and whistles of previous spots he has captained. Instead, El Camino is bare, raw, relaxed and exactly what a taco joint should be. His signage out front reaffirms this, with a bare plank of wood stapled to the concrete framework of the former shawarma shop. The interior is no different, showcasing exposed concrete and reflecting walls of a monotone gray scale.
The dark laquered oak bar is a unique feature offering typical bar-style seating in front of a wall of liquor but then expanding to a peninsula where patrons can still sit at a bar but also face others diners, lending to a  more communal dining experience. Seating approximately 30 people, the bar is the epicentre of action at El Camino, where glasses of wine are exchanged between hands, shared between palates and plates are devoured between friends and strangers.
Adding further to his conceptualization of a basic taco joint, is a take-out window offering a selection of foods from the dinner menu.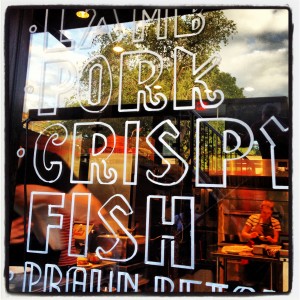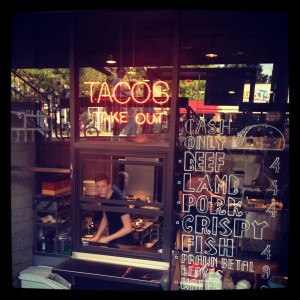 Each taco goes for $4 ,which steals a generously sized soft shell and ample (and delicious) fillings.  The menu can be exhausted for under $100, but that's not to say you won't want to do it over and over again.
Each dish is thoughtfully designed with texture, flavour and sensation and is equally colourful as it is delectable. The bare dining space allows for little distraction from the bursts of flavour that Carmichael has artfully infused into each and every bite. Stand outs include: the Prawn Betal Leaves, Tuna Sashimi and Fish Tacos.
The wine list, partially conceptualized by Alex McHahon, is set to complement the menu offering some of my personal favourites such as the Kung-Fu Girl Riesling and the Pine Ridge Viognier-Chenin Blanc. Other notable additions to the small yet concentrated list is the "C"alcaire from Norman Hardie offered in a magnum as well as the Pinord "Clos Torribas" Tempranillo.  Further in libations, El Camino is making a name for itself by way of  tequila sours, foreshadowing Carmichael's plans to add barrel-aged tequila to the restaurant's arsenal.
As tacos have taken the capital by storm (even beer & wings establishments like St. Louis offer a selection of tasty taco treats), El Camino certainly has an edge in the taco trend. Quality and quantity are personified- the tacos are bigger, better and more affordable than anywhere else in the city.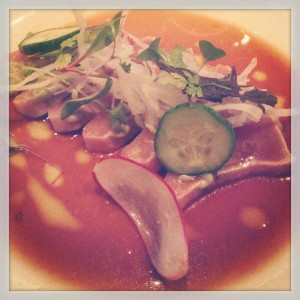 Tuna Sashimi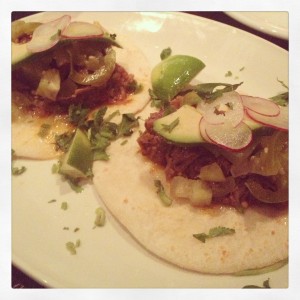 Lamb Tacos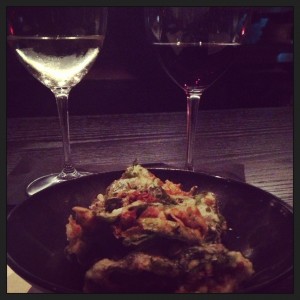 Stand out dish: Prawn Betal Leaves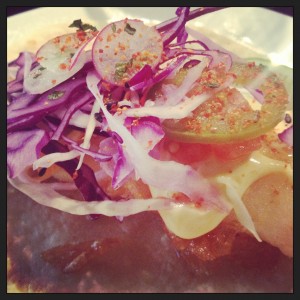 Crispy Fish Taco