Last week, I met a couple of tourists visiting Ottawa for the fifth time. Standing in line, waiting for our daily dose of java, I discerned a strong southern accent from the pair of foreigners, which I later discovered was a Texan drawl.  I asked them what brought them to Canada so often, and more specifically, why Ottawa?
After explaining that they love Canada (no surprises there), they mentioned visiting many Canadian cities: Vancouver, Calgary, Montreal. But for them, Ottawa ranked highest.
"Everything in Ottawa is within walking distance, or at least short cab-ride away."
In this simple observation, the couple were entirely right and made me rethink what sometimes seems like the city that is just TOO small. Ottawa's downtown neighbourhoods are all relatively close to one another and within each neighbourhood, you will find a decent selection of attractions, landmarks and most importantly, eateries that get locals and tourists alike talking. That's when I realized that Ottawa is one of the best cities to execute an eatery hop. Each location is so close to the next that, instead of spending  time commuting, you can waltz your way from one spot to the next til your tum's content.
So as we bid adieu to the days of the pub crawl, where  it was a mark of accomplishment if you weren't literally crawling from the last pub to the next, welcome the eatery hop.   Sample different bites around the city, in an evening that will quickly highlight what this too small town actually can offer.
ELGIN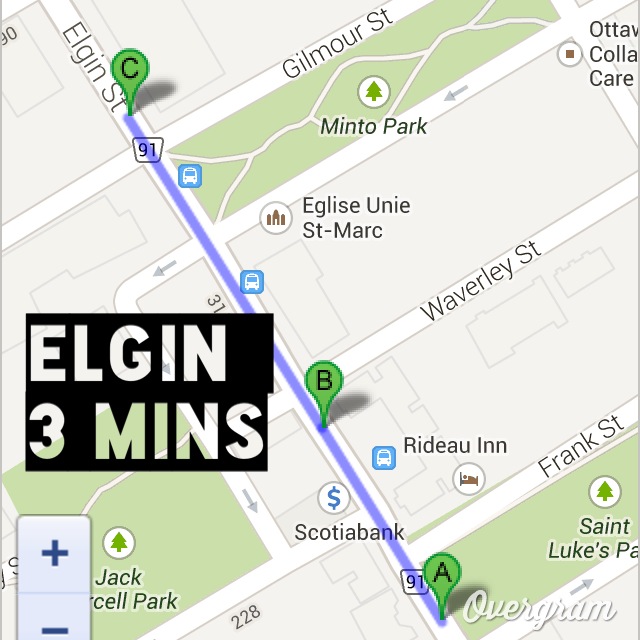 A. By now, I'm sure you know that El Camino is one of inanutshell's  favourite spots to spend an evening chowing down on Tacos, but one of the other selling points of this taco joint is its small portions. Whet your whistle with  a couple of tacos or some bite sized betal leaves and move on up Elgin towards point B.
B. Fresco's has something for everyone, with a well crafted wine list, creative cocktails and traditional Italian fare. Indulge in some of their classic Italian dishes like the gnocchi or share the catch of the day, which has yet to disappoint this food fanatic.
C. To cap off your night on the "town", take a stroll not even one minute up Elgin St. to Town. for a cheese plate or decadent dessert.
MARKET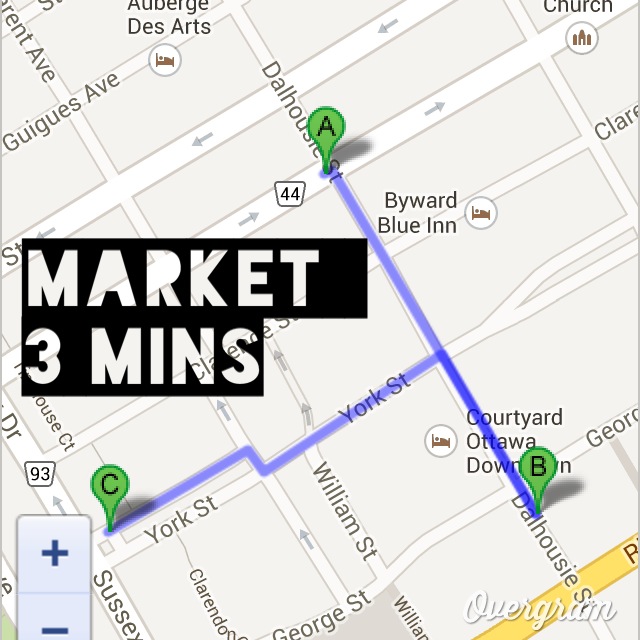 If the evening finds you in the Byward Market, there are a few key stops that can make for a mouth-watering stroll through the city centre, taking less than five minutes to go from point A to point C.
A. Start  at Murray Street for an innovative charcuterie plate, complete with cured meats, pates and rillettes, all made in-house.
B. Next up, visit Brother's Beer Bistro. Select a brew from their extensive list of craft beers and try their tuna or beef tartare from the list appetizers for a light but flavourful main event.
C. Finally, for a sweet ending, pop into Play Food & Wine for a selection of their sweet wines and dessert. Try their Late Harvest Merlot with the fudge brownie.
Westboro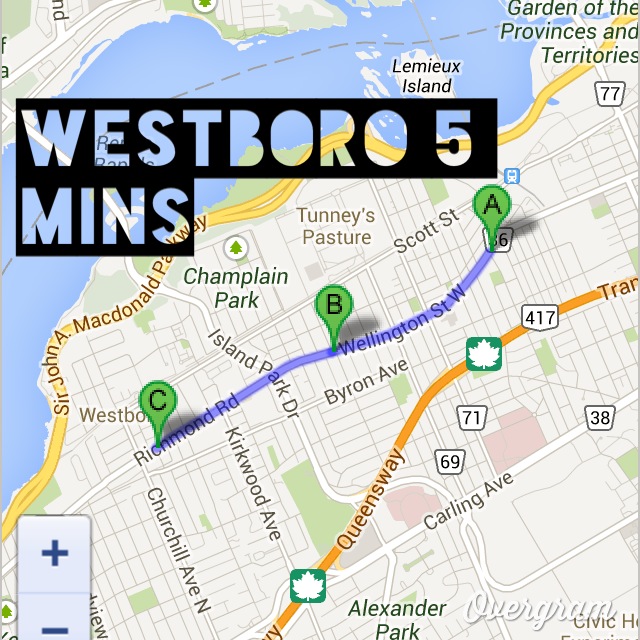 A. Take off with the Ploughman's plate at Hintonburg Public House, featuring a selection of artisan cheese, S2S cured meats and in-house made preserves.
B. Wandering down the way to Supply and Demand, sample some of Ottawa's most delicious oysters, served with traditional lemon and horseradish garnishes, or try some of their in-house made pickle juices.
C. The Westboro/Hintonburg area tends to shut down it's lights around 10 p.m., so if you're looking for a night cap, take a quick stroll up to  Trio Lounge, equipped with fanciful cocktails in mason jars and a late night crowd that will stick around until the wee small hours.
In a nutshell, Ottawa's downtown strips are easily accessible, especially by foot, and in the summertime what better than a stroll and a bite in the hot night air.