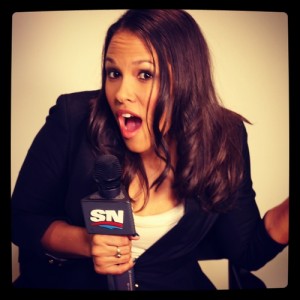 Kacie Hollins, host of Sportsnet's Digital Dose and soon-to-be Vegas pool party goer, has returned to in a nutshell today to discuss something many women think about around this time of year – firming up the ol' winter body. She's provided some of her delicious and easy bikini body recipes and quick workouts for that last minute haul before the long weekend. Take it away, Kacie.
The weather is getting warmer, which means the clothes are getting tinier; shorts and skirts are making their way out of the closest and before you know it, bikini season will be here. And, if you're in my shoes, then bikini season is arriving a little earlier with a trip to Las Vegas this upcoming weekend. Yikes, that snuck up on me a bit…
No need to panic, though. All it takes is a few passed-over "I had a long day, I earned this" cupcakes and a few more "Well, it's better than not doing ANYTHING" trips to the gym to get you feeling like you can come out of hiding. The fact is, when it comes to having a bikini-ready bod, it's really all in your head. If you're in the mood to mix it up a bit, here are a couple healthy recipes to toss in with your usual routine. It's amazing how adding a couple more green things to your dinner can make you feel instantly better. Here are a few favourites (Jess can attest, as the lucky cookie-eating guinea pig…):
Chicken/Shrimp/Steak/Tofu Lettuce Wraps:
1 head Boston lettuce
1 avocado
1 carrot
1 cucumber
cilantro, chopped (if you want)
1 lime
protein of choice, grilled
1 package of bean sprouts
2 green or one half red onion, thinly sliced
1-2 cloves garlic, grated or minced
Julienne the carrots and cucumber. Mash the avocado with a fork, mixing in the juice from half the lime and the garlic. Wash and dry your lettuce leaves. Spread about a tablespoon of the makeshift guacamole on each leaf (I usually eat 4-5 for dinner) and top with your protein. Then layer on your carrots, cucumber, cilantro, sprouts and onion. Top with your favourite hot sauce and voila! Quick, tasty and full of good-for-you stuff.
Paleo Chocolate Chip Cookies:
1 cup almond meal
¼ teaspoon baking soda
½ teaspoon cinnamon
Pinch of salt
3 tablespoons melted coconut oil
Small handful mini chocolate chips (I used dairy/gluten free)
Small handful chopped walnuts
Mix the dry ingredients in a bowl. Add the oil and mix until it comes together. Mine was a bit liquidy the first time so I had to add more almond meal. Stir in chocolate chips and nuts and drop 1 tablespoon sized balls onto a parchment lined cookie sheet. Bake for 10 minutes at 350. Let cool for 5 minutes on the sheet and then another 5-10 on a cooling rakc.

Now, for some tiny clothing fitness… If you can't bring yourself to get to the gym, you can still get a quick sweat on at home. Try this super simple, but challenging, workout and see fast results:
50 pushups
50 squats
50 lunges, each leg
50 chair/couch dips
50 burpees
50 sit-ups (not crunches!)
You can break it up into segments, but, if you really want a challenge – try finishing 50 of one exercise before moving onto the next one. But, with everything, do what feels best and helps you feel fabulous – whatever that is! In fact, I thought this hilarious diagram sums it all up nicely…