For those long time readers of the 'shell, it won't come to surprise you that our resident foodie, Kate, is privy to many cool and unique food experiences. Luckily for us, we sometimes get to tag along. For someone who often stays somewhat conventional with food at home, I love having the opportunity to push my boundaries. Enter, chef's appreciation night at Oz Kafe on Elgin Street.
Kate has written about her experiences with this monthly event in the past (here, here and here) and has usually come back with very positive reviews. The concept for this evening is a 5 course set menu, prepared by rotating chefs from acclaimed restaurants across the city. They often go outside of their own culinary boxes, cooking things not standard to their usual menus.
There's definitely something nerve wracking about walking into a dinner where you have no idea what to expect and basically no say in the matter. We knew ahead of  time that the chefs cooking last night's dinner were from The Manx, so we had predicted that we could be seeing some high-end gastropub style creations. Boy, were we wrong. Chefs Caroline Murphy, Elliot Gosselin, David Forcier and Sara Pishva put together an Asian-inspired menu that was delicious from the first bite to the last sip.
[Course 1: Yellow Fin Tuna Tartare with Ponzu Caramel Avocado Puree, Sesame Seeds & Wonton Chips]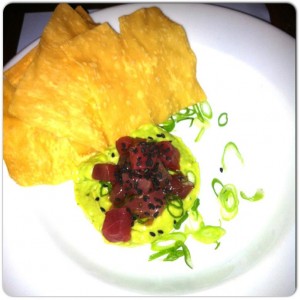 [Course 2: Chicken Wings with Fish Sauce Vinaigrette]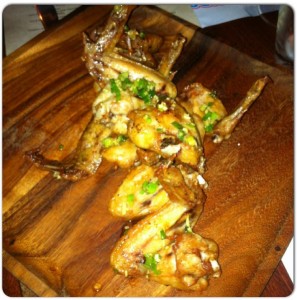 [Course 3: Pork Broth with Ramen Noodles, Kimchi & Pork Dumplings]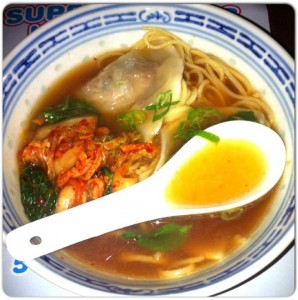 [Course 4: Steamed Bun with Beef Belly, Sticky Sauce, Cilantro & Pickled Radish]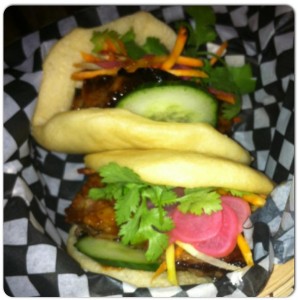 [Course #5: Ginger & Sake Ice Cream Float]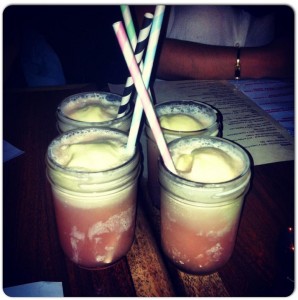 While each course was very different, we all found the meal to be well executed and very cohesive. Stand outs were definitely the odd-numbered courses. The tuna tartare and puree was delicious and we gobbled it up quite quickly. Even my date, who can't eat seafood, happily donated his tuna to the rest of us and then thoroughly enjoyed the avocado puree and wonton. The pork broth was unbelievably good; the broth itself was flavorful, the kimchi packed just the right amount of punch, and the dumplings were some of  the best we've ever had. Normally, I'm not a fan of dumplings, but I would eat those any day, any time. Finally, the ginger and sake ice cream float was to die for. We're not sure if it was a ginger beer or ginger ice cream that was used, but either way, the flavors were perfect and we sipped them up ridiculously fast.
Overall, I would definitely recommend Chef's Night to anyone looking for a unique and fun dining experience. Not only was the food great, but the music was awesome and the atmosphere was electric. You can genuinely feel the excitement in the room as diners eagerly await their next course. Finally, I have to give a shout out to my dining companions! At the appropriately titled, "Super Friends Happy Time" meal, my company (as always) was second to none. See you next month, Oz!