Last night, the Ottawa nuts (accompanied by nutshell super-supporter, Kelly) spent the evening wining and dining at another monthly installment of Oz Kafe's Chef Night. By yesterday morning, we were anxious and excited to see just what would turn up on the menu. I spent my day counting down the hours until we would have 5 surprise courses from the renowned chefs at Town. on Elgin Street.
[Course #1: Smelts with parsley, fennel, jalapeno, radish, orange gastrique, parsley mayo & horseradish]
[Course #2: Grilled Octopus with white bean, celery, cauliflower, corn, citronette & corn puree]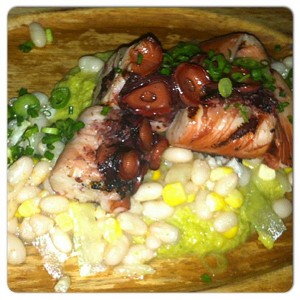 [Course #3: Shaved Porchetta with tomatoes, picked onions, croutons, beans, basil, frisee & anchovie vinaigrette]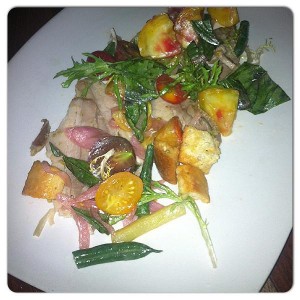 [Course #4: Spicy Lamb Sausage with cavatelli, grilled peaches, rapini & grans padano]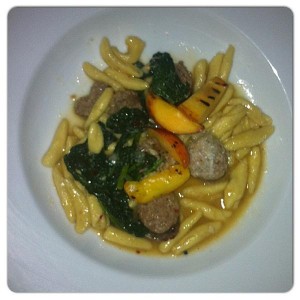 [Course #5: Polenta Budino with brown butter ice cream, berry jam & candied walnuts]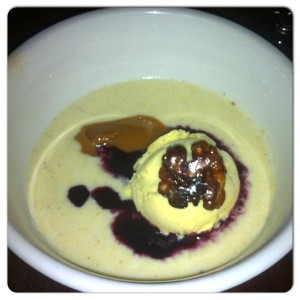 The courses were well constructed and flavourful. Three of us had never tried smelts and were instantly blown away by this delicious first course. We were instantly off to a great start. The corn puree that accompanied the grilled octopus was really tasty, and Kelly "couldn't get enough of the citronette" (her words).
The shaved porchetta was a big hit with the table, with Kate describing it as "beautiful". When you win over the resident foodie, you know you've done well. The fresh tomatoes and basil were a perfect fit for the tender porchetta, reminiscent of a pork belly but with a much more tender texture. The spicy lamb sausage was served with a firm pasta and peaches, which made for a unique flavor.
While we never would have expected polenta to be found in a dessert, we were SO glad that it made its way into our fifth and final course. The decadent ice cream was so rich that is almost reminded me of cheese cake. The jam and the polenta went perfectly together and left all four of us scraping our bowls.
Overall, we all agreed that the odd numbered courses were our favorites, but no dish left us disappointed. And if the five course meal weren't enough, we were treated to fresh artisan cheeses and charcuterie from local vendor F&M Distribution. Kate keenly paired their blue cheese with a port prior to our dessert, something I would definitely try again in the future.
Thanks to the chefs from Town. (Steve M, Ian D, Eddie T, Handsome Matt V, Dom F) and the lovely staff at Oz Kafe, which just celebrated their ninth Birthday! Congratulations on another amazing installment and we'll see you next month!