Over the weekend I had the opportunity to try out a restaurant that has been on my "to-eat-at" list for over 2 years, Baker Street Café in Westboro. If you're into the foodie scene, chances are you've heard of this gem. Known as one of the "best breakfasts" in Ottawa, Baker Street Café has been building quite the legacy throughout the city, known for its line up that people brave through heat and snow just to get a table. But, I wasn't just meaning to go in to try the homemade bread and cinnamon buns that I'd been told of – I wanted to in because once upon a time, the owner gave this nut a job.
Yes, as a starry-eyed 18 year old, George Voulgaris, hired me in my first serving job. At the time, he was the head chef for a chain of restaurants in Ottawa and over the course of the time I worked for him I learned the value of hard work and how rewarding it could be when you took pride in what you were doing. He also cooked me some of the best meals EVER, including one particular  family-style meal of venison that I will never forget.
Fast forward a few years and I was devastated to learn that George was leaving our restaurant, but so excited that he was opening his own. Unfortunately, it took me far longer than I'd like to admit to go in and visit, but I'm so glad I did.
Baker Street Café embodies the principles that I learned working for George in my younger years. It is a welcoming environment, where fresh ingredients, home style cooking and good service are held in the highest regard. Plus, the vibe of the restaurant is awesome – decked out with Rock N' Roll posters and rock songs blaring from the sound system, this isn't the quiet breakfast nook where you have to whisper; it's a place where you can come in, feel at home and have a good time.
Its menu has everything from eggs, pancakes, fresh fruit and gluten-free options, to handcrafted sandwiches and baby back ribs; something for everyone and every mood. It was awesome to see the variety of meals being served to our fellow diners and to witness the shocked and amazed expressions as the huge plates arrived.
From the varied menu, we settled on two sandwiches that were to die for. The Baker Street Club for me and the famous Monte Cristo for my date. I must say, that while my club sandwich was delicious, my date's sandwich (bone-in ham, cheddar cheese, roasted chicken breast and a four-cheese blend stacked and packed between three slices of French Toast) was out of this world. Oh, and the roasted home-style breakfast potatoes? Don't even get me started…
It was amazing to see George in his element, serving freshly baked mini muffins to those standing in line waiting for a table, interacting with his guests and staff, a smile always on his face. His hands-on approach makes Baker Street Café what it is and I couldn't be happier for a man who definitely deserves it. If you have a chance to get down to Westboro, I'd highly recommend braving the line and giving Baker Street a try – in a nutshell, you won't be disappointed.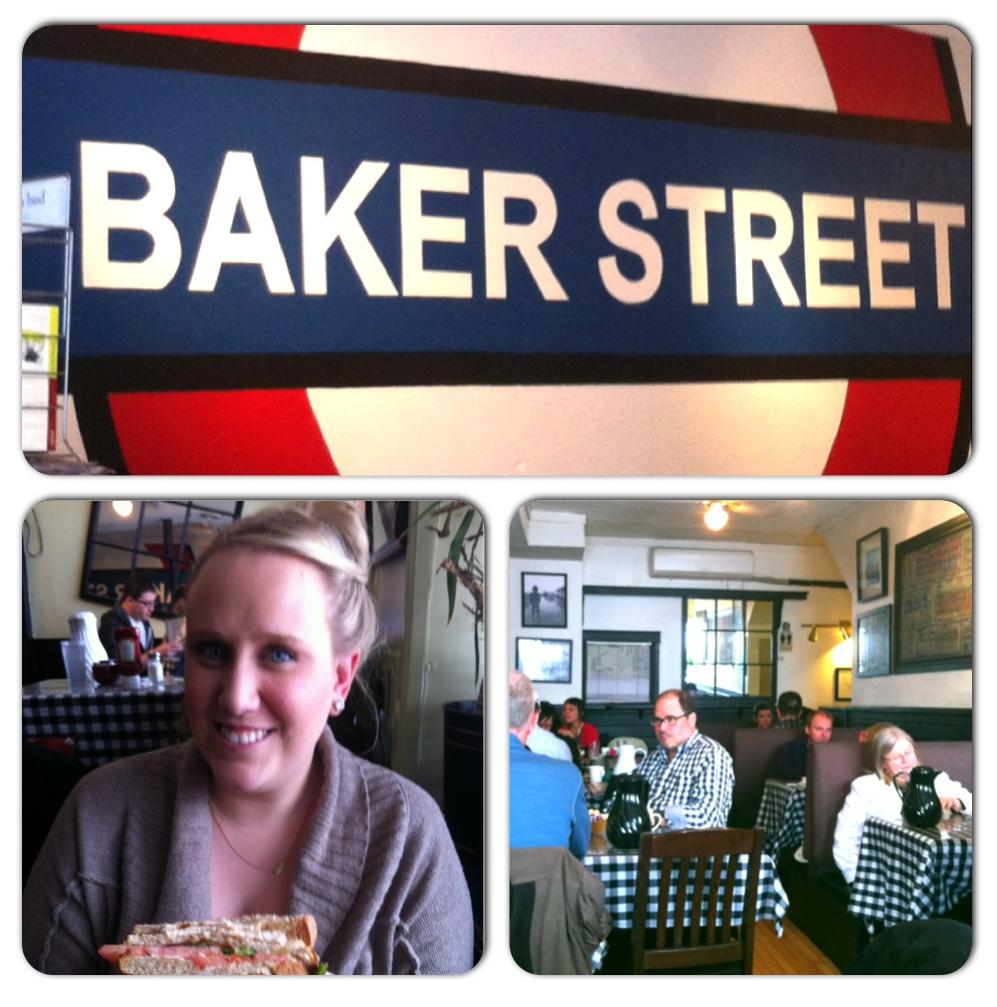 *photos courtesy of inanutshell.ca and google images.