The fashionista, style enthusiast, glamazon on your list can often seem like the most difficult to shop for. She has an eye for fashionable finds, and a unique sensibility that seems impossible to accommodate. The answer for mystified gift gifters though, does not lie in the plain and simple go-to items, like the graphic T or the black blazer, but in the current and educated purchases that will ensure gifting success!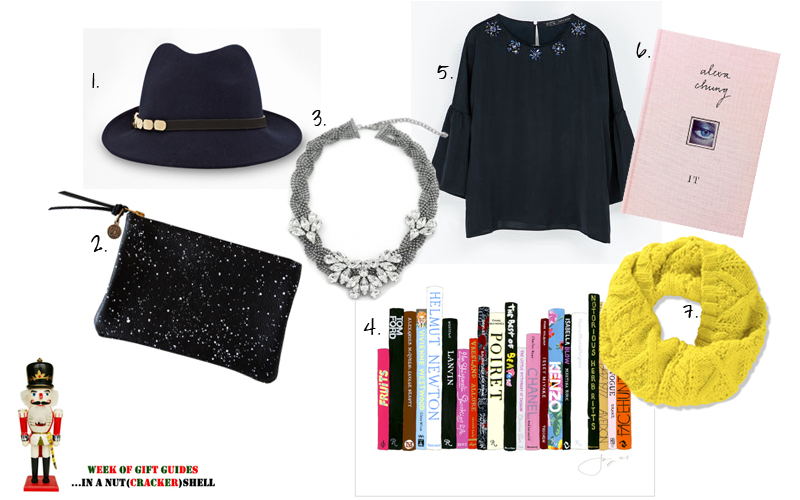 1. French Connection Little Love Wool Trilby Hat, $58
In versatile navy blue, this wool hat is an unexpected accessory for the cold winter months, and the gold detailing gives it that extra dazzle. It can also be worn in the fall and spring, making it the perfect transitional item and a winner on any gift-giving list.
2. Falconwright Wallet Pouch black leather with white galaxy print, $48
Falconwright is a small, local company founded by two girlfriends with a knack for colour, graphics and texture. Each item is made in Toronto and is unique due to the handmade process. They are affordably priced and come in various sizes and prints. Great as a purse insert or as a carrying case of precious cargo.
3. Jayu Adele Gunmetal Necklace, $78
Toronto-based jewelry company, Jayu, carries many beautiful creations for gift-giving this Holiday season. With unique designs handcrafted in Korea, there are plenty of styles to choose from. The Adele necklace is the perfect accessory to complement chic Holiday dressing, and any outfit for work, or play.
4. Ideal Bookshelf ink print featuring fashion books, $34
Truly – ahem – ideal for the fashionista who owns it all. This print features some of fashion's greatest books, making for a great addition to any apartment wall. Frame it and wrap with a bow, and you're all set!
5. Zara Dark Navy Blouse with neck appliqués, $79.90
Clothing purchases can be risky for the giftee, but precise calculations will diminish the uncertainty. Consider the recipient's style impulses and body shape, close your eyes and picture them in the item you've selected. If you can't envision it – don't buy it! This Zara blouse is a lovely choice, as it's understated enough, with an eye-catching appliqué and a unique fit with flared sleeves.
6. It by Alexa Chung, $19.75
Show you know what's up by gifting this new book by style icon, Alexa Chung. Thankfully, this is no "how-to" book featuring style tips we've seen published time and time again, but instead it offers an inside look at Alexa's fascinating life. From childhood to style inspirations and heartbreaks, fans get a taste of Alexa's most intimate thoughts.
7. Joe Fresh Cable Knit Neck Warmer in yellow, $14
The snood, infinity scarf or neck warmer, whatever its name, is always a great gift for keeping cozy in the winter. Opting for a bright colour to offer cheer on those dreary days is an unexpected choice that will pay off, and the classic cable knit design can do no wrong.