Last year, I guess it made sense that I be the one to focus my efforts on creating a Christmas wish-list for the workaholic, with a career that often calls for unconventional hours and a side gig, to boot. But this year, I think you could classify just about every nut into the workaholic category. Almost all of us have more than one job, and none of us are strangers to putting in hours way past the time most others begin their commute home. Call us passionate? Crazy? NUTS, perhaps? We are experts when it comes to the fact that for the workaholic on your list, you want to focus on things that make the life of that busy bee just a little bit easier. They'll continue to thank you way into the New Year … if they have time, of course.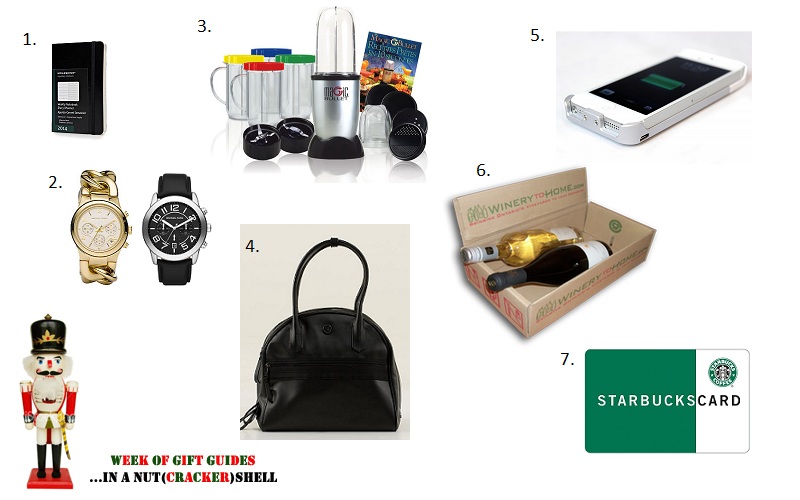 1.       Moleskine 12 Month Weekly Notebook Diary/Planner ($15.95)
Is it pathetic that I have a planner on my Christmas list year after year? Probably. But this Moleskine version leaves you tonnes of space to list endless appointments, to-do lists and reminders. Professional, lightweight and durable it won't leave your workaholic's side for the next 12 months. Throw in some colour coded pens and a post-its and they'll be writing their thank-you note to Santa before the gift unwrapping has finished. How efficient.
2.    Women's Michael Kors Mid-Size Golden Acetate Runway Twist Watch ($225) / Men's Michael Kors Oversize Black Leather Mercer Chronograph Watch ($225)
Nothing says "I'm a boss" like a big, bold watch. Us workaholic need to say punctual (…ya, about that…) and while the smart phone is never out of reach, a quick (maybe exaggerated) glance at the wrist is a little classier. Plus, a watch will definitely dress up any work outfit for that extra bit of professionalism that may be enough to impress your workaholic's boss enough to land them a promotion … or at least a desk by a window.
3.       17 Piece Magic Bullet ($39)
If there's one thing that goes to the wayside when it comes to hours spent at the office, it's proper nutrition and home-cooked meals. Who has time to make breakfast when you need to be out the door at 7 a.m.? This little lifesaver will make sure you get your proper allotment of fruits and veggies in just a few short minutes. Easy to slurp while stuck in traffic, this gem is sure to make any overworked employee smile (if they don't have it already, that is).
4.       Lululemon Sweat Once A Day Bag ($128)
While the name is deceiving (a workaholic will likely sweat multiple times in a day) the need for a POWER bag, is not. The busy body in your life is likely rising with the sun, packing everything they could possibly need for the next 24 hours (change of shoes, deodorant, snacks, toothbrush, laptop, etc.) and not returning until the moon makes an appearance. For that, a big, sturdy bag that won't buckle under unfathomable weight is necessary.
5.    Aluminum Super Slim External Battery Case for iPhone ($37.98)
It's a rarity, these days, to find a business-oriented person that is not physically attached to their smart phone at all times. And if there's anything these people know, it's that no number is dreaded more than the fated 1%. No more running from colleague to colleague asking for a spare charger, an external battery case will up to double the battery life for the iPhone user on your list. A friend to the 'shell, and one of the busiest gals we know, swears by it.
6.       winerytohome.com's Wine of the Month club (starting at $45/month)
Um, hi. Long hours call for stiff drinks at the end of a workday. It's science, really. But, again, by the time your workaholic is pulling out of their office parking lot, LCBOs and Beer Stores may be long closed. What better time-saving technique then getting the booze delivered directly to their homes? This Wine of the Month Club ships two or more different, newly-released wines each month to club members in most provinces in Canada. Many are non-LCBO wines, selected after being approved by the company's experts. For more items like this, make sure to check back for Kate's Gift Guide "For Your Foodie Friend", Monday.
7.       Starbucks Gift Card (any denomination)
If all else fails: coffee, coffee, coffee. Sure it may lack a certain personal touch, but ANY workaholic will worship you for putting a few free javas in their pocket. A mainstay on the way to work and a location on every corner, this will not be one of those gift cards that gets thrown in a dresser and forgotten about. Guaranteed.