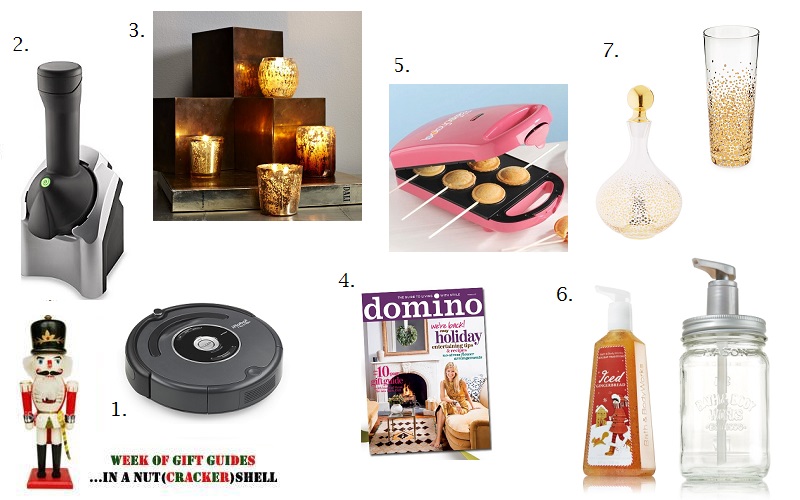 Deck the halls! Ring the bells! It's that time of year again lovely readers. It's time for ianutshell's Week of Gift Guides! Just like our posts from Christmas' past, we're bringing you some fool-proof gift ideas that are sure to please all the lucky people on your shopping lists. Today, we're starting it off with a theme that's close to my heart: gifts for the hostess with the mostess. These gifts are sure to please anyone on your list who loves to entertain; incorporating special touches into every aspect of their home, from the home décor to the tasty treats being served.

1. iRobot Roomba Vacuum ($499.99)
This is the number one thing on my dream gift-list. Life is busy, but no matter what, vacuuming is mandatory. This is especially true if you have company coming over. You've probably heard of the robot vacuum before, if only from this adorable viral video. But, product reviews and testimony from reliable sources swear by this time-saver. I, personally, would absolutely love to have this robotic helper taking care of the dust bunnies around my place. And if my cat happened to ride on it, well, that's just icing on the cake.
2. Yonanas ($49.99)
Yonanas is a new kitchen appliance that makes a delicious dessert that is actually…healthy? It takes frozen fruit and transforms it into a treat that looks and tastes like soft-serve ice-cream. If that wasn't enough, it's actually called, yonanas. Sold.
3. Gold Mercury Votives ($8.92/each)
West Elm is always one of my favourite stores for home décor accents and these candles are a prime reason. Festive enough for the holidays and pretty enough to keep out all year round.
4. Subscription to Domino Magazine ($47.99/year)
Domino magazine is one of legends among the blogosphere. When the previously out-of-print magazine re-launched earlier this year, I was thrilled to see that their stylish magazine that highlights fashion, food and home décor was coming back to the shelves. Personally, I would love to have an issue delivered each month. And, the nice part about a yearly subscription is that each month you're reminded of your thoughtful gift-giver! Win-win!
5. Babycakes Pie Pop Maker ($12.99)
I'm a stickler for any baked goods that come in miniature form. And while cake pops are all the rage, let your hostess impress their guests even more with this pie-pop maker. Plus, it's totally affordable, which makes it a great option if you're on a budget this holiday season.
6. Iced Gingerbread Hand Soap and Mason Jar Dispenser ($5.50 and $9.50, respectively)
I actually own these items already, so I can personally attest to how wonderful they are. This hand soap makes me want to wash my hands all day long. And the cute dispenser looks adorable in my powder room. Any good hostess loves a good hand soap that impresses her guests.
7. Gold Bubbly Decanter and Champagne Flutes ($39.50 and $34.50, respectively)
Every year, I peruse the home aisles at Chapters and wish for almost everything on the shelves. Specifically, these bar accessories have caught my eye this year and I'm sure that I'm not alone. Who wouldn't want to ring in any celebration with these festive beauties?