This gift guide is always my favourite to put together because it comes from my recommendations AND my wishlist. Read on for some gift ideas for the babes in your life who, like me, are obsessed with all things beauty.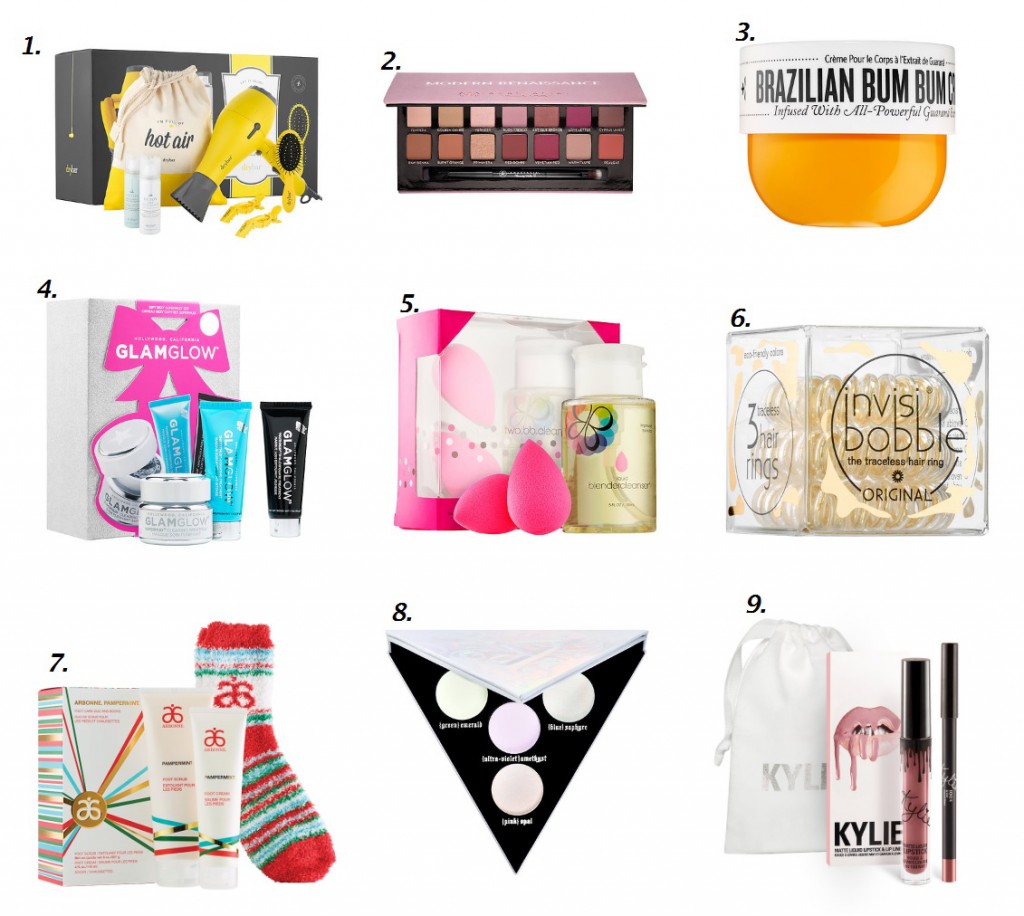 1. Drybar: Let it Blow Travel Kit. $169. I am literally obsessed with all things drybar. I use their dry shampoo religiously (it's actually changed my life) and have heard nothing but amazing things about their styling tools. If you've got a beauty lover who also travels a lot on your list, this travel kit will have her tresses looking their best even when she's on the road.
2. Anastasia Beverly Hills: Modern Renaissance Eye Shadow Palette. $55. Anastasia is such a solid brand and it's because the formulations of their products are top notch. This eye shadow palette is on trend with shades of burgundy, but can also create neutral and smoky looks.
3. Sol de Janeiro: Brazilian Bum Bum Cream. $25-57. Besides making everyone laugh when your giftee opens something called "bum-bum cream" on Christmas morning, this is also a much-loved product amongst the beauty community for it's magical "firming" properties. Plus it smells AMAZING.
4. Glamglow: SUPERMUD Set. $79. Glamglow masks are certain to make any beauty lover happy. This set has a few options, including their famous supermud mask known for it's insane ability to clear the skin as well as a hydrating and firming mask which are also raved about.
5. Beautyblender: Two.BB.Clean. $52. I swear by beauty blenders for a flawless makeup application. While you can use other cleansers to clean then, I find the beautyblender brand cleanser is the best and easiest to work with. This set comes with two of the original sponges and the cleanser. It's a great value!
6. Invisibobble: The Traceless Hair Ring. $10. This is a new(ish) product that gives firm hold to a ponytail without leaving the dreaded crease! It also minimizes breakage and damage to your hair.
7. Pampermint Foot Care Duo and Socks. $60. This set has been saving my feet over the past few weeks with the cold, dry weather and working lots of hours on my feet. With peppermint, the scrub and moisturizer soothes sore and tired feet and helps restore them to their soft, natural state!
8. Kat Von D: Alchemist Holographic Palette. $43. This year has been all about the highlight. This palette is for eyes, lip and face, and contains four holographic shades to use as a highlighter or to layer over eyeshadow or lipstick to transform your look.
9. Kylie Jenner Lip Kit. $29 (USD). I couldn't leave out my favourite product of the year. I swear by these matte lip kits and any beauty lover should have at least one of these cult-favourite lip kits in their possession. The most popular shades are Koko K and Kristen (which when mixed together is also a new favourite of mine). Just be warned that shipping can take some time so they may not be here in time for Christmas…but their totally worth the wait.
Banner photo via 1.