While the weather has been fairly sporadic over the last few weeks here in Ottawa, it's safe to say that winter is definitely coming. As much as we'd like to believe that we'll be treated with unseasonable weather again, the truth is that it's November and we're heading into the long haul of earlier sunsets and freezing winds. Gone are the days of flip flops, but that doesn't mean we should ignore our feet and default to the biggest pair of Sorel's we can find. Read on for some of my choice accessories and beauty products to make sure your feet stay fabulous this winter.
1. Find a great pair of Booties
The ankle bootie has been around for a few seasons now and I am definitely on board. While they may not be practical for a commute in the ten feet of snow we will inevitably have on the ground, they are great for a night on the town or even to transition into when your commute is over. They can be dressed up or down and let you wear a sock underneath them, so your toes don't freeze. Whether you opt for a wedge or a chunky heel, there's a ton of variety out there.

1 – Aldo, Josseline ($90)
2 – Steve Madden ($150)
3 – Call It Spring, Flopran ($40)
2. Invest in some fuzzy socks and slippers
Nothing is worse than wandering around on cold floors in the winter. I always keep a pair of slippers beside my bed because my mood instantly improves when my foot is engulfed in something fuzzy. I also highlighted above the knee socks in this category which look great on their own or tucked under tall boots. Let's face it, a cable knit cozy sock is going to be better than anything else. It's practically science.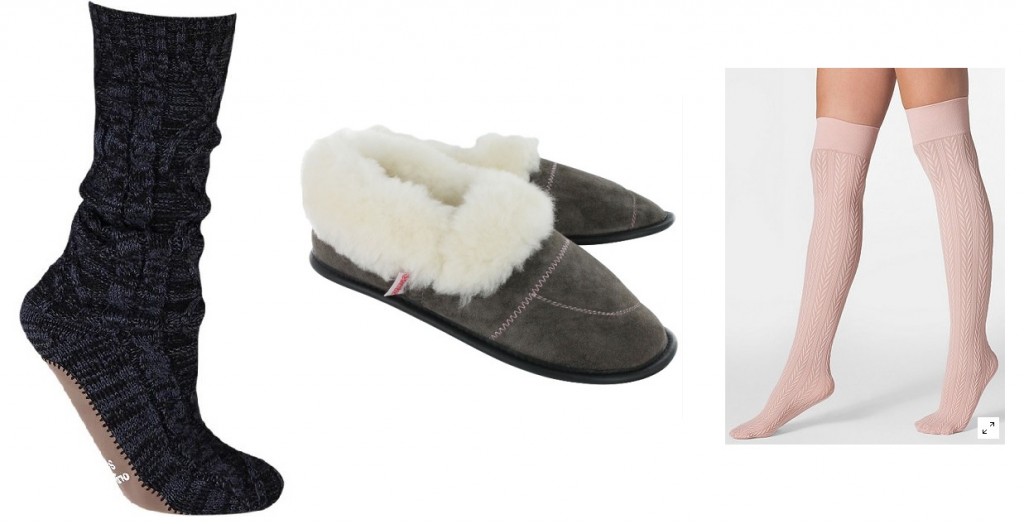 1 – Old Navy Slipper Socks ($15)
2 – Soft Moc, CUFF ($80)
3 – American Apparel Socks ($13)
3. Don't neglect your tootsies
Since socks are basically mandatory in the winter, it's easy to forget about taking  care of your feet. But, as I'm sure many of you have experienced, dry skin is extremely prevalent in the winter. Keep your feet happy with The Body Shop's Peppermint foot care line. I especially love the pumice scrub and moisturizing foot rescue. Also, just because they're covered up, it doesn't mean you should ignore your toes. Indulge in a new winter nail colour like Essie's Shearling Darling and do an at-home pedi every once in a while – if you're anything like me, your day will instantly be brightened.

1 – The Body Shop Peppermint Scrub ($14)
2 – The Body Shop Peppermint Foot Rescue ($18)
3 – Essie Nail Colour ($8.50)