I've been asked countless times by our male readers; "WHY don't you include menswear in your fashion reviews?" My quick reply is always the same, I really wouldn't know where to begin! I'd argue that I'm not alone when it comes to women interested in style, that I ignore the menswear collections altogether, simply because I'm way more interested in the clothes I can actually wear. Therefore, how does one discuss trends, analyze a designer's take on the season or draw comparisons, with no past knowledge in the men's department? Well, after many evenings flipping through just about every Fall 2013 Menswear show, I've made my best attempt at compiling the trends that manifested. Looking passed the extreme collections like McQueen and Dolce & Gabbana that will only inspire the editors of Numero Homme, Men's Vogue, and inevitably, many bloggers 'round the world, there are some worthwhile ready-to-wear trends that culminated from these recent collections.
Head to Toe Navy
Generally speaking, the collections were quite muted, with grays, blues and neutral camel tones dominating. But head-to-toe navy blue really stood out against the rest, classic trousers in the rich hue were paired with high-tech textures (Calvin Klein), timeless pea coats (Hermès) and 3-piece suits, complete with matching sunnies (John Varvatos). Overall, this is a trend that can be easily interpreted by just about anyone.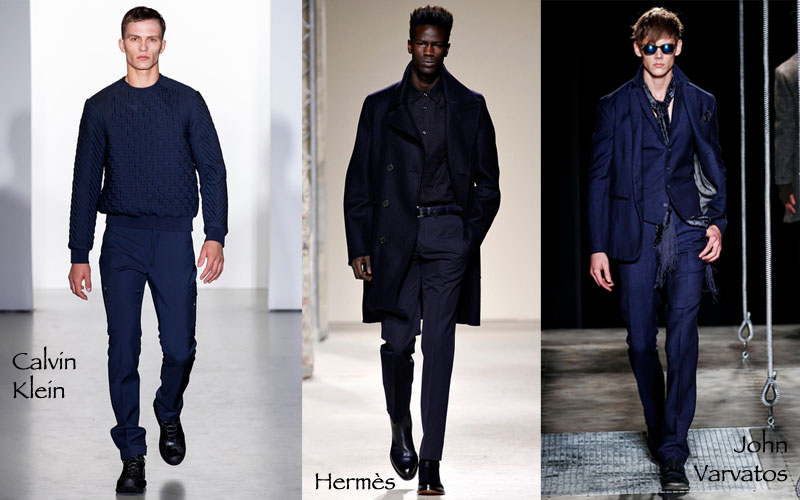 Punch of Colour
While the runway was certainly met with deep and dark tones, there was, as can be expected, a subtle punch of colour every now and then. What separated this trend from an obvious incorporation of bright hues to liven things up, was the shades it was paired with. In sum, colour blocking is most definitely off the table for Fall 2013. It's all about being selective, with one bright hue, like crimson or mustard, paired with your functional charcoal, black and neutral pieces.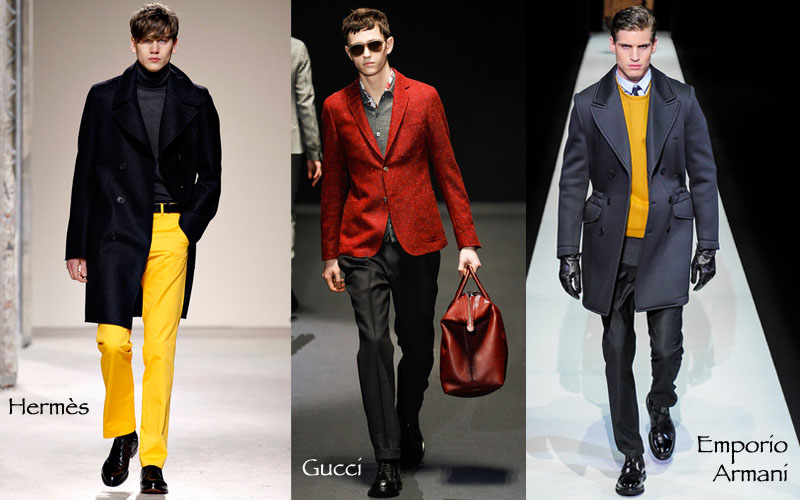 Grayscale
While head-to-toe navy was done in a uniform manner, grayscale qualities were infused with a mix of textures and shades, bringing the dull hue to life with subtle nuances. From classic to retro, one could say that the menswear collections took the infamous novel "50 Shades of Grey" a little too literally, all the while pursuing its flair for the unconventional. Tweeds and wools ruled this trend, as did lots of layers in Jean Paul Gaultier and graphic prints in Giorgio Armani. I don't know about you, but I'm liking the black stripe on that KVA Winter suit.
Leather Pants
This is surely the most farfetched trend on my list, but I couldn't leave it out considering the collections were drenched with leather, and specifically leather pants. Fall women's collections are never lacking in this staple material, as it's a go-to in the transitional months between the warm and the chilly, and us ladies certainly wear it to death. The first thought that comes to mind when I see this trend manifested, is Ross' baby powder/leather pant incident ("the lotion and the powder have made a PASTE!"), so I can't help but laugh. Nevertheless, I think a touch of leather goes a long way in the Fall, and it wouldn't hurt to try it – although perhaps a jacket is the best place to start!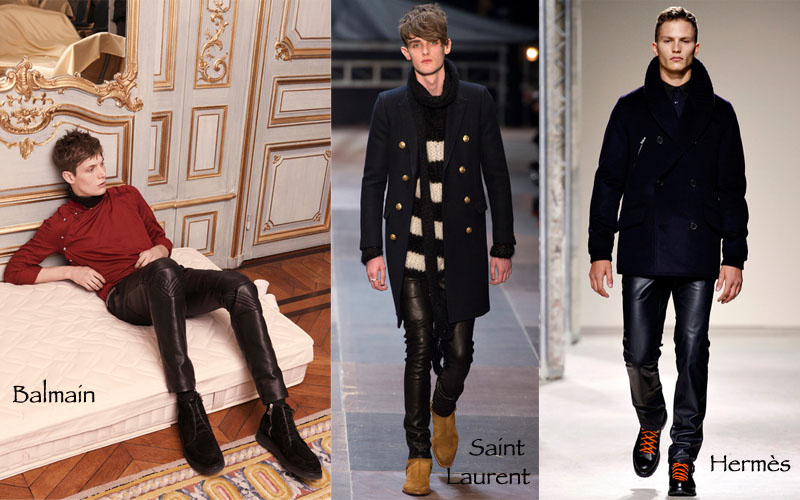 How did I do? Should this be my first and last Menswear review? It actually wasn't as dismal as I imagined!