Ottawans have issues.
Of course, you have your run-of-the-mill road ragers and the fashion police make a bevvy of silent arrests each day, but for Ottawa folk, there's one issue that hits closer to home than most: abandonment. 
With Montreal as our neighbour to the east and big brother, Toronto, scooping up friends, family and loved ones with the promise of grandiose jobs, Michelin Star restaurants and smaller apartments (ha!), there's a noticeable pilgrimage taking place every year.
Another "new chapter", another fancy title, another trendy neighbourhood … another friend gone to the wayside.
Citizens of Ottawa, you are not alone. Guest blogger, Hannah Jamieson, reveals her own sad tale:
And Then There Was One, a short story
Something is amiss.
I walk to work with a feeling a dread. Upon my arrival, I'm greeted with polite smiles and halfhearted inquiries about my day. As my shift comes to an end, I can feel the air closing in around me. With my workday complete and a change of clothes in hand, I look around wondering who wants to have a glass of wine.
Then it hits me.
All my friends have moved to Toronto.
I fondly recall my friends, wearing boyfriend jeans, ray bans and gladiator sandals—as a normal human being would—discussing the merits and potential health violations of the "man bun".
Will I become that sad table of one on a Sunday night? Meekly requesting a solo seat from the sixteen-year-old hostess who, even at her tender age, knows it's sad.
I'll sit alone pretending to peruse the menu while I feel those judging eyes boring into my back. They think I'm waiting for a joiner. A dashing boyfriend? A long lost sister? A best friend to gossip with?
I'll order an app and a main because who I am trying to impress? Might as well get fat.
I'll have to keep some obscure novel with me for times like this so at least people will think, "she's alone but she looks smart". As I pore over the passages I've read many times before, my app will arrive and my cat will pop her head out of my oversized purse.
"But it's our girls night out," I'll protest half-heartedly as the manager promptly asks me to vacate the premises.
This would never happen in Toronto.
—
It's my first night off since my utter and complete abandonment.
I'm alone in my kitchen making both a chicken potpie from scratch and an Arrabiata sauce. Maybe I'll become Martha Stewart this summer, I muse to myself.
She doesn't seem like she would have a lot of friends. Even before the whole jail misadventure, who wants to watch someone crochet a tablecloth when there are tequila shots to be had?
I could become a lone craftswoman. Roaming the city by night and leaving expertly packed parcels full of potpourri and tea light holders for unsuspecting neighbours. I reach up to push my hair out of my face and realize there is a bit of onion stuck to my cheek.
I'll never be Martha.
As I brush it away, I become aware that my hands reek of garlic. Great. No one will want my garlic infused potpourri. Who will have me now?
As the dramatics fade to acceptance, I realize that friends will come and go but those you truly love are never far from your heart … Or something Hallmark-y like that.
This is a time of Skype, Facetime, iMessage and Snapchat. We have the Internet and that is the only friend we really need.
I'm not living in a time where I would have been seriously concerned about the likelihood of them contracting scurvy, or ever finding the Northwest Passage, or whether their boyfriend, Jacques Cousteau, was sending them feather quill written letters twice a year.
I do wonder, however, about the intentions of their Tinder boyfriends, the quality of their charcuterie plates and whether the neighbourhood LCBO is adequately stocked for their arrival.
As I dress my cat for our next big night on the town, I hope that—with a few gentle reminders (read: relentless pestering)—they will realize they are missed and, one day, make the journey over this vast divide back to my table for two.
Who might this guest be?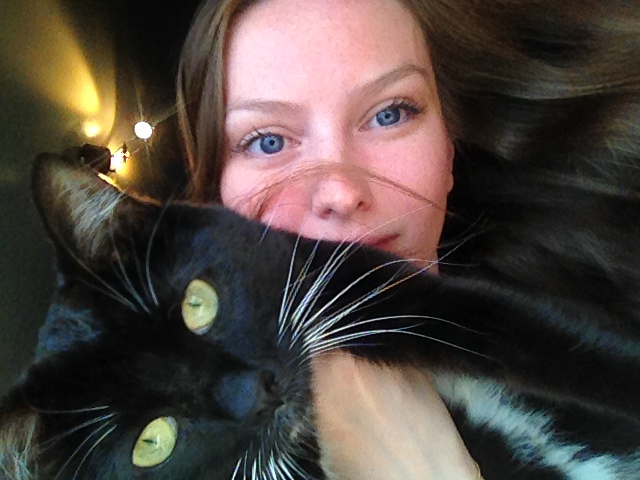 With a Bachelor of English from Ottawa University, Hannah Jamieson is a server by trade, a cat at heart, a whisky enthusiast by night and a real pain in the ass. Follow her adventures: @hannahjami