When you're a journalist, you're supposed to be free of bias. It's your job to leave your personal opinions, thoughts and emotions out of your written work.
But this is a blog, not a newspaper.
And while I'm making this conclusion based on my keen eye for newsworthiness, I will admit my life-long love of the home team may bleed through a little in this post.
Now that the pain of being eliminated in the second round may finally be healing, I'm going to tell you why I think the Ottawa Senators was the most talked about team in all of the NHL, this season.
Haters, the facts speak for themselves…
#1 – The Walrus and his doppelganger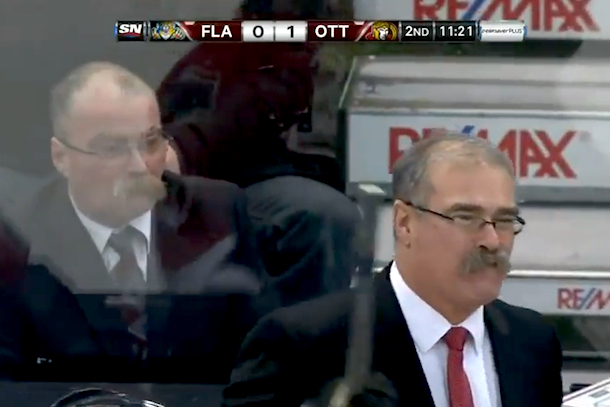 So, locally, the Sens kept headlines throughout the lengthy NHL lockout that plagued the beginning of the season. They played with the Carleton University (the nuts' alma mater, nbd) Varsity Men's Hockey team and welcomed their fans back with free beer (beauties). But they became an international news story when Mike Watson, now known officially as Paul MacLean's doppelganger, sat directly behind the coach in the first game of the season. Stunning fans and players alike, the moustached Ottawa man, a long-time fan and season ticket holder, said he decided to have some fun with his seats and posted up behind the bench. The twin, dubbed affectionately as "Paul MacClone", stood by his counterpart when Montreal Canadiens tough guy Brandon Prust called MacLean a "bug-eyed fat walrus". We Ottawa fans have a thick skin, and it wasn't long before  a fresh rendition of The Beatles' I Am The Walrus became our battle cry during the playoffs.
If that wasn't enough, MacLean has been nominated for the 2013 Jack Adams award for best coach. That's one talented marine mammal.
#2 – Alfie is God … according to Siri
In Ottawa, we've been saying the Captain Daniel Alfredsson is God for ages … but what not even the most die-hard fans were expecting was that iPhone's Siri would agree with us. It was a glorious day in February when it was discovered that if you asked iPhone's Siri application "Show me a picture of God" or "Who does God play for?" she would so sweetly respond: "Daniel Alfredsson currently plays as right-winger for the Senators." Said to be the result of hackers, Siri quickly righted herself, but not before every Ottawa Senator fan had run to the nearest iPhone or iPad to hear her say what we've all known for a very long time.
70 per cent of Erik Karlsson's Achilles tendant was severed, this season. 70 PER CENT. And in just 10 weeks the young Norris Trophy winner was back in action, and contributed two assists in his first game back. Siri might say that Alfredsson is God, but the rest of the world says Karlsson is super human. No one who watched the painful blow delivered by Matt Cooke, that was replayed and cringed to by the entire hockey community, could tell you differently.

#4 – #peskysens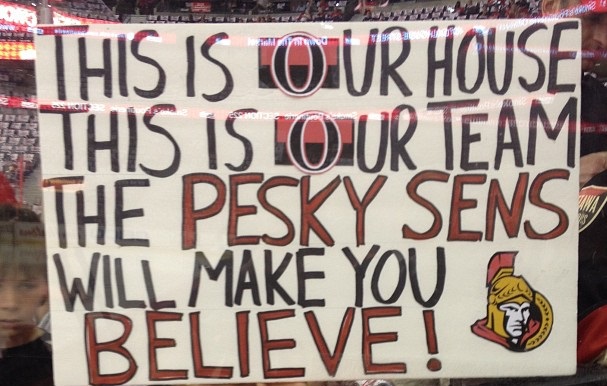 Karlsson, Spezza, Anderson, Cowen, Michalek: all out.
Senators: still winning games.
After the above statement about overcoming all the odds rang true, it's not surprise the word "pesky" became the catchphrase of 2013 when describing the Ottawa Senators. Come from behind wins, persevering in the face of adversity and holding on despite injury after injury, it didn't take much for the Sens Army to get behind the hashtag, especially after veteran defenceman Chris Phillips told a reporter to "make sure you hashtag that one Pesky Sens" after a 5-3 victory over the New York Islanders. Ottawa was #bringingpeskyback all year long with the irresistible nickname that's sure to stick.
#5 – RIHANNA … a Sens fan?
It's not uncommon for celebs to be seen sporting their favourite team's apparel. But when a goddess like Rihanna wears a vintage Ottawa Senators jersey, for no apparent reason, paired with nothing but Tom Ford pumps, Sens fans did a double take and lovers of the Barbados babe were converted to the good team, if for a night only. Me-owwww.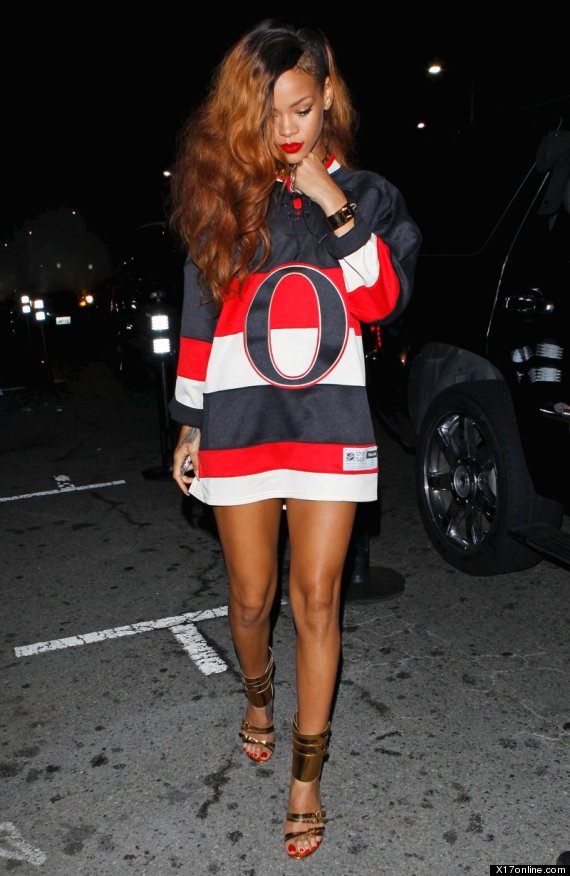 #6 – Canada's team … again.
Even though their playoff run has ended for another season, the Ottawa Senators have at least one thing to brag about: they were the only Canadian team left standing in the NHL playoffs for a second straight year. This time, in the second round. After watching the abysmal end to the Toronto Maple Leafs in their game seven heartbreaker, and taking out the Habs themselves, the Ottawa Senators were the only Canadian team to advance to round two. And while many bitter fans may not have boarded the bandwagon, many did, making the Nation's Capital, and this little fan, nothing but proud for our boys in red.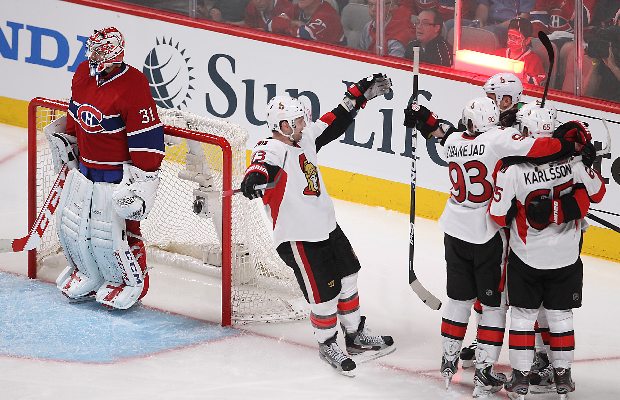 Now, we nuts are not united in our love of hockey. A die-hard Habs and Leafs fan make up 40 % of our clan – but celeb shout outs, international attention and a breaking news headline every other day made for an outrageous and highly entertaining 2012-2013 season for Ottawa's Sens. I don't think anyone can argue with that. And I don't think any other team could have pulled it off in such a perfectly pesky way.  Until next year, #GoSensGo.