Well the season has officially begun. What season you ask? Music festival season! Two weekends of Coachella went off in the 100-degree heat of Palm Desert, California. The 14th annual running of Coachella Music Festival absolutely blew my mind.
 So, Alyssa and I (Ken, one half of the in a nutshell conti'beaut'or Man's Digest team), felt the need to tell the world of our first-time adventure!
Now, I like to consider myself a music enthusiast, spending hours discovering new bands and always being a leg up on my friends, and while I've seen a few concerts in my day,  I am ashamed to say, I have never been to any major music festival including never even spending a day at Ottawa's own Bluesfst. Unacceptable, I know.  Alyssa, on the other hand, is a traveled festival veteran having been to Lollapolooza, Oshega, Bluesfest, but never to the big dog: Coachella.
The three-day festival (well, six-day, since it spans over two weekends) does not disappoint. The line-up, the atmosphere, the weather, the parties, the life. Festival life is not real life, and once you've had a taste, it's all you will ever want.
Our mutual life-long friend and mutual soul-mate, Lindsay, had depicted tales of the most fun achievable and memories that shall live on for centuries (She may be a sorcerer of sorts). She guided Alyssa, four other VanCity babes, and myself into what seemed to be a desert mirage.
Yes, you read correctly, me and six bikini top, high-waisted short wearing babes in the California sun for the weekend. Jackpot!  But back to the music!
Friday, Day 1:  We went hard exposing our eardrums to as much glorious rhythms, riffs, and bass as possible. The Neighbourhood, c2c, Dillon Francis, Stars, Thomas Gold, Tommy Trash, Alt-J, Of Monsters and Men, Passion Pit, Local Natives, Modest Mouse, Yeah Yeah Yeahs, Wolfgang Gartner, Purity Ring, Jurassic 5, FOALS, Bassnectar, and Tegan and Sara were checked off the list and this was only Day 1!!
Standouts included c2c (Four coordinated DJs, who actually scratch), Alt-J (babes love 'em), Local Natives. You're probably saying to yourself, "Kenny. Come on, there's no way you saw all those artists in one day," But we did!* (*The asterisks represent that some of the acts listed were just in passing due to set times overlapping). We bounced between the Sahara Tent (Electronic Dance Music, better known as EDM) and the two outdoor stages, all day, keeping our temporal lobes guessing and releasing who knows what kinds of hormones throughout our bodies.
For Of Monsters and Men we only heard one track from a far. Modest Mouse and Yeah Yeah Yeahs we overheard as we crushed Churros and big Pretzles, and for Tegan and Sara, well our bodies and minds had been blown and couldn't fathom anymore amazingness. #shakeithappen
Here lies the only bummer of Coachella: it's nearly impossible to see every artist that you want to see. With six different stages/tents, you are bound to run into two of your most fav' artists playing at the same time, so sacrifices had to be made. But, man, we had done good for Day 1… and wait, you're telling me we have two more days of this?!
Saturday, Day 2: We devoted a little bit more time to work on our tan-age poolside with some bevis, but once again our minds were blown once we got to the grounds. Allen Stone, Dropkick Murphys, 2 Chainz, Major Lazer, Yeasayer, Benny Benassi, Postal Service, The xx, Two Door Cinema Club, and Phoenix melted our souls and for the 806th time and made us second guess if this was indeed real life. The hands down, standout was the hour set put on by Major Lazer. Assisted by Diplo, Major Lazer had it all. You can re-live it here which included a plethora of dancehall-electro-hip-hip-jumping-loose-your-mind-amazingness. #dancethebiggirldance
The sun rose for Sunday, Day 3, and was accompanied by a nice breeze, which we welcomed, as my Canadian visitors has skin that was feeling a bit crispy. We pulled out all the stops on the final day. The afternoon consisted of a pool party like none other. Tunes a'bumpin', bottles a'poppin', bikinis a'rockin'! Ohhh if you were only there! Sadly, we had to leave such a party because, apparently, there was a music festival we were supposed to be at. The Lumineers, La Roux, Vampire Weekend, Hardwell, Pretty Lights, Wu-Tang Clan, Red Hot Chili Peppers, and Eric Prydz topped it all off and leaving us all high on life for weeks to come. Oh, and that breeze I mentioned? Yeah, it turned into a full-on 40mph wind/sandstorm. Obviously that led us to blow our noses and have a  "how dirty is yours?" competition, once back home for the night.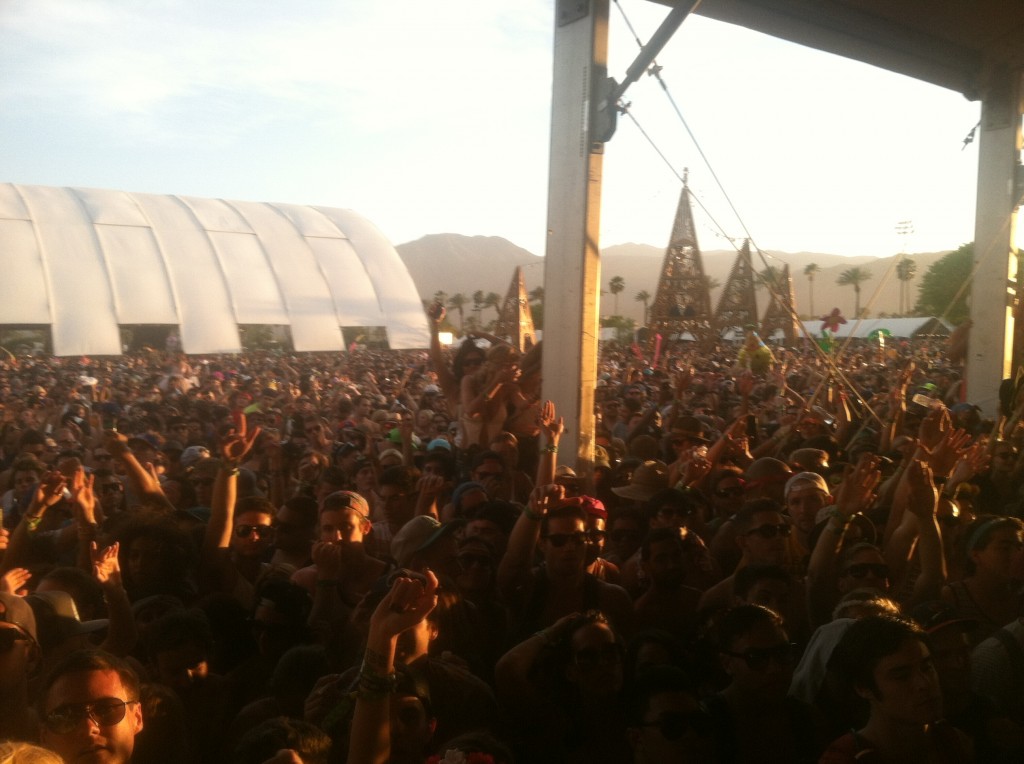 It wouldn't be fair to talk abou the weekend without mentioning  the whole Daft Punk ordeal…. For three days, we had heard rumors that Daft Punk was going to make a surprise appearance. The rumours started Friday when before the Yeah Yeah Yeahs came on, they played a teaser of the new video and track with Pharrell "Get Lucky" which you can check out here if you haven't already so we all assumed, 'Ahhh they'll come on with their fellow French countrymen, Phoenix, on Saturday night and melt everyone's faces off,' right? Well unfortunately it was not to be. BUT! Phoenix had the next best thing: R. Kelly! … wait what?!? R. Kelly?? Isn't he in jail for ….nevermind, he was on stage! It was very unexpected and it took us a second or two to even recognize the closet lurker, but everyone ran with it. Peep it here.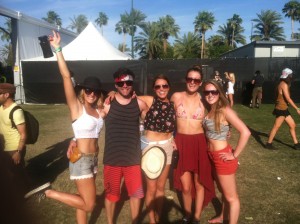 So that was our weekend… oh wait, you probably saying, "I just suffered through the jealousy of reading homie's rambling, and the dude didn't even give any music recommendations!" So whether you're looking to stray from the radio top-40 or if you're a music connoisseur, here are some artists and tracks you should have rockin' your headphones.
Yeasayer – Ambling Alp https://www.youtube.com/watch?v=ZKXujEphWS8
Local Natives – Breakers https://www.youtube.com/watch?v=_OGw6SwDveQ
C2C – Down the Road (Live) https://www.youtube.com/watch?v=m-uQk7_CHM8
FOALS – My Number https://www.youtube.com/watch?v=QRR_pvZcu-o
Dillon Francis – Master Blasta https://www.youtube.com/watch?v=sg9dLFXnsqc
Alt-J – Breezeblocks https://www.youtube.com/watch?v=ZqJhd9M7Zdk
Allan Stone – Satisfaction https://www.youtube.com/watch?v=Vb3_rlfnDIk
Pretty Lights – Around the Block https://www.youtube.com/watch?v=_RlcrCRSY4Y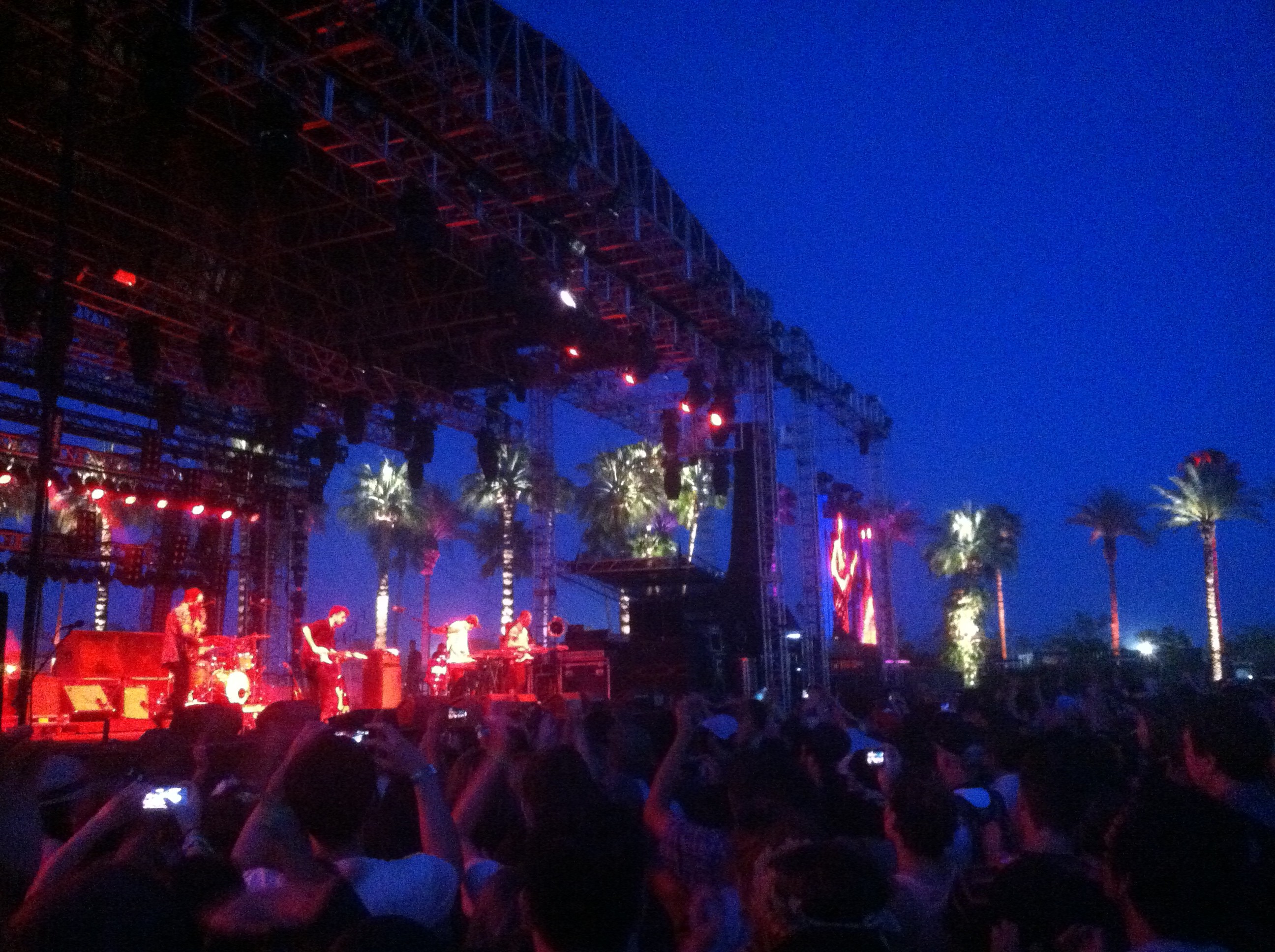 There you have it. Coachella, in a nutshell. My Canadian beauties went back to Van, but the memories and new friends will last forever. We all spent the week trying to figure a way to get us all back to the desert for Weekend Two, but such awesomeness cannot be repeated …until next year.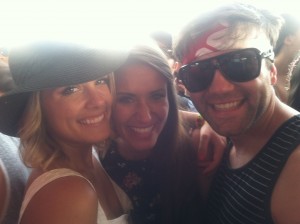 P.S… Alyssa here. We most def WILL be at BOTH Coachella weekends, next year, and most likely inside of the crowd surfing hamster ball at MAJA LAZA! (Coachella requires plenty of caps lock.) Also, watch for our new pilot series "Three's Company – Kenny & the Ladies".
Cheers!