I feel super fortunate to have traveled to both New York City and Las Vegas within the last year (more importantly, sharing those trips with you nuts!) – but my travels don't stop there, oh no. I now present to you: my California photo diary!
Disclaimer: the travels will stop here, I am now poor AF.
My aforementioned BFF (read about my experience wedding dress shopping / filming Say Yes to the Dress with her here) finally tied the knot in sunny California last month, and I was lucky enough to stand next to her as Maid of Honour on the most beautiful and romantic day ever. But more on that in a minute, because before a wedding comes – you guessed it – a Bachelorette Party! And to not share photos from this particular Bachelorette celebration would be a crime. For this special girl, a simple wine tour just would not do… enter: Malibu Wine Safaris!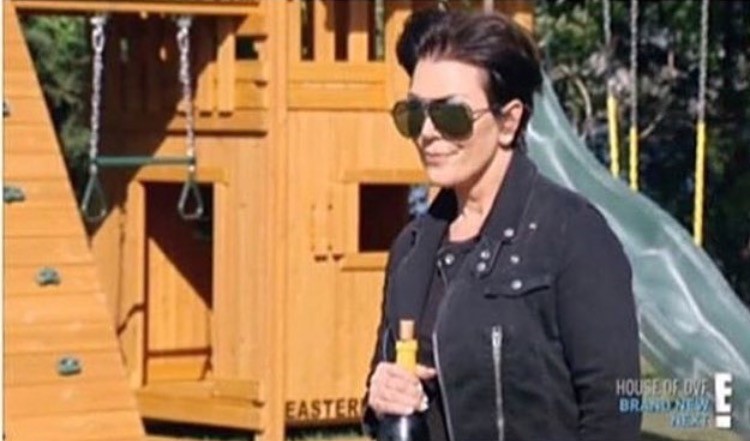 For those of you who have been living under a rock or have not seen this adventure chronicled on Keeping Up With The Kardashians (same thing), Malibu Wine Safaris is a hybrid wine tour/petting zoo on crack with the most stunning views of the Agoura Hills and surrounding Malibu area. MWS really took care of us, entrusting us to a private jeep tour with Shia LaBeouf Denim. Yes, actual name Denim. Said he went to high school with Shia, actually…
Roniet, Denim and our driver Alex were the bomb.com, and with pit stops to visit these handsome guys in between sips of Saddlerock wines, who wouldn't call this paradise? Highly recommend for a Bachelorette Party, Mother's Day activity, any random Wednesday afternoon, etc.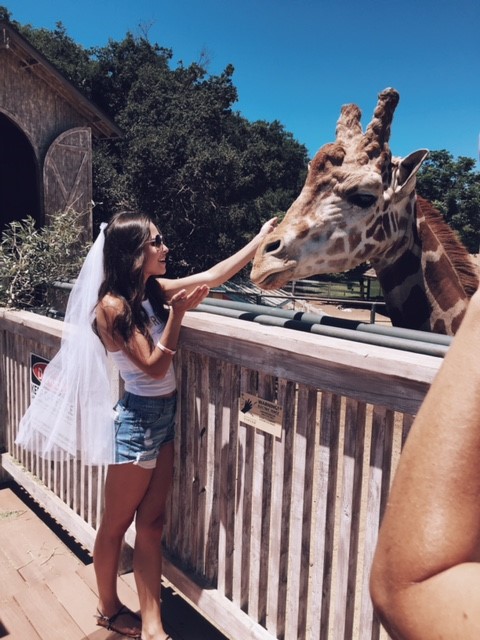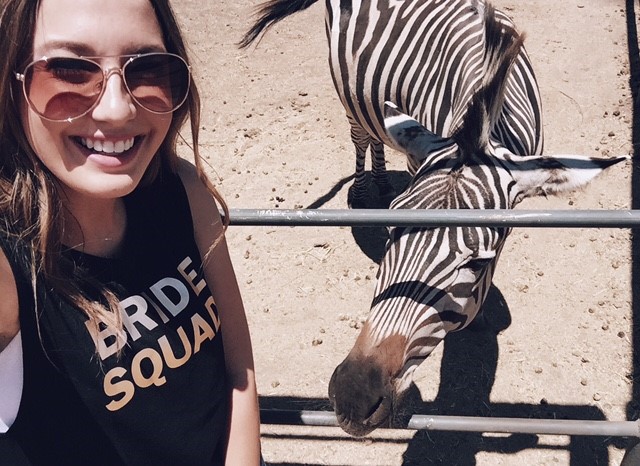 After our safari adventure, we retired to our suite at The Viceroy Hotel in Santa Monica to drink some bubbly and play a game I like to call, "Pin the Kiss Emoji on Shirtless Posters of Channing Tatum and Trey Songz". The Viceroy is gorgeous, and their customer service is impeccable. Also a big fan of their all-marble-everythang bathrooms.
For dinner, we enjoyed a delicious tapas meal at E.P & L.P. Restaurant in West Hollywood: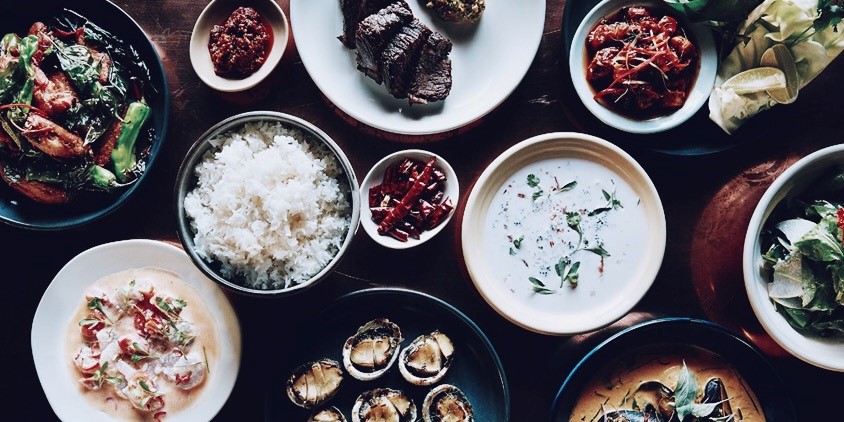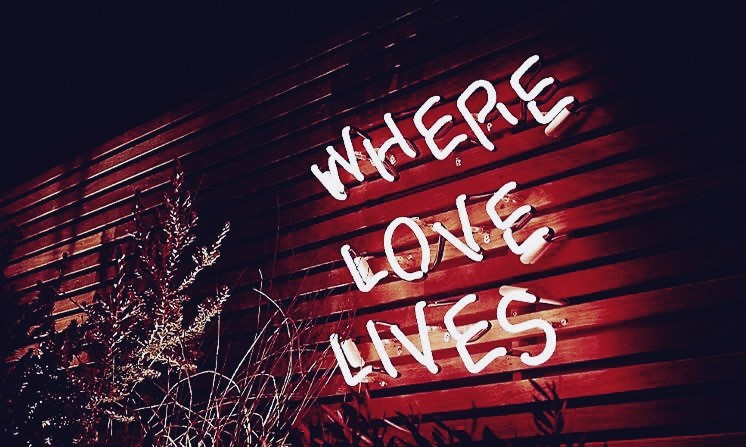 Now, back to THE WEDDING! My friends hosted their special day at the gorgeous Hummingbird Nest Ranch in the Santa Susana Mountains. It was the perfect spot, capturing a natural, rustic beauty that vibed really well with their personalities and lent an ethereal tone to the day (and to those ever-important wedding photos!). Vast yet secluded, it kind of felt we were the only people in the world, celebrating two people dear to us with SO much love all around. So happy for my babies!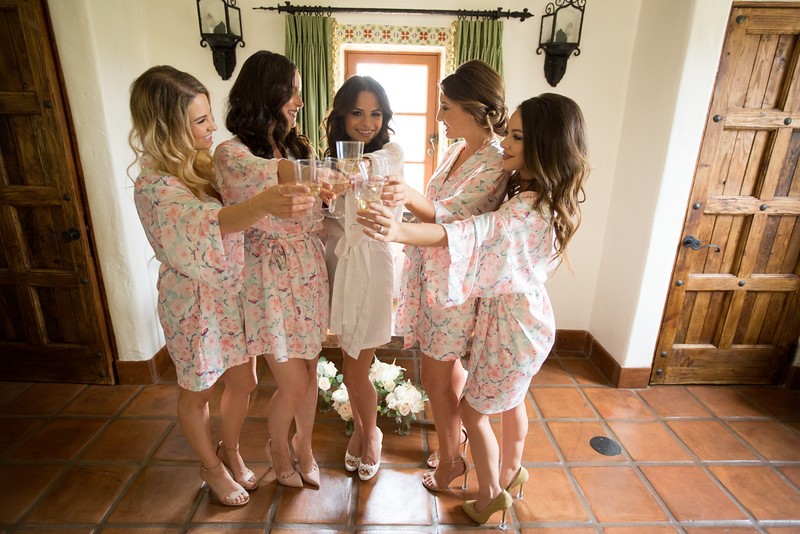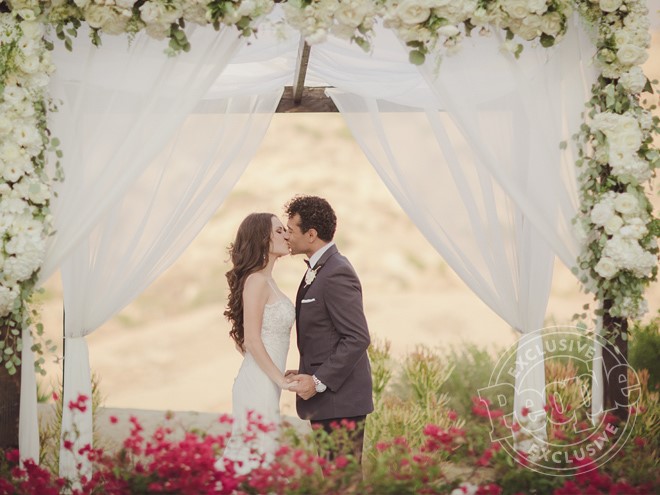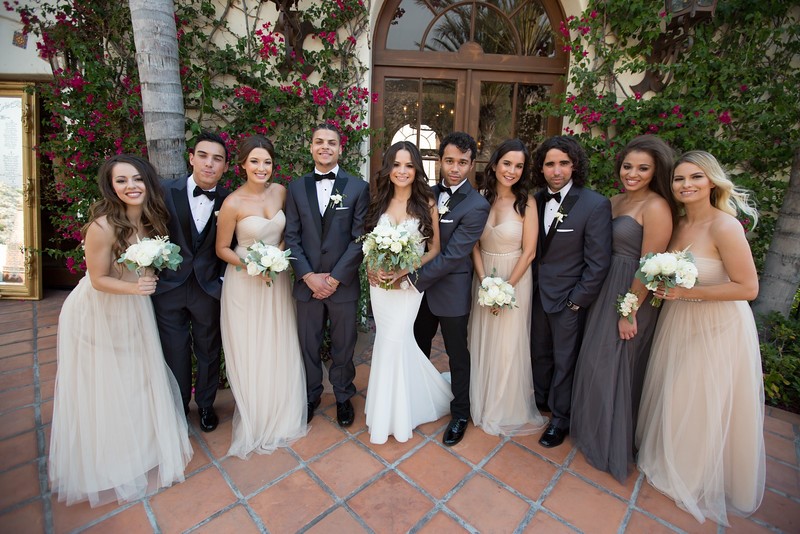 Photos courtesy of Blackwell Photography & Iris and Light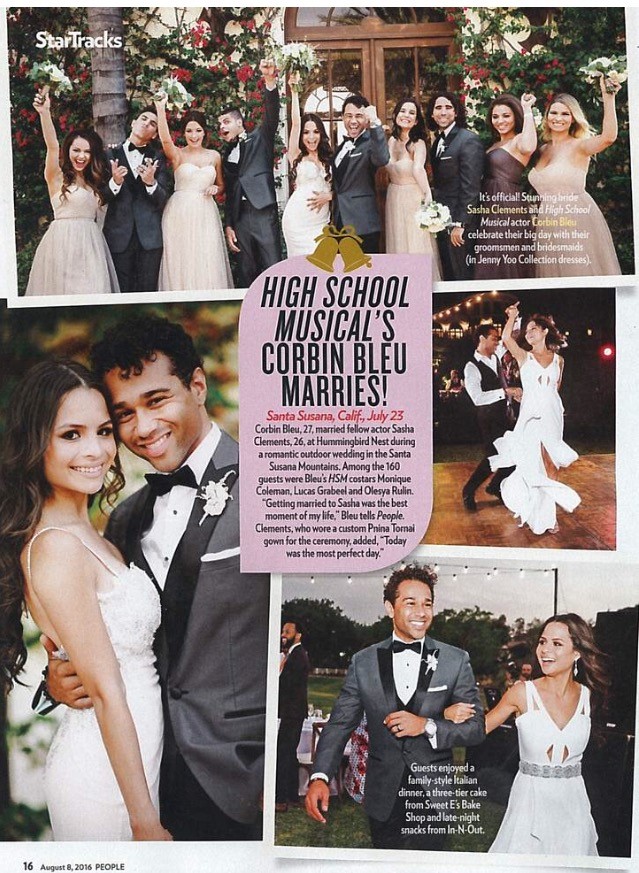 Oh, and they are kind of famous, so their wedding was covered by People magazine:
Photos & spread from People Magazine
After week one of wedding madness – which included brief and frantic trips through Hollywood & Beverly Hills – I got a chance to check out some parts of California that I had never been to before. But not before I discovered THE BEST coffee and breakfast sandwich that Burbank has to offer at Noah's Bagels. I legitimately miss this place every morning, it's a problem. They have a ton of locations around the LA area, although sadly not in Toronto. Now, with that out of the way we may truly move on!
Our first stop was Venice Beach. I booked an AirBnB right on the border of Venice and Santa Monica (Rose St. area), and boy was that a great idea! We were within walking distance to everything, from the expansive beach to Abbott Kinney Blvd. Definitely recommend looking for an AirBnB in this area – so many unique places centrally located!
My "must do's" in the Venice/Santa Monica area:
Take a surf lesson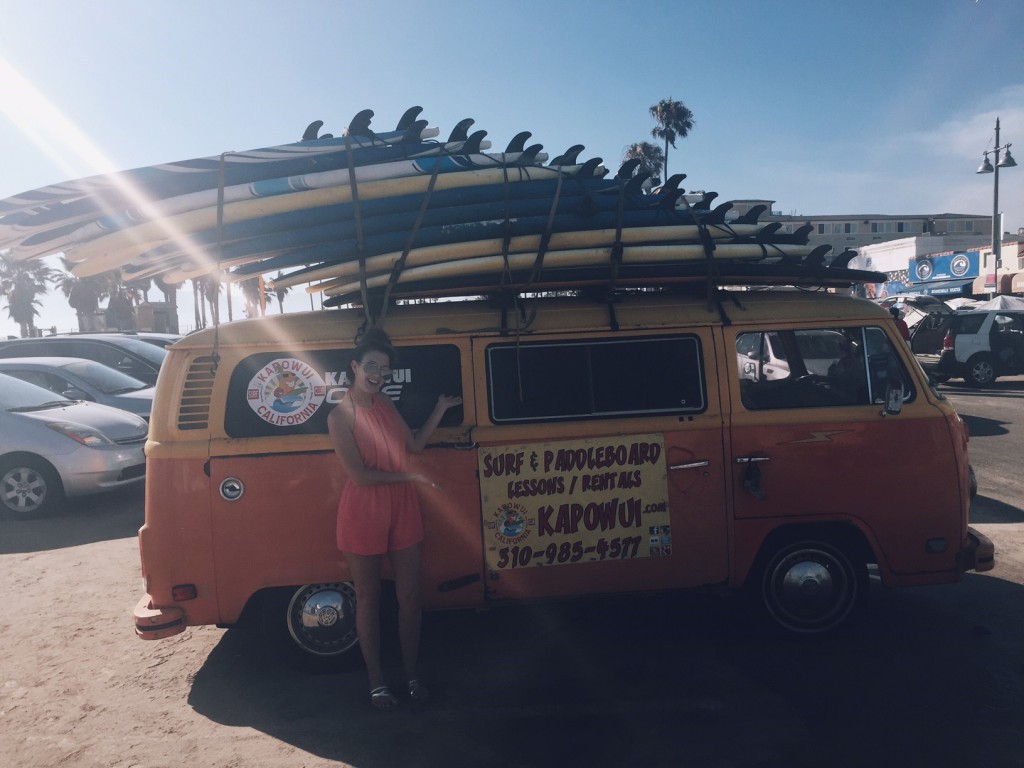 Kapowui Surf Club offers private & group lessons in Venice and Santa Monica out of their distinctive orange/yellow VW minivans. We actually saw the van parked outside of our AirBnB and discovered them that way! Their website boasts that all of their instructors "live within blocks of the beach, surf every day, and have the Aloha Spirit" – we most definitely found this to be true of our instructor, Will, who lived in a van parked down the street and is the closest embodiment of a hippie I have ever met. This was an awesome experience, although if you are unfit like myself, prepare to be in pain for 10 days after perfecting the "pop-up" stance.
Walk the Santa Monica Pier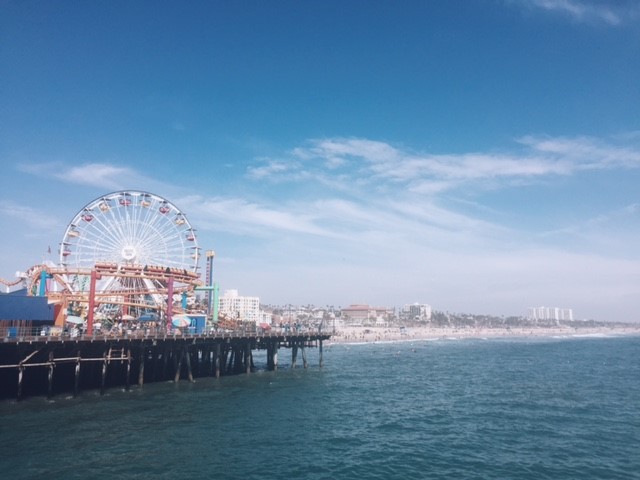 Such a fun and cool place to explore. Walk the pier and pick up fun souvenirs for friends and family here in one of the many shops lining the boardwalk, or simply wander into a restaurant for happy hour with a view like we did! Fishermen line the railings pulling in the catch of the day, and this is apparently a HUGE stop for Pokemon GO players – so if you're into that, this is the place to "catch 'em all" (I'm so with it).
 Eat and drink your way down Abbott Kinney
 There are so many hip and delicious spots to grab a cocktail or bite to eat along Venice's famed Abbott Kinney Blvd. Eating and drinking are my favorite sports, so I was in absolute heaven when a bunch of us embarked on this mission to fulfill our gastronomic needs!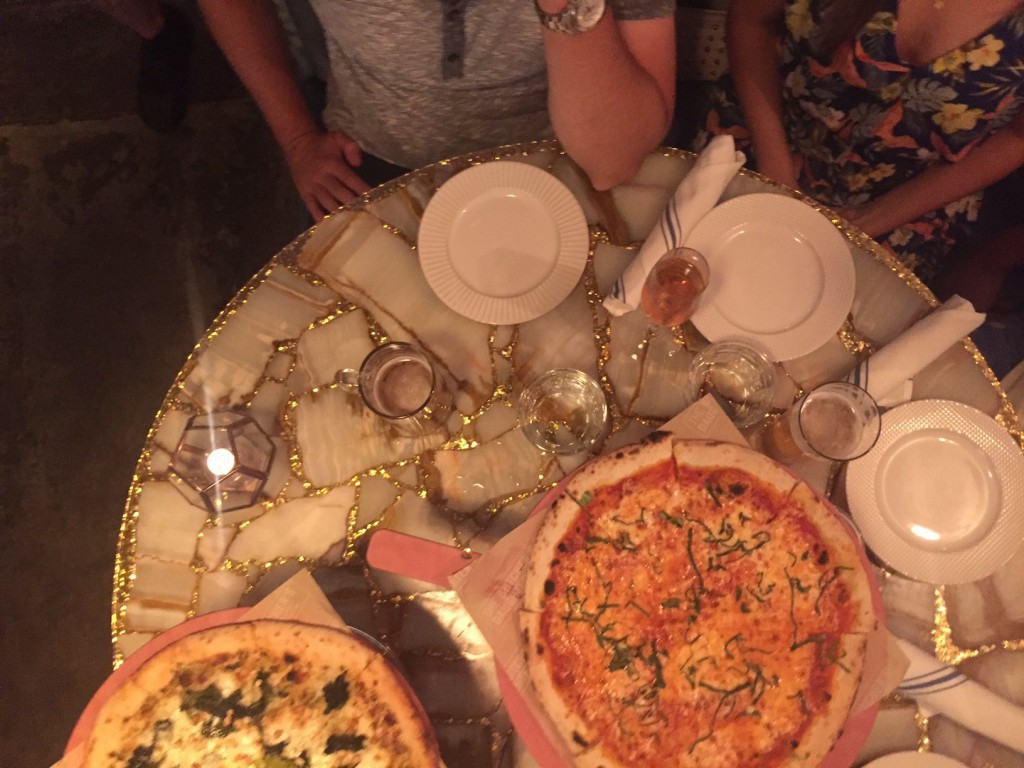 We began our night with a stop at vegetarian hotspot The Butcher's Daughter for some "appetizer pizzas" (can you tell I was with 4 guys?). Super delicious, not to mention perhaps the chicest interior of a restaurant I have seen lately – think industrial copper detailing meets a clean, earthy vibe. Lots of white brick, soft repurposed woods, and plants.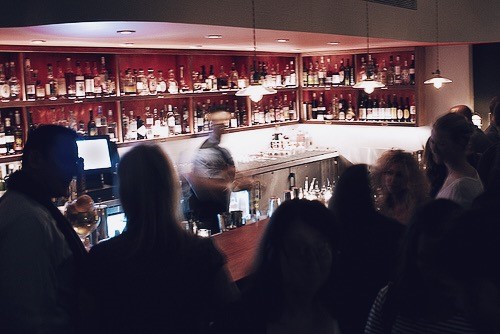 Next we hit up the popular Tasting Kitchen for a cocktail while we waited on our table at Gjelina. This place is super buzzy, blending a dark and moody interior with an intimate, almost underground vibe. Get the Derby Punch off the cocktail list, and enjoy people watching. Is it weird that I miss this place?!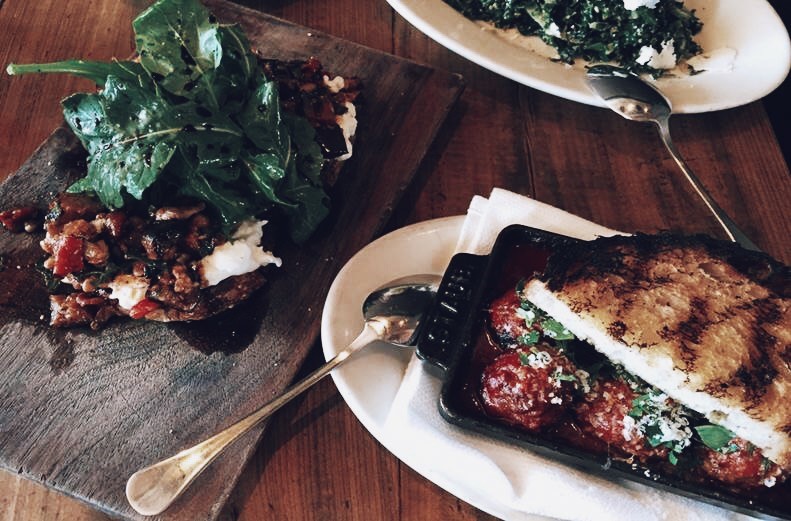 Finally we sat down to our *second* dinner at the much-hyped Gjelina. Hailed by the New York Times as an "aspirational lifestyle camp, replete with fire pit and sloe-eyed waiters", you can imagine my anticipation for this place. It was also one of the last spots Tay and Calvin had dinner before splitting (again, THE ANTICIPATION). The food was delicious (highly recommend the pork meatballs), the drinks strong, the lighting dim. V DIM. Like, don't expect to see your acquaintance after 9pm.
 Check out the Venice Canals
Don't forget about these historic gems! Built by developer Abbott Kinney in 1905 as part of his 'Venice of America' plan, some of the most gorgeous homes I have ever seen line these Italian-replicated canals in a peaceful corner of the city. Grab a coffee and take a morning stroll through paradise, imagining you were the one who accepted Ashton Kutcher's proposal in that movie Valentine's Day and that you live here with him and George Lopez and a goofy dog (anyone?).
After the over-indulgence of our Venice stay, we were happy to spend a relaxing afternoon cruising the Pacific Coast Highway down to San Diego. Before reaching SD though, we made a life-changing stop in La Jolla Beach to see some seals and sea lions! YOU MUST visit La Jolla Cove if you are ever in the area – it was seriously beautiful, and I'm not sure you can get this close to a sea lion anywhere else in the world. Only 20 minutes outside of San Diego, there is no excuse to miss out. Just be sure not to touch or disturb these cuties!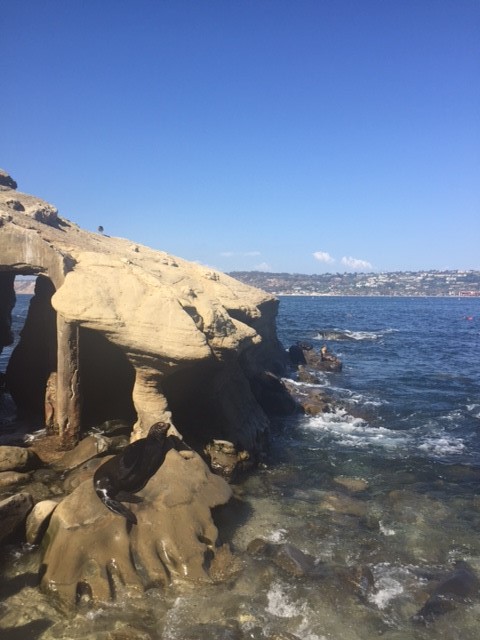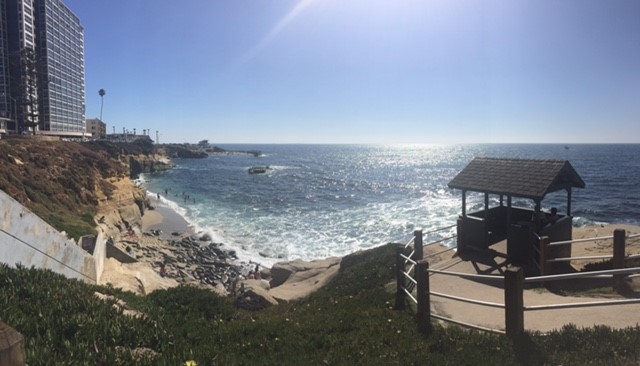 Once settled into Hotel Sofia in the Historic Gaslamp District of downtown San Diego, we ventured out to explore and stopped in at Barleymash for a bite. Warning: the "Iron Fries" appetizer here is so large it can comfortably fill two people. We know because we ordered it as an app to split, and ended up taking both of our meals to go afterward. No joke. Their menu is upscale comfort food, and it did not disappoint; we happily ate our leftover Balsamic & Brussels Mac n' Cheese and Pulled Pork with Crispy Onions & Horseradish Pizza for 2 square meals the next day. No shame.
The next morning, we walked off our food coma at the San Diego Harbour like true tourists before jumping back into the car and heading to our final destination: Palm Springs.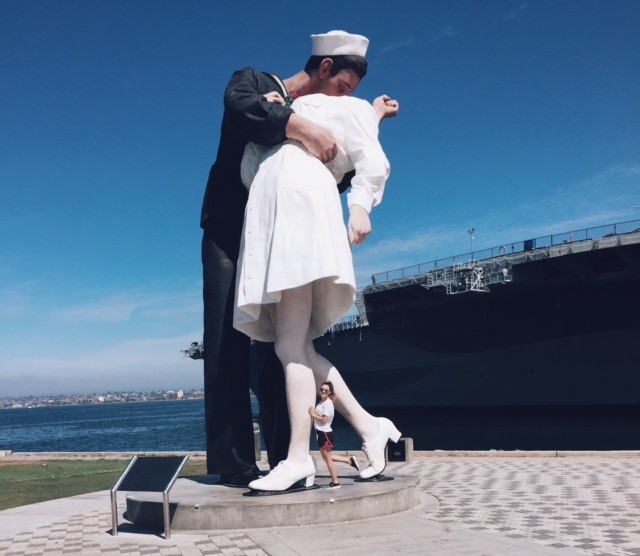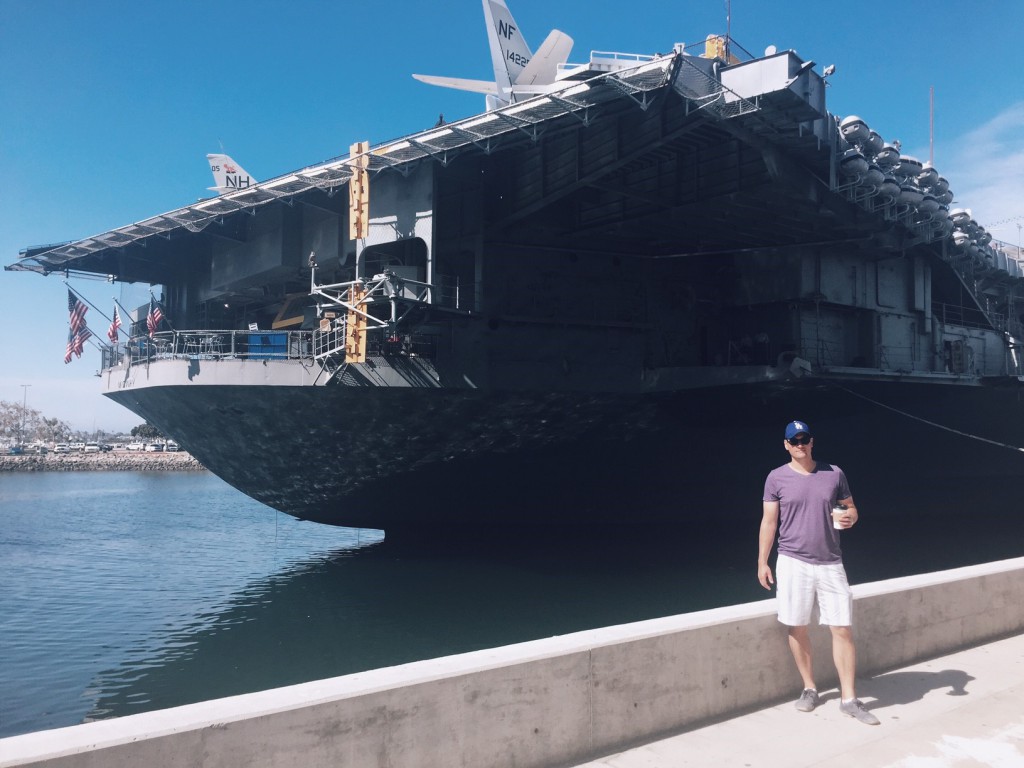 Many people told us it would be hot as balls in Palm Springs, but we didn't care…. until we got there. We ordered margaritas on a deserted patio for a minute – suffered some instant respiratory problems in the 45C heat – and then caved, heading to the Ritz Carlton Rancho Mirage where cold glasses of prosecco and white robes awaited. Treating yourself to luxury at some point during a getaway always helps refresh and re-energize the soul – and it doesn't always have to break the bank! There are plenty of deals and discounts available for those who seek them out.
The Ritz was the perfect place to unwind to a stunning backdrop. Even though it was off-season, they did an excellent job at ensuring there is always entertainment of some kind for their guests – we were treated to live music in the hotel restaurant/lounge every night! There is also a Palm Springs street fair called VillageFest that runs every Thursday evening year round.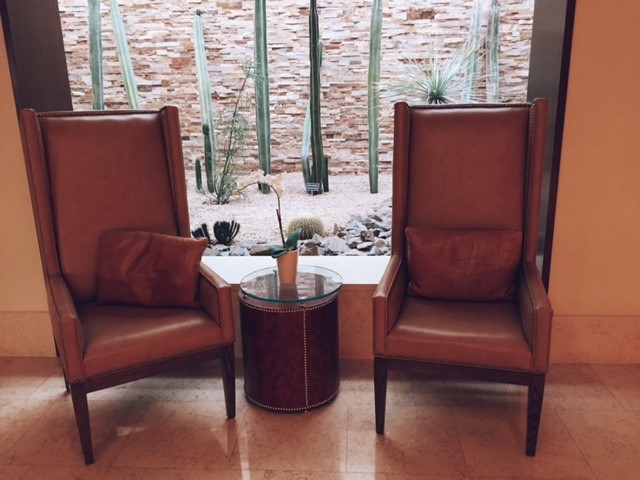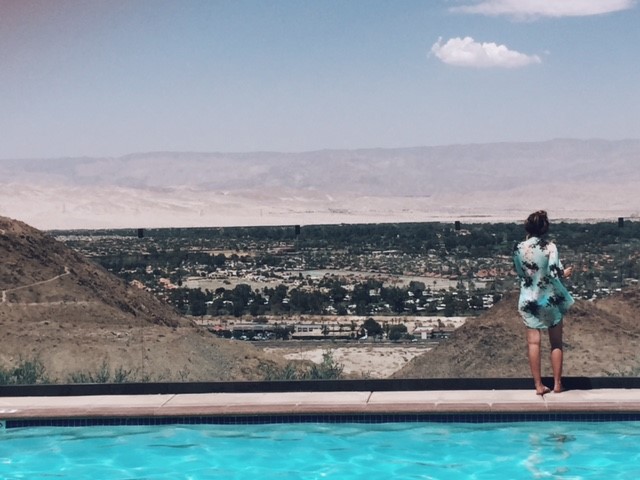 Well, nuts – there you have it! A snapshot of my California travel diary. I hope you are able to check out some of these amazing places for yourselves. Until next time, XOXO!
Who might this guest be?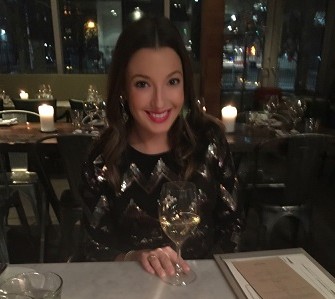 Shannon is a Tostito enthusiast who balances her unhealthy obsession writing reviews from her TripAdvisor account with a day job in Legal Marketing. She lives in Toronto, where she has yet to meet a carb she didn't like. Follow her misadventures on Twitter @codeshanaynay.