When you think of a bridal shower, what comes to mind?
Probably the classic bridal shower games, ladies in floral print dresses, decor that consists of all-white-err'thang and maybe a champagne toast to the forthcoming nuptials.
And, in most cases, you would be totally right.
Last weekend the nuts attended Kaylee's bridal shower.  And, though there was plenty of the above-mentioned, the champagne never really ceased its steady flow, bottles of red wine were uncorked by the dozen, and shots were circulated like clockwork. Needless to say, Kaylee's shower unfolded with a dance party comprised of at least two generations, if not three, and the demure chitchat of the early evening quickly shifted to a loud crowd belting out classics.
All. Night. Long.
The bridal shower ended at 3:30…a.m.
---
So now that you know how things went down, lets talk about bridal shower gifts.
The real reason for a bridal shower is to, almost literally, shower the bride in trinkets, items for her home and other gifts to make her feel extra special before the big day.
The gifts were all stunning – sentimental, timeless and, quite simply, perfect.
But, if ever you find yourself in a bind and perhaps gift-giving isn't your forte, here are few ideas we loved:
1. A Twist on an Irish Blessing – Gift Basket
This is a classic gift for any bride-to-be, but in our situation an Irish blessing was particularly fitting.
You see, the bride and groom got engaged on Ireland's Cliffs of Moher *swoon* and, I distinctly remember the groom saying that Ireland now holds a special place in their hearts *double swoon*.
So, the nuts banded together and put a twist on a classic Irish blessing, giving the soon-to-be couple  a few essentials for a happy life together…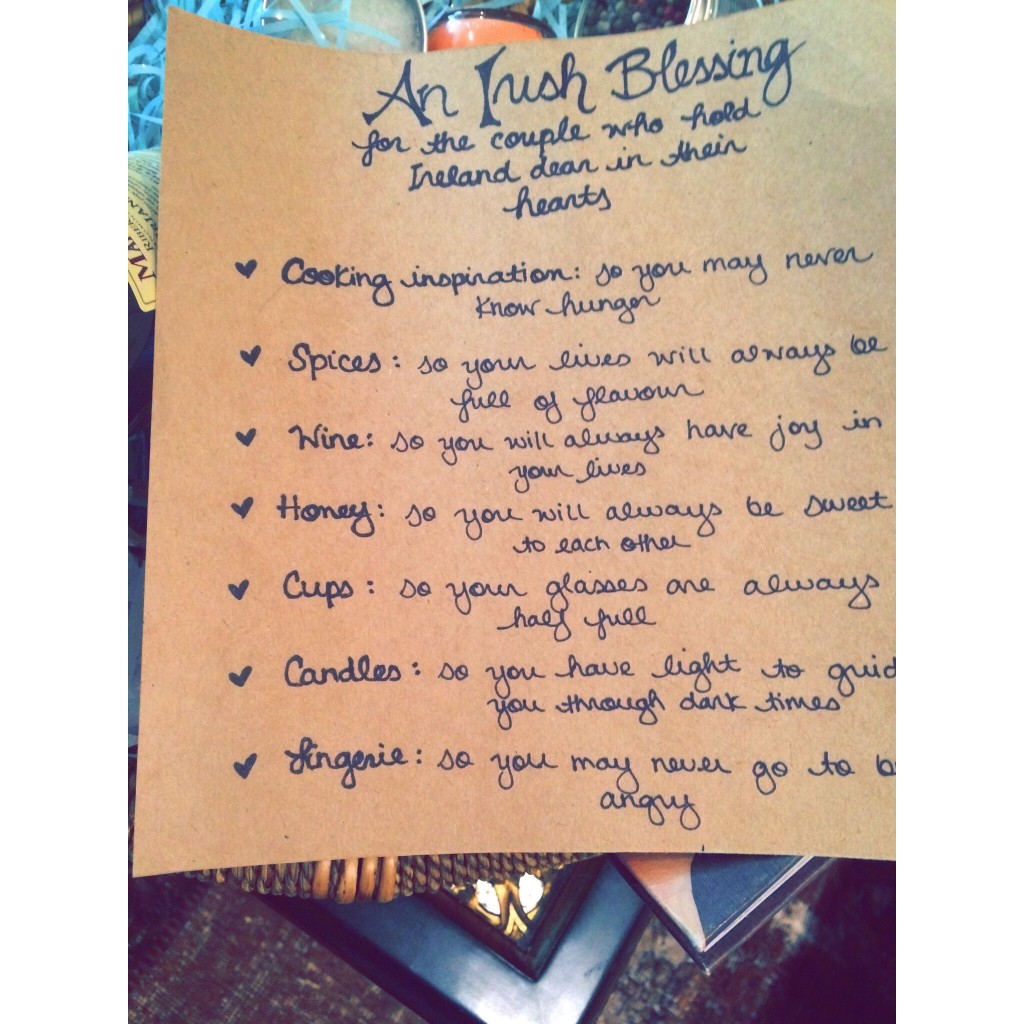 1. Cooking inspiration: So you may never know hunger
2. Spices: So your lives will always be full of flavour
3. Wine: So you will always have joy in your lives
4. Honey: So you will always be sweet to each other
5. Cups: So your glasses are always half full
6. Candles: So you have light to guide you through dark times
7. Lingerie: So you may never go to bed angry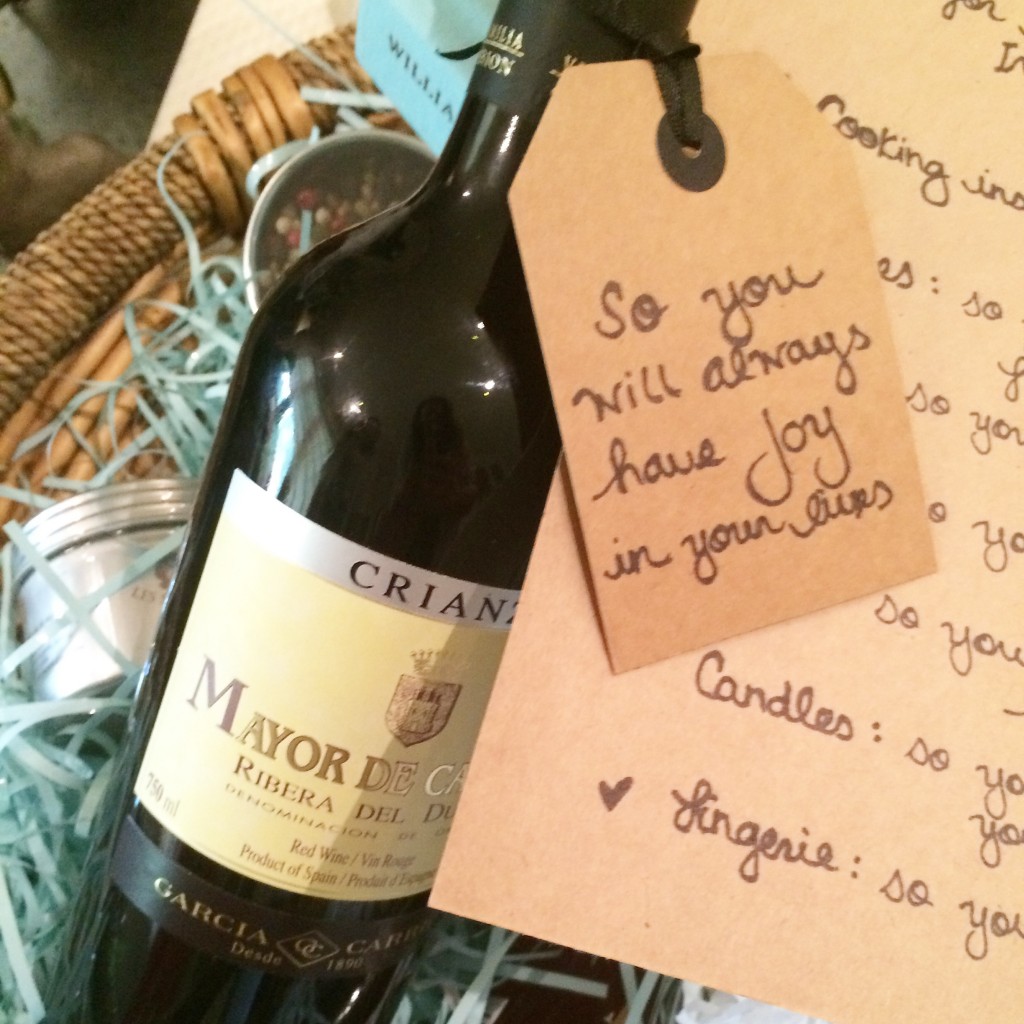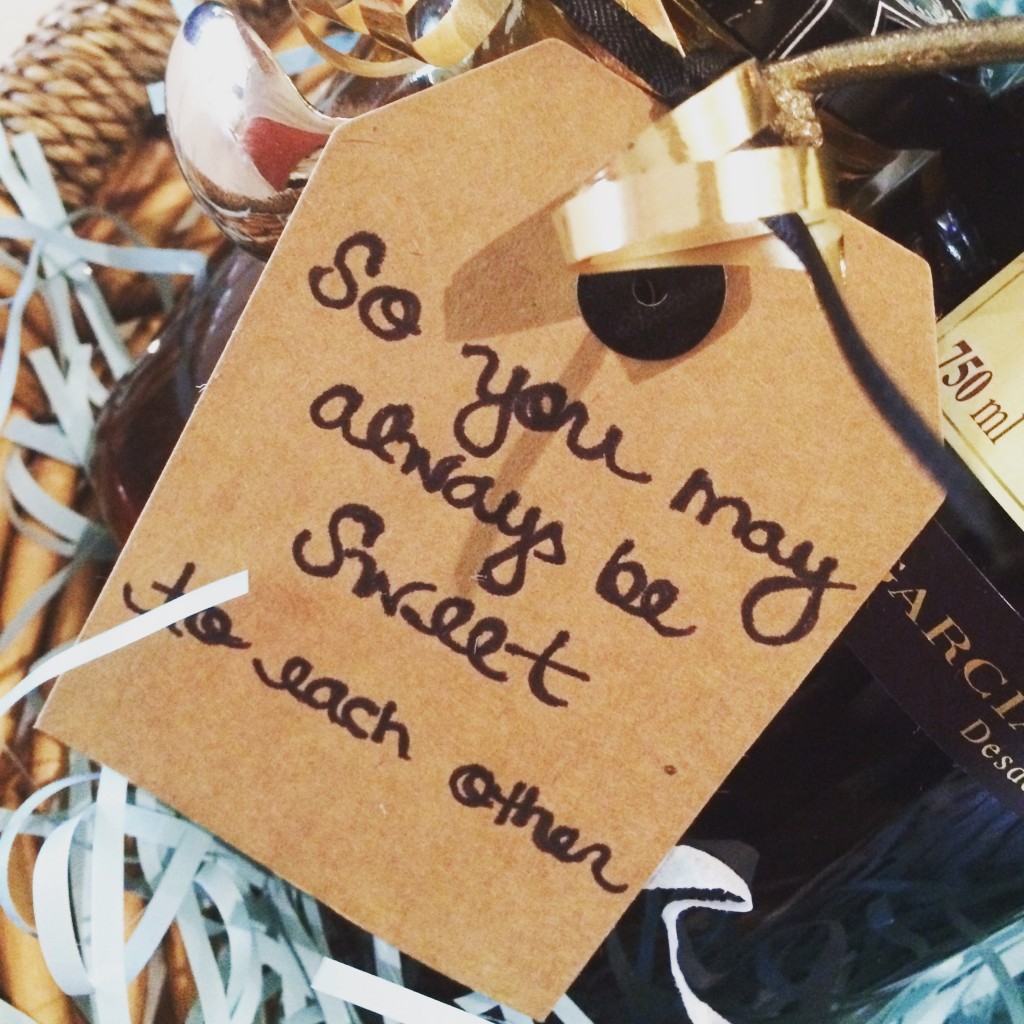 A few other ideas to make your bridal shower gift a success:
2. A custom-made stationery
A new set of stationery that is custom-made with the couples last name is particularly sweet if you know the bride is adopting her hubby's name. Kaylee Pare will soon become Kaylee Curtis and a few of her very best friends bought her this adorable gift which had the whole room "oooohing" in admiration.

3. A gift for the couple's anniversary
A sealed container with a nice bottle of wine for the couple to share on their fifth anniversary was another favourite from the shower (and almost had me in tears!).

4. Something Old, Something New
This one has Pinterest written all over it and was a contender in our ideas for bridal shower gifts. Give four smaller gifts, in four boxes, each one with a label as follows:
1. Something
2. Old
3. New
4. Blue
It can be tricky to find the perfect gift that is, say, "Old", but if done right, we think this would be a gift to remember.
Check out this blog for more creative bridal shower gift ideas!