It's no secret that the cold winter months bring many of us into hibernation, avoiding the shivering club line-ups, the layers and layers of clothing, and the slippery sidewalks that turn a strut into a struggle. All things considered, it can be easy to convince yourself that the warmth of home is truly where it's at on a Saturday night. But us Toronto nuts, and two-time guest nut Carry, recently took to the tea room for some Saturday night hangs…

Twilight Tea at one of Toronto's most chic five-star hotels, buried just South of Bloor Street between Bay and Avenue, the Windsor Arms Hotel, seemed to fit the bill in our quest for a cozy, low-key evening filled with some major girl time.
Twilight Tea is hosted daily in the tea room at 5:30/6:00 p.m. for a 2 hour seating at $45 a person, including a personal pot of loose-leaf tea and a myriad of delicious treats. The food is served on a tiered platter, grouped in savory and sweet, starting at the bottom with goat cheese and caramelized shallot tart (delicious) and fresh scones served with house made preserves and devon cream. Yum. Served separately, the mushroom and spinach quiche was a true winner, leaving us all wanting more.
The middle tier consisted of fresh sandwiches; cucumber with sundried tomato paste and dill cream cheese; smoked salmon and wasabi sour cream with salmon caviar; and grilled chicken, granny smith apples, cirtus mayonnaise, greek yogurt and chives. These were nice enough, but nothing to write home about.
La pièce de résistance; the dessert tier. These were quite delicious, particularly the white chocolate triangle. We took a few to-go, with it being a bit too early in the evening for so many sweets.
Our teas were lovely, and served in antique teapots and dainty cups, just as one would expect from a chic tea party. We tried the Twilight Tea with organic chamomille, organic lavender and organic china black tea (#17) and the Tibetan Tiger with chocolate bits, vanilla, organic rooibos and black tea (#15).
The highlight of our tea experience came when we dipped into the Tea Cocktail menu, of course. We opted for the Chai Martini (Windsor Arms Chai infused Vodka, Galliano and a Splash of Cream), the Sparkling Lavender (Prosecco, Lavender Syrup and Chambord), and the Golden Rose (Rose Petal Earl Grey infused Syrup, Rosewater, Prosecco & Gold). The latter arrived with flecks of gold, and the Sparkling Lavender came with a sprig of the real thing as garnish. The Chai Martini should be reserved for those who ADORE chai, since the flavor is quite overbearing. These were $14 each, and worth every penny to spice up the menu.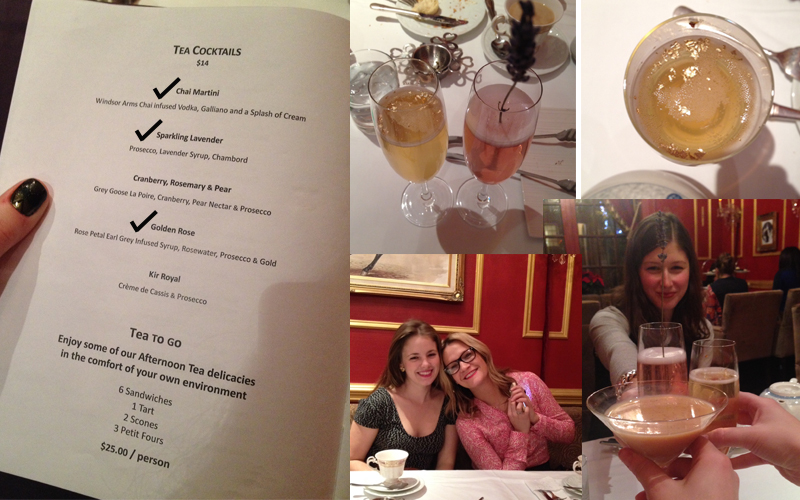 Unfortunately despite the beautiful atmosphere and our cheery moods, the service that evening was less than impressive. Servers were not very helpful, unclear and not attentive. We had a drink at the bar prior to sitting down for tea, and the bartender was quite rude and uninterested in providing any sort of assistance. While the tea service is certainly down to a science at this point, the experience could definitely have been heightened by friendly, helpful waitstaff. We're unsure if this was a classic case of ageism at a swanky hotel, but disappointing nonetheless! I really do hope we had some bad luck, and that this is not the norm.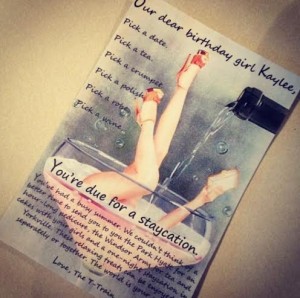 All in all, it's always fun to plan an evening that doesn't include your neighborhood stomping ground, and forces you to be a little more adventurous.
A fun night out like this one also makes a great gift! This was actually my birthday present from August, including a staycation in one of Yorkville's charming hotels and a luxurious pedicure. So, thank you to my besties for such a memorable evening.
In a nutshell, you're just my cup of tea! (couldn't resist…)