The Flying Banzini, a relatively new restaurant in Ottawa, was a discovery made when a friend invited me out for a bite a few weeks ago.  It's always a treat to visit Wellington Street of Ottawa because, almost always, you will stumble upon something new. Or at least something you haven't yet had the opportunity to try.
Although I was asked to this particular location, I almost literally stumbled upon it as I wandered around the corner of  Wellington Street and Holland Avenue to find this shiny new addition to the area. The Flying Banzini opened on the 31st of August and is self-proclaimed to be a unique experience for any diner. This "unique dining experience" is fostered through  a small menu set to be ordered quickly and eaten quickly. Slightly jarring at first glance and confusing for some, prepare to wander in and find yourself single filing in a bustling line of soon-to-be gnoshers.
The menu, set high above in fast-food, over-the-counter style will surprise you with an array of pizzas, paninis and roasts. After you order you are given a name tag (of a celebrity) to identify your order and food is delivered to your table  in "call-out" style.

The "Lovin' Touchin' Squeezin'" panini with porchetta, oven dried tomatoes, arugula, honey dijon and sage mayo
This is not a destination for a long, luxurious evening out. It acts best as a quick meal before a show/concert/outing. Efficiency and quality are the pinnacles of The Flying Banzini.
That is, until you try their cheesecake.
Savoury. Sweet. You name it, they've got it. These cheesecakes could make what might have been a short visit to The Flying Banzini, an elongated stay.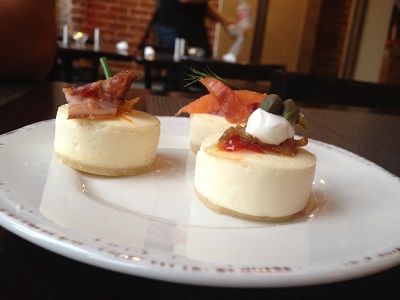 And they are served up in the most adorable bite size portions imaginable.
The savoury cheesecakes, though we were wary of them at first, won us over with flavours of dill, salmon and cream cheese- overriding any memory of traditional cheesecake sweetness.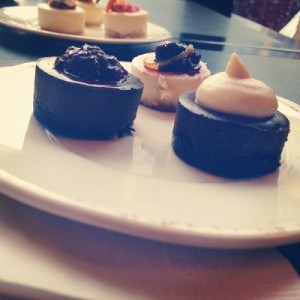 But the sweet cheesecakes, were oh-so-sweet and wonderful. They were light, fluffy, creamy and perfect in their miniature stature. The most popular of the three sweet cheesecakes we sampled (a mere drop of their vast selection) was the salted caramel cheesecake. To. Die. For.
And, no doubt their artisan pizzas and jam packed paninis are delicious, it is truly the cheesecakes that would draw me back- either as a snappy appetizer before a stop over to another more extended dinner or as a sweet ending to perfect stroll through the neighbourhood that never ceases to give birth to new restaurants.