My favourite season is officially here! As much as I love the hot days of summer, fall has always held a special place in my heart. The colours are so rich, the clothes are amazing and the feeling of wanting to be cozy is one of my favourites. Read on for a list of "must-haves" for fall that I have either already picked up, or have my eye on!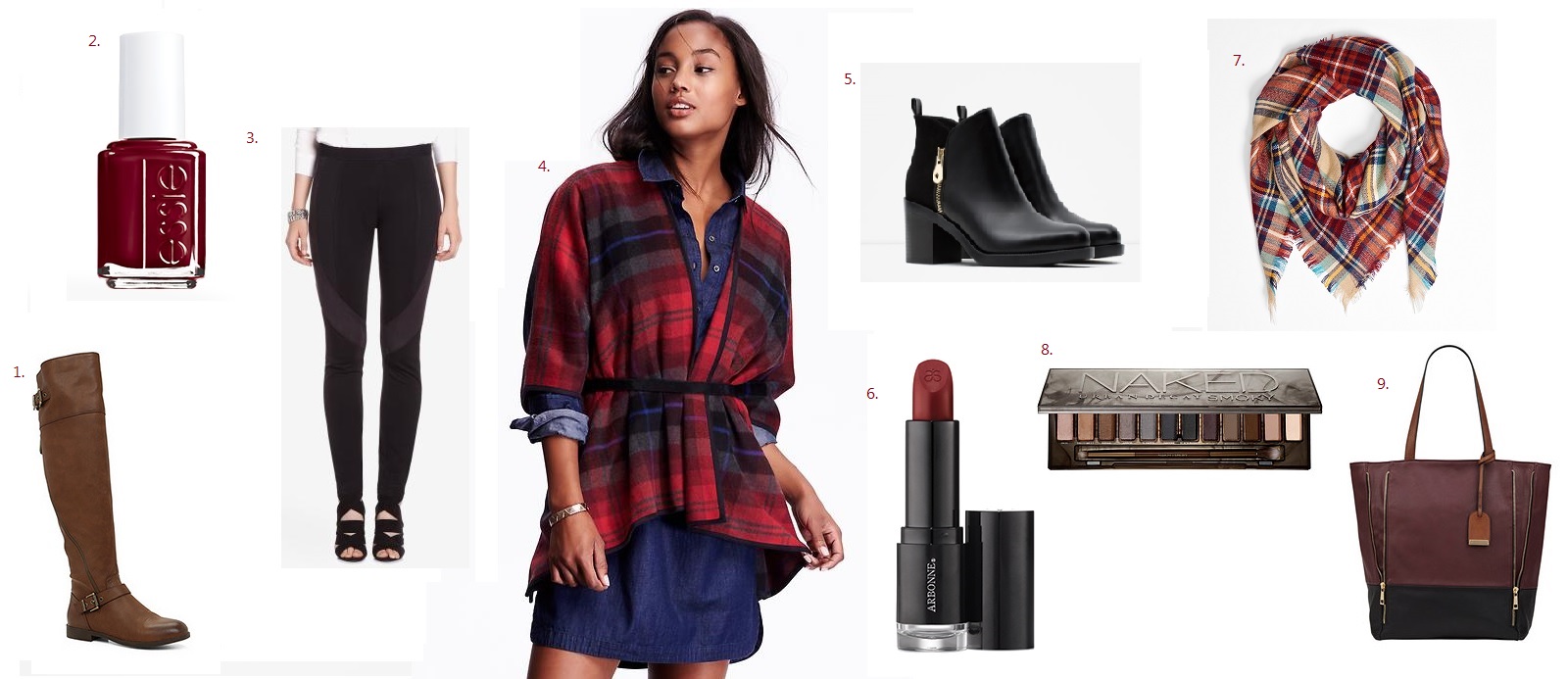 1. Roseanne Over-the-knee Boot ($110): I love a good pair of riding-inspired boots for the fall, and the rich cognac colour is perfect to pair with jeans and leggings.
2. Essie Shearling Darling ($8.50): No fashion/beauty post of mine would be complete without mentioning a nail polish! Currently loving the look of this mahogany hue.
3. Faux-Suede Detailed Leggings ($32): Ladies, can we all agree that since the invention of leggings, pants just seem unnecessary and cruel? Leggings are definitely a staple in my fall wardrobe, but I like to spice things up with interesting details. These faux-suede leggings dress up a standard pair and can take you from day to night.
4. Wool Poncho ($35.50): Layering is huge for fall, and ponchos are all the rage. This plaid version would definitely keep you warm and looking great as you take on the cooler fall breezes.
5. Ankle Booties ($49.90): For me, ankle booties are the epitome of fall. It's starting to get too cool for flats and no socks, so booties are the perfect addition to your shoe arsenal. I love the gold zipper detailing on these and that the heel is low enough to be comfortable for regular wear.
6. Arbonne Smoothed Over Lipstick ($28): With colder weather comes bolder lip colours (at least for me). Arbonne generously gifted me their smoothed over lipstick in the shade Dhalia and I am obsessed.
7. Plaid Blanket Scarf ($29.95): Because sometimes you need to be basic. Plaid blanket scarves defined last fall/winter, and I'm still into the trend. I have a few that I absolutely love. They look great, keep you super warm and can double as a blanket to keep you warm at your desk when your office forgets to turn on the heat…speaking from experience here.
8. Urban Decay Naked Smoky Palette ($64): Urban Decay "Naked" palettes are some of the most popular around. The colours are always amazing and the quality is second to none. Like with my lips, I tend to be more daring and turn to darker colours in the fall winter. This smoky palette contains 12 neutral, smoky shades that are perfect for more dramatic, fall looks.
9. Mezzocorona Tote ($34.99): My day-in-day-out purse is a classic black crossbody. But it's always fun to mix things up. This Bordeaux tote is perfect to add more colour into your purse game, without being too bold that it doesn't end up getting used very often.
What are you craving this  fall? Drop us a line in the comments and let us know!
Banner image via 1.